I've been able to use my miles to fly in first class on many international flights with 3 cabins of service, including ANA, American, Cathay Pacific, Emirates, Etihad, Korean, Lufthansa, Qantas, Singapore, Swiss, TAM, and United.
Differing things stand out for each first class experience, such as the amazing experience of a shower at 35K feet on Emirates and Etihad, the massive shower spa with heated flooring and the bar on Emirates, the seat and separate bed on Etihad, the incredibly comfortable seat and bed that Cathay Pacific offers, the awesome first class terminal and lounge to plane Porsche chauffeur service on Lufthansa, the incredible service on ANA and Singapore, having the entire first class cabin for my family of 4 on TAM, etc. Those were all phenomenal.
What sticks out the most though are Singapore suites. The ability to have a couples suite on a plane is something so unique that it's in another league for a couple traveling together. It's not the most comfortable seat or bed in the sky, but it's very good and the couples aspect of it put it over the top.
It was awesome, but it wasn't particularly spacious. Here is the suite Mimi and I flew in from JFK to Frankfurt en route in Paris in 2012: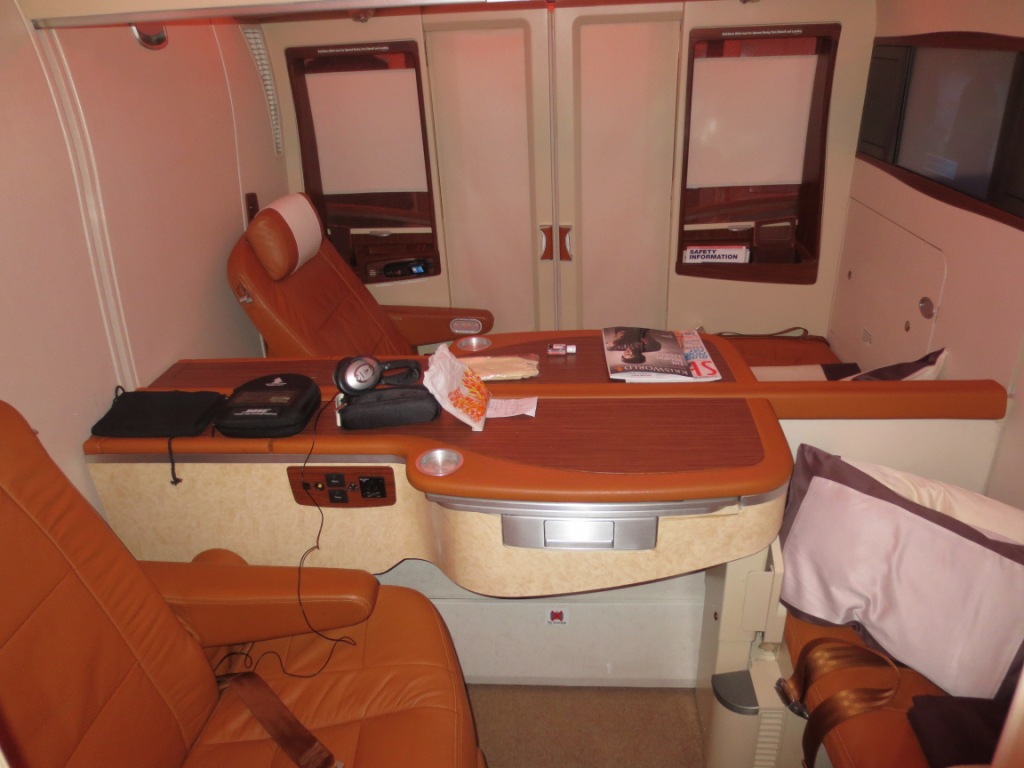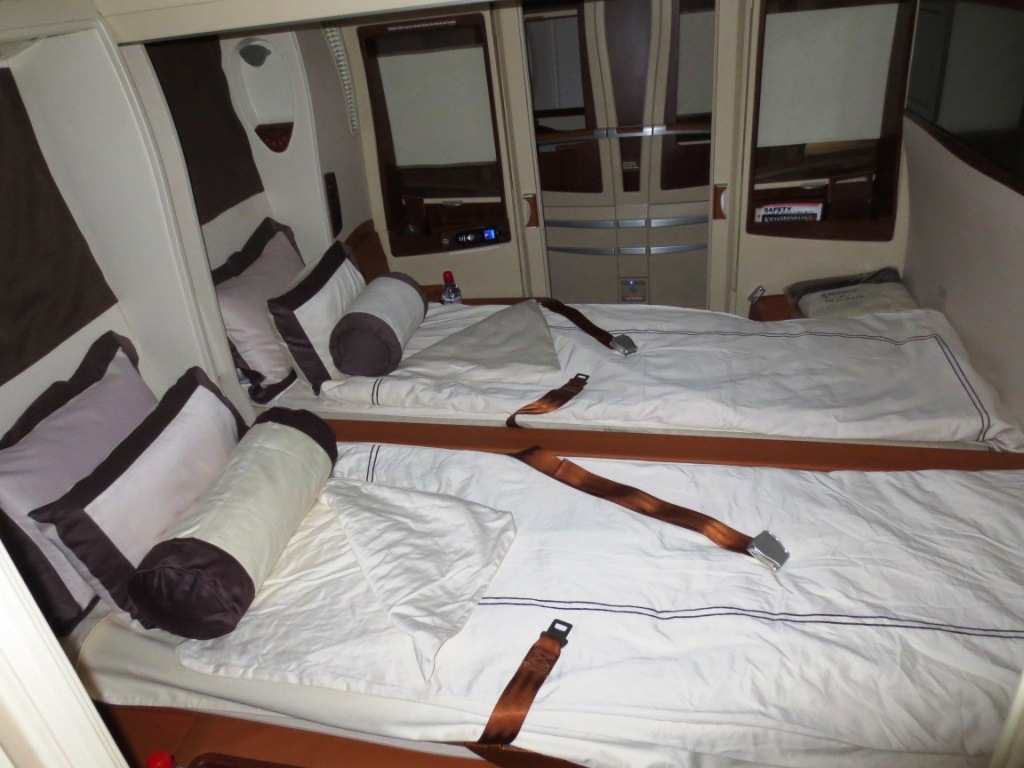 Singapore has now announced that they will introduce a 2nd generation A380 first and business class.
The suites class will move upstairs and capacity will be reduced from 12 per plane to just 6 per plane.
The colors may be drab, but the space that the new Singapore suite will offer is incredible and having a separate armchair and bed is fantastic:
Best of all, they will retain the couples suite feature, suites 1A/2A and 1F/2F can be combined into a larger couples suite. It looks like a hotel in the sky:
The product may not be as beautiful as Etihad's, but the sheer amount of available space and the superior couples suite puts it over the top.
Sadly, they will not be adding a shower onboard. A shower may sound gimicky, but it's amazing to wake up, take a shower, and walk off a plane feeling clean instead of grimy. The new bathroom looks amazing and would have had space for the shower. Frankly I'm baffled as to why they didn't go the distance and make the best possible product in the sky:
Business class gets a refresh as well. The middle bulkhead seats, 11D/F, 91D/F, and 96D/F can even be converted into a double bed. Though that feature seems a bit odd given the lack of privacy in business class. Other airlines (Delta, JetBlue, Qatar) are adding walls in the business class, but clearly Singapore wanted to leave the walls are a differentiator between first and business class.
Singapore first launched A380 suites in 2006, but it wasn't until 2012 that they released them to be booked for 57K miles with saver first class. The reduction in capacity in the new suites product means that award availability will be tougher even when they do open it up.
The first route for the new A380 configuration will be between Singapore and Sydney on 12/18/17 and Singapore to London will launch in 2018. Lucky folks who booked those routes before the announcement will get to fly in the new suites, but it may be a while until the new suites are released for saver miles. The best bet will be to book other routes in advance and hope that they change over to the new product.
Singapore has 5 new A380s on order to replace their 5 oldest A380s and the remaining 14 A380s will be converted to the new configuration between 2018-2020.
You can convert AMEX, Chase, or Citi points to Singapore at a 1:1 ratio and Starwood points to Singapore at a 20K:25K ratio. Start saving up!