I always preorder a kosher meal when it's available. More often than not it seems like KSMLs (that's airline speak for kosher meals) are reheated dog or cat food at best, or completely unfit for human consumption at other times. But I do enjoy taking pictures of just how bad the food can be.
Stogel long-life kosher meal served in USAirways business class from Paris to Philadelphia in December 2012: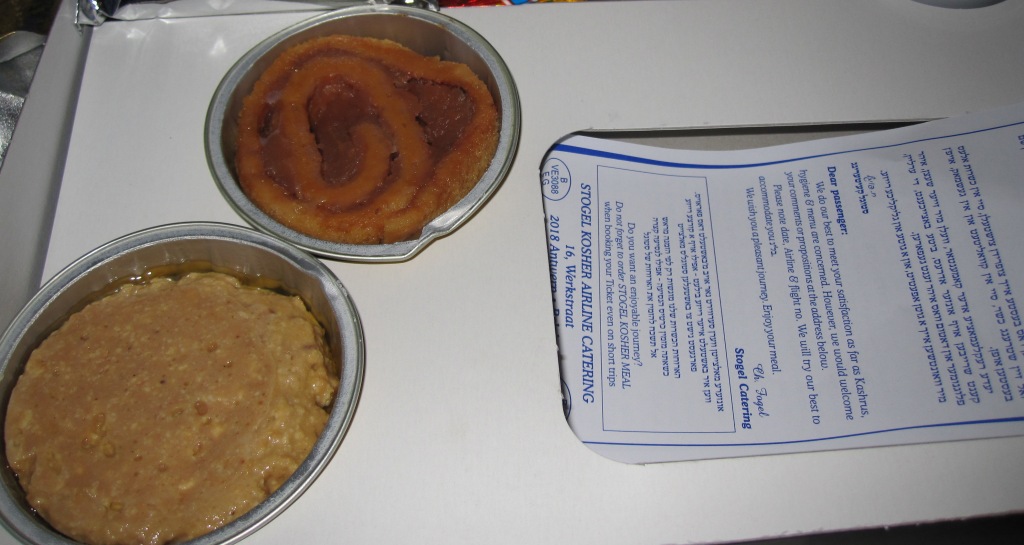 The rock-hard frozen gefilte fish is always worth a chuckle. I mean, who is eating this stuff??
Weiss kosher meal served in SAS business class from Newark to Oslo in March 2016:
Sometimes the food is good though. Hermolis meals are usually decent enough.
Hermolis sliced lamb stew kosher meal served in Cathay Pacific first class from Hong Kong to Toronto in January 2011:

My favorite kosher meals have been from even more exotic locales. The KSML on Singapore from the Maldives catered by Sydney based Lewis caterers and the KSML on United from Honolulu catered by Oahu Kosher stand out the most.
Oahu Kosher supplies fresh salmon, ribeye steak, and chicken for their kosher meals on United. This delicious salmon was served in business class from Honolulu to Newark, February 2016:
JetBlue Mint class KSMLs between JFK and LAX or SFO also get decent reviews.
JetBlue Mint class kosher meal. Photo credit: Daniel T Allen
More often than not though, I don't eat the KSML. I use it as leverage to get a flight attendant to heat up my BYOK, as in, Bring Your Own Kosher meal (double wrapped) so that it can be warmed up onboard.
Most flight attendants will warm up your own wrapped meals, but some flight attendants are hesitant to so. The strictest airline by far is Cathay Pacific, but once I showed a flight attendant the lousy KSML served from Vancouver they were happy to warm up the divine Maple BBQ Chipotle burger and onion rings that I had bought at Maple Grill earlier that day.
Most airlines are pretty easygoing, but it isn't always that way. The USAirways flight attendant from Paris was hesitant, but when I asked if she would serve that KSML to her pet, she became more than happy to warm up the felafel I brought from L'as du Felafel in Paris.
TAM First Class was amazing:
Their KSML that they served us in October 2014 from Miami to Sao Paulo…not so much:
But they had no problem warming up my BYOK:
When we flew to Israel last year USAirways moved us to United. Connecting in Newark meant getting delicious Sesame Chicken with free delivery from New Kosher Special. The flight attendant was more than happy to warm some up on the plane as we didn't have kosher meals because of the flight switch.
There are times when the kosher meal doesn't show up at all. Some people will say that I shouldn't complain about that, but if it's something that's included in the ticket I don't see why it shouldn't be brought up. If nothing else, it also helps the airline correct procedures for the future.
When United forgot my kosher meal when flying from Newark to Honolulu before the Island Hopper last May they compensated me with 10,000 miles, which is my general preference over frozen gefilte fish 😉 Besides, the flight attendants had no problem heating up the Pomegranate travel meal that I brought along. The Pomegranate meals are tailor-made for BYOK, if only an airline would contract with them to supply their kosher meals!
Getting some miles or a travel voucher is typical, though some airlines won't give you anything.
Isaac Kopfler booked a Lufthansa ticket from Zurich to Sao Paulo on a codeshare flight operated by Swiss.
When you request kosher meals from a partner airline it often gets lost in translation, if you actually want the meal you should confirm it directly with the operating carrier, not from the airline that sold you the ticket. And that's probably what happened in his case and why he didn't get a kosher meal on the flight.
He sued Lufthansa for $5,000, saying that he fasted for 14 hours due to the lack of a kosher meal.
I think that's beyond the pale.
Do Observant Jews really travel relying on the kosher meal served on an airline? Was there no fruit on the plane? And is that really something that merits litigation?
At any rate, the Brazilian court ordered Lufthansa to pay him $1,400 for "moral damage" and Lufthansa has committed to paying him. The airline also says they will offer him further compensation in miles.
$1,400 and bonus miles for a kosher meal gone missing? That's a whole lot of gefilte fish!
What are your best and worst KSML experiences?
Do you rely on kosher meals from the airline or do you bring your own food?
Have you tried my BYOK method to get a flight attendant to warm up your own double-wrapped kosher meal from home or from a restaurant?
Hit the comments!