I spend hours every day browsing the DansDeals Forums and the DansDeals Facebook group (which seems to have become an unorganized forum for people too lazy to sign up for the actual forums) looking for tips and trying to help people out.
I run across lots of questions so I figure I may as well feature them on occasion. Here's one for today.
Eliezer F. posted on the DD Facebook group looking for a one-way ticket from NYC to Pittsburgh on 10/21, 10/22, or 10/23.  Some people suggested a bus.  Here at DansDeals we don't do buses.  At least I haven't stepped on a long-distance one since graduating high school.
I went away to high school in Pittsburgh as a 13 year old in 1998 and remember the NYC guys having to take long Greyhound rides as USAirways monopolized the market and tickets were a fortune. Then Airtran came along and tickets dropped to as little as $19 each way. Unfortunately USAirways flooded the market with capacity and matched their fares so people naturally booked the more convenient USAir flights.
Airtran cut the route and moved their valuable LGA slots over to Akron, OH where there were no NYC flights except from Cleveland some 50 minutes away. Those flights still continue today.
JetBlue then saw an opportunity a few years later once USAirways had dismantled their Pittsburgh operations which left most of the airport a ghost town. Their flights to JFK though never caught on as they thought they would and the route was cancelled earlier this year. Which of course sent airfares skyrocketing yet again.
At any rate, back to the question at hand. The first order of business is to check the paid fares.  With ITA software this is very easy. (Note that ITA Software does not actually sell tickets.  When you find something that looks good just plugin your dates into a site like Orbitz).
Choose one-way, search from NYC-PIT, search exact dates (though their calendar is awesome if you are more flexible), type in 10/22, and add plus/minus 1 day so that 10/21 and 10/23 are searched as well: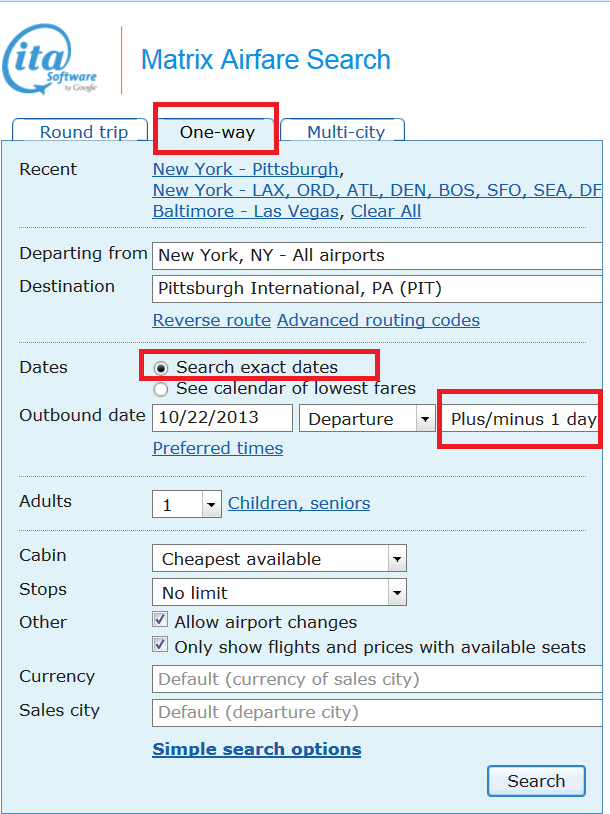 The results page isn't pretty.  Nonstop from Newark on United from $383. Nonstop from LGA on Delta and USAirways from $461, nonstop from JFK on AA from $624.  Or fly on Airtran via Atlanta for $186:
Next let's take a look at some hidden cities.  Booking a hidden-city ticket isn't something the airlines love and you shouldn't make a habit of it… book at your own risk.  It's usually a good idea to credit the miles to a partner airline.
Here's how I search for a hidden city with ITA software.  Click on advanced routing codes.  Enter the correct origin airport. Enter the airport code where you actually want to end up in between the origin and destination field.  For the destination field I copy/paste the entire list of the top 100 US airport codes that I compiled and posted in this DDF Wiki.
Effectively I'm asking ITA to find me a flight to anywhere in the country as long as it stops in Pittsburgh: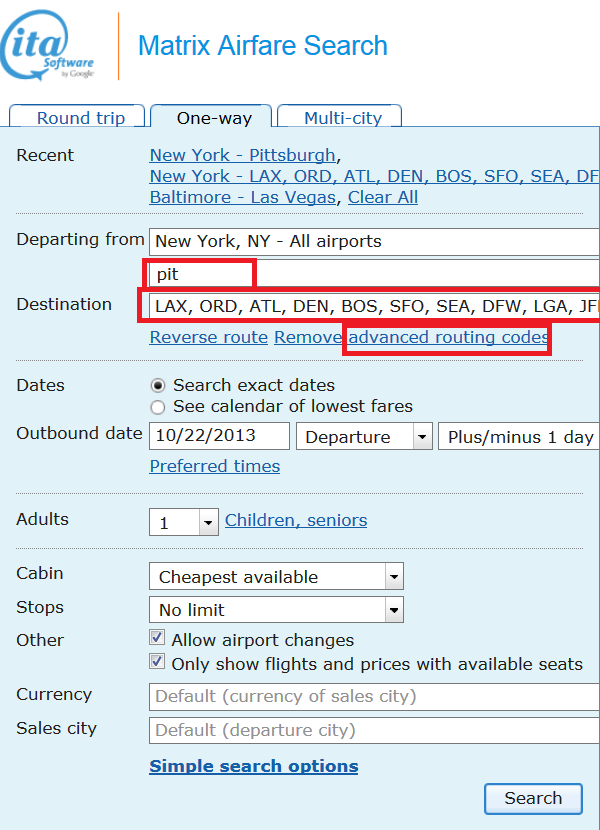 These results are more palatable.
ITA found a flight on USAirways from LGA to Raleigh/Durham that stops in Pittsburgh for $115.  Note that you'll only be able to being carry-on luggage on a domestic hidden-city flight.  Not the end of the world-you can always send luggage via UPS ground for about the same price as checking a bag.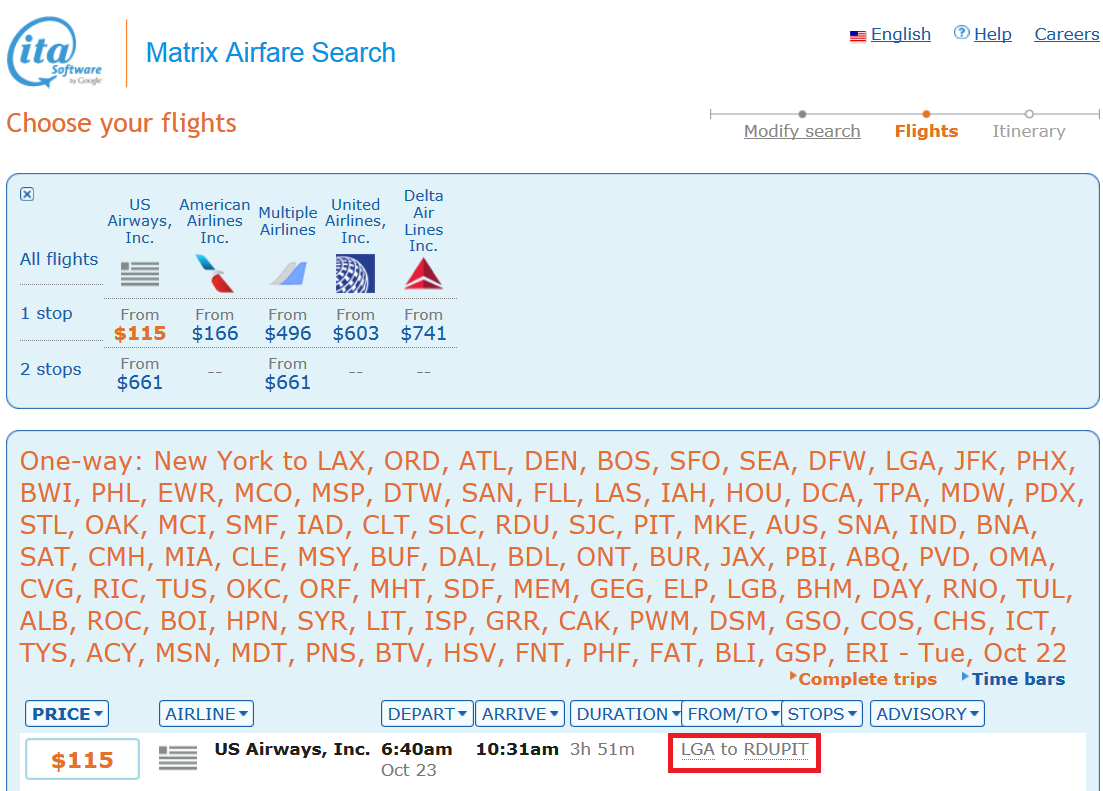 Now that we know what a paid flight would cost it's time to move onto miles.  Now I have no idea what kind of miles that Eliezer might have but we know the 4 carriers that fly from NYC to Pittsburgh.
-Delta has 10 flights a day from NYC to Pittsburgh but they don't allow for one-way awards. Luckily their partner Air France Flying Blue does.
-USAirways has 7 flights a day from NYC to Pittsburgh but they don't allow for one-way awards. Luckily their partner United does.
-United has 7 flights a day from Newark to Pittsburgh and allows one-way awards.
-American has 1 flight a day from JFK to Pittsburgh and allows one-way awards.  As there's just 1 a day this can be a tough flight to find with miles.  Compare this with the 5 flights a day between NYC and nearby Cleveland where award availability is significantly better.
-You can transfer American Express Membership Rewards points to British Airways (currently 1,000:1,200 with the 20% promotion running until 12/31) and Flying Blue (even exchange) from cards like the American Express® Premier Rewards Gold Card.
-You can transfer Starwood Starpoints to American, British Airways, and Flying Blue at an even exchange or at a 20K:25K ratio from cards like the Starwood Preferred Guest® Credit Card from American Express.
-You can transfer Chase Ultimate Rewards points to British Airways and United (even exchange) from cards like Chase Sapphire Preferred and Chase Ink Plus.
Plenty of availability on Delta when booked via Air France Flying Blue for 12.5K+$2.50: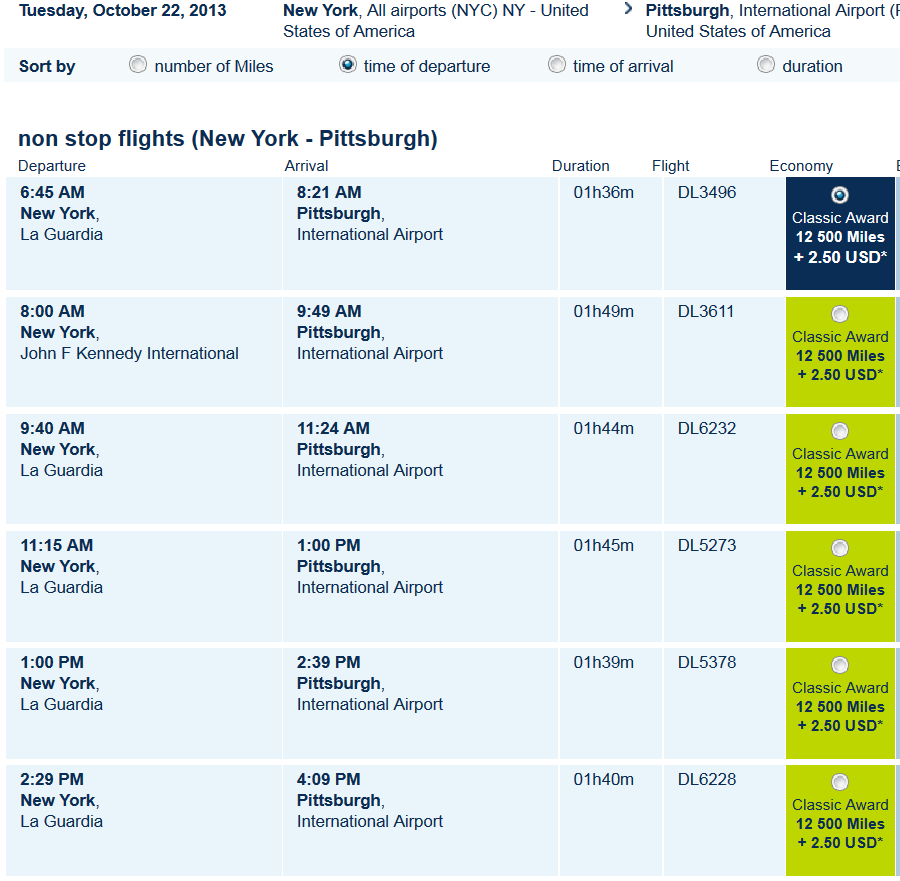 Also plenty of flights on United and USAirways.  Note that the United flights are 10K as short-hauls on United are 10K instead of 12.5K  The flights on partner USAirways are 12.5K.
United charges a $75 expedite/close-in fee for booking within 21 datys.  The fee is waived for certain elites and United Club cardholders (click on Club tab).  And it's waived for everyone who attends a DansDeals seminar 😉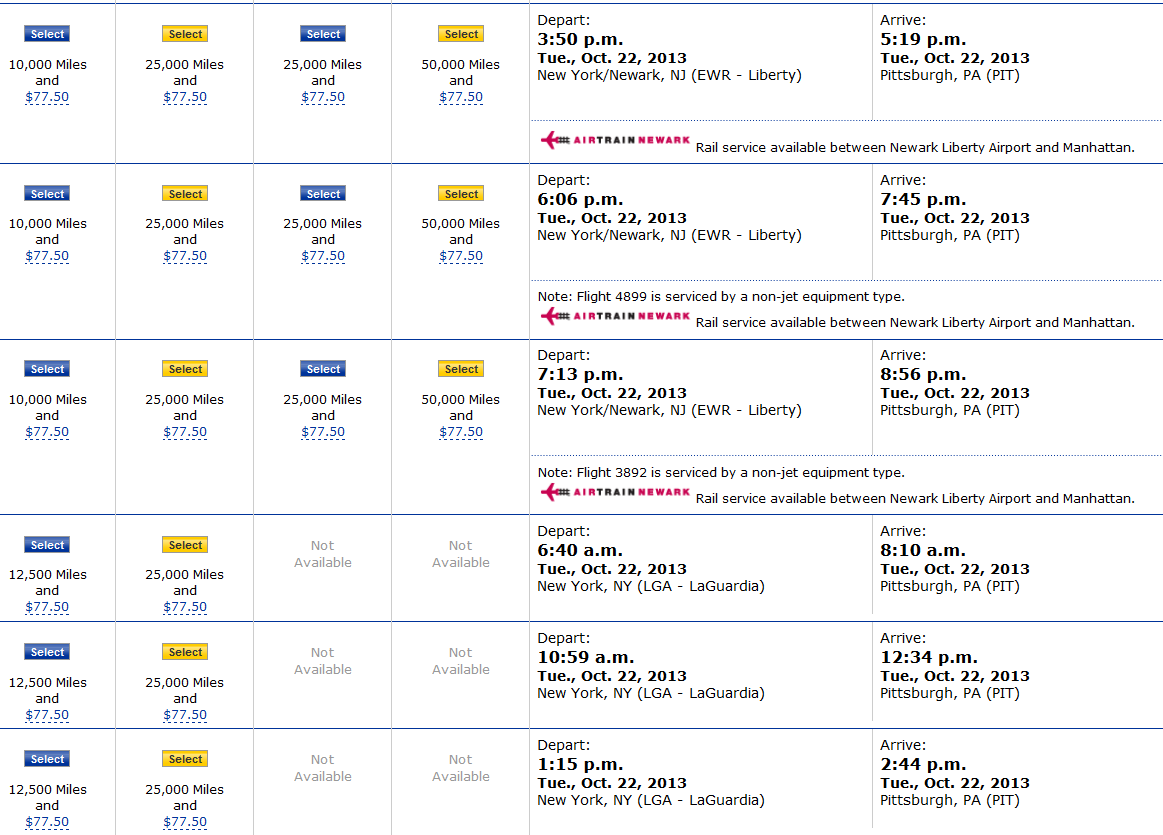 American charges 12.5K for a MileSAAver award.  Of course British Airways can also book any nonstop MileSAAver that you find on AA's site as well.   To find nonstops flights on the calendar just toggle the number of stops to nonstop only.  If there is no toggle then there are no nonstops.  In that case click through the see where the flights stop and you'll know what to search for on British Airways as 2 separate flights (though their phone reps may be able to combine them onto 1 ticket to save you some tax, just be sure to get them to waive the phone fee.)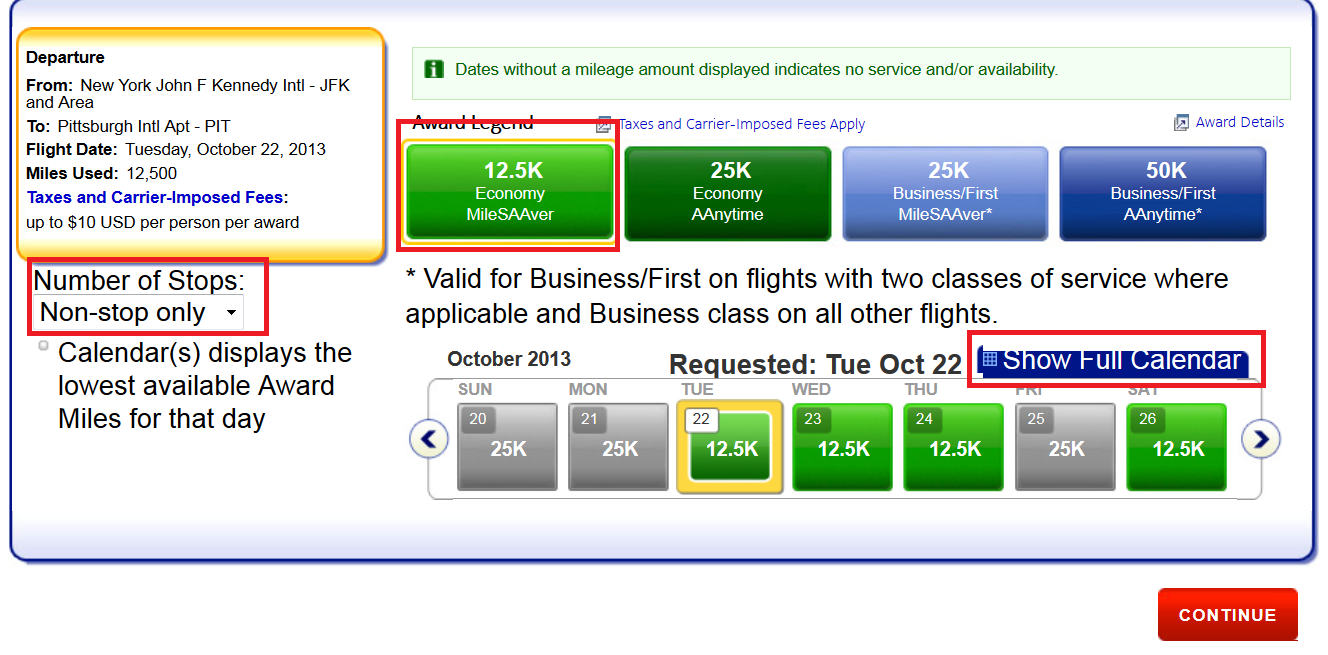 American also has that $75 expedite fee, waived for elites:

And of course the ideal option for this route, British Airways booking you on American for just 4,500 Avios plus $2.50.  Even better is that you'll only pay $2.50 to cancel the ticket and redeposit the Avios if you cancel online before 24 hours of departure.  Compare that with the $200 change fees on regular tickets!
This is a $624 flights for 4,500 Avios (or less than 4K Membership Rewards/Starwood).  That's a value of nearly 14 cents per Avios.  Or using the $461 figure for a flight from LGA it's a value of over 10 cents per Avios.  Now multiply that by the 50K you can get for opening a credit card 🙂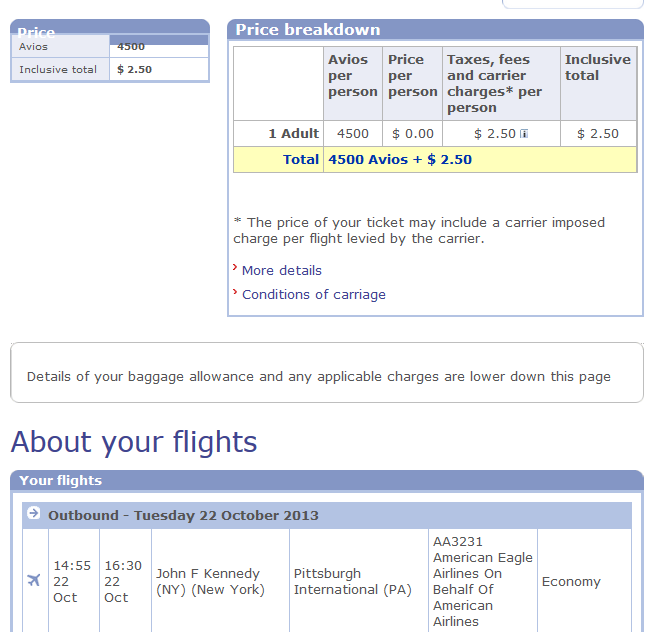 Sure I could've just started with the BA option, but what would be the fun in that 😀
Plus the rest of the stuff can help when that 1 American flight a day doesn't have award space, for example if Eliezer had to travel on 10/21.
The Chase British Airways card gives 50,000 Avios (good for more than 11 free short-haul flights which can go for over $400 each) for spending $2,000 plus 1.25 Avios per dollar spent. For a limited time the annual fee waived for the first year.