Update: My email confirmations are coming through confirming that unlimited data is still on each line!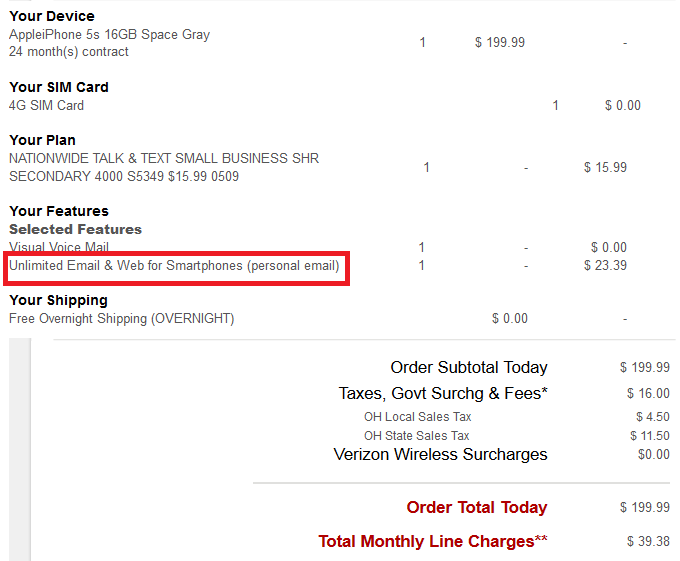 ——————————————————————————————–
I had Sprint from 2001 until 2011 when they decided that my plan was too good and they told me to switch to a current plan or another carrier.
My family settled on an 8 line Verizon plan with 5 of those lines having unlimited data. Sure the price was higher, but the customer service and cellular service was light-years better than Sprint.  A few weeks later they stopped offering unlimited data.  They grandfathered in those who already had unlimited data with the caveat that they would have to pay full price for a new phone.
And indeed when I tried upgrading my line on the Verizon site it said I would have to switch to a 2GB data plan for the same price as the unlimited plan or switch to the alternative data share plans if I wanted subsidized upgrade pricing.
Rather that paying $700 for a phone I upgraded my Galaxy Nexus to a Galaxy S4 (which is just an awesome phone) last month via a cute workaround. I did that by using the upgrade on one of the 3 lines on our plan that didn't have unlimited data.  That line was eligible for upgrade pricing and then I simply activated the phone on my line with unlimited data.
Right now however Verizon's website is allowing anyone on a grandfathered unlimited plan to upgrade their device without losing their unlimited data plan.  I just upgraded all of the remaining lines on our plan to iPhones.  Sure I spelled out dozens of reasons why my S4 kicks the iPhone on the DD Facebook group, but there's no denying that I can make a quick few grand thanks to the sheeple overpaying for iPhones on ebay right now.  I'm not going to open 'em-they're going straight to market.
Be sure to take lots of screenshots showing that the website is allowing to keep your unlimited data plan and hope that they will honor these purchases. Don't dawdle, this isn't likely to last too long…