Chase Ultimate Rewards has some great transfer partners that they transfer to at a 1:1 ratio:
Airlines: United (Star Alliance), British Airways (Oneworld), Korean (Skyteam), and Southwest (which can in turn transfer to Airtran).
Hotels: Hyatt, Marriott, Priority Club, and Ritz Carlton.
Trains: Amtrak.
The most valuable partners in my opinion are United (which never charges fuel surcharges, allows free date changes, has flexible routing rules, allows one-way awards, and has dozens of partners to fly on) and Hyatt (where you can stay in incredible hotels that charge $1,000 per night with awards as low as 5K and up to a maximum of only 22K points per night).
Most foreign carriers tack on huge fuel surcharges on award tickets, however Korean is worth taking a 2nd look at.  They are partners with some airlines outside of the Skyteam Alliance that they don't collect a fuel surcharge on.
These include Alaska, Emirates, and Hawaiian. Here is a link to their non-alliance partner award chart.
These are some amazing values here.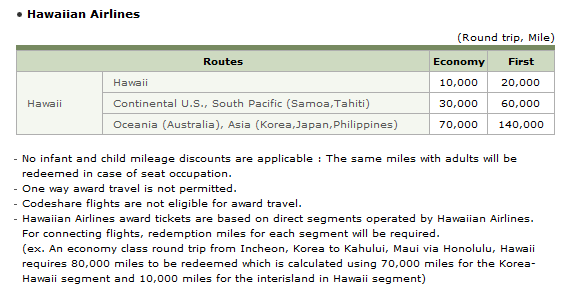 Hawaiian Airlines Route Map Linky
Seeing this I looked on AA.com for a first class flight from JFK to Honolulu.  By limiting the search on the calendar page to non-stop flights only I was able to narrow the calendar down to only show dates with Hawaiian availability as they have the only nonstop flight in that market (starting in June).  On AA.com the first class Hawaiian flight can be found by clicking on the business/first option.
I then called up Korean's Skypass office in Los Angeles at 800-438-5000 (and then prompts 2, 4, and 0) to confirm the rate.  They saw the same availability as I had found on AA.com and confirmed that the round-trip ticket in coach from JFK to Honolulu would be just 30,000 miles and in first would be just 60,000 miles plus $5 tax!  Using AA miles it costs 35K to fly coach on Hawaiian off-peak, 45K to fly coach during peak season (which is 03/09-08/21 and 12/16-01/11 annually), and 75K to fly in first, so it's quite the bargain using Korean miles!
Note that on Hawaiian you pay per segment, so if you want to add an inter-island round-trip to your mainland trip that will add 10,000 miles.  If you want to fly from the US to Tahiti or Pago Pago it will be 60,000 in coach or 120,000 in first.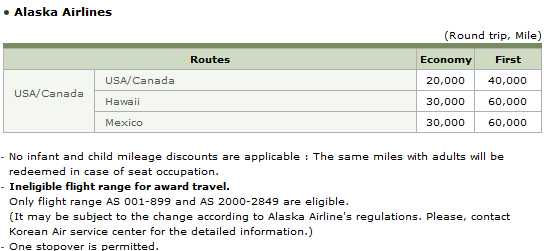 Alaska Airlines Route Map Linky
You can also search for Alaska award flights on AA.com using the same method as with Hawaiian.  You can fly anywhere in the US, including to Alaska for just 20,000 Korean miles in coach or 40,000 Korean miles in first with no fuel surcharges!  That's 5,000 miles less than AA charges in coach and 10,000 less than AA charges in first!
Plus you are allowed a free stopover when using Korean miles for Alaska.  Does this mean you can fly from Los Angeles to Anchorage, stopover there, and then fly to Hawaii?  I didn't try that kind of extreme routing over the phone yet, but if you do then post a comment!  At any rate you'll definitely be able to fly from JFK to Anchorage and stopover in Seattle for as long as you want.
For Mexico the rate is 30,000 Korean miles in coach or 60,000 Korean miles in first with no fuel surcharges. That's 5,000 miles less than AA charges for the coach flight.
For Hawaii, Alaska flies from all over the west coast and Alaska to Hawaii and it costs just 30,000 Korean miles in coach or 60,000 Korean miles in first with no fuel surcharges.   That's 5,000 miles less than AA charges in coach during off-peak, 15,000 miles less than what AA charges during peak season, and 15,000 less than AA charges in first!
Now it is worth pointing out that for short haul flights like from the west coast to Hawaii or to Mexico on AA or on Alaska you will be better off transferring points to British Airways instead of to Korean. With British Airways there are no fuel surcharges within the western hemisphere and a flight like LAX to Cabo will be just 15,000 miles and a flight from the west coast to any of the Hawaiian islands will be just 25,000 miles. Bear in mind that BA however is not partners with Hawaiian, despite the fact that AA and Korean are partners with them.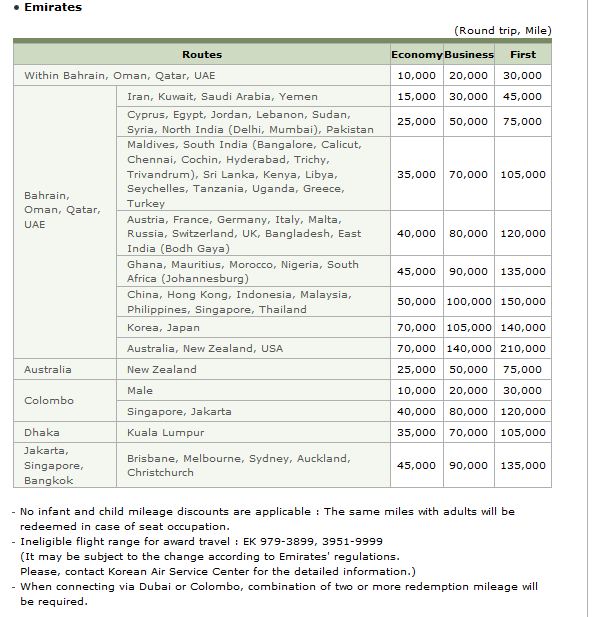 Emirates partners with just a small handful of airlines. If you've dreamed of flying in an incredible First class suite on the A380 with the ability to even take a shower on the plane than Emirates has the best availability for your dream. You can transfer Starpoints to Emirates, but other than that if you are flush with Ultimate Rewards points you can transfer to Korean to book you on Emirates with no fuel surcharges.  To fly round-trip from Toronto or JFK for example to Dubai in a first class suite on the A380 would be 210,000 miles.
Chase Ultimate Rewards Cards:
Cards that can transfer points into miles:
-Chase Sapphire Preferred Visa Signature
-Chase Ink Bold
Cards that earn Ultimate Rewards, but requires one of the 3 previous cards to transfer the points into miles.
-Chase Freedom Mastercard,
-Chase Freedom Visa
-Chase Sapphire Non-Preferred
-Chase Sapphire Non-Preferred Visa Signature
-Chase Ink Classic
-Chase Ink Cash