Related posts:
Getting To Israel Using Starwood Starpoints!
Air France/KLM Flying Blue Slashes Fuel Surcharges On Delta Award Tickets!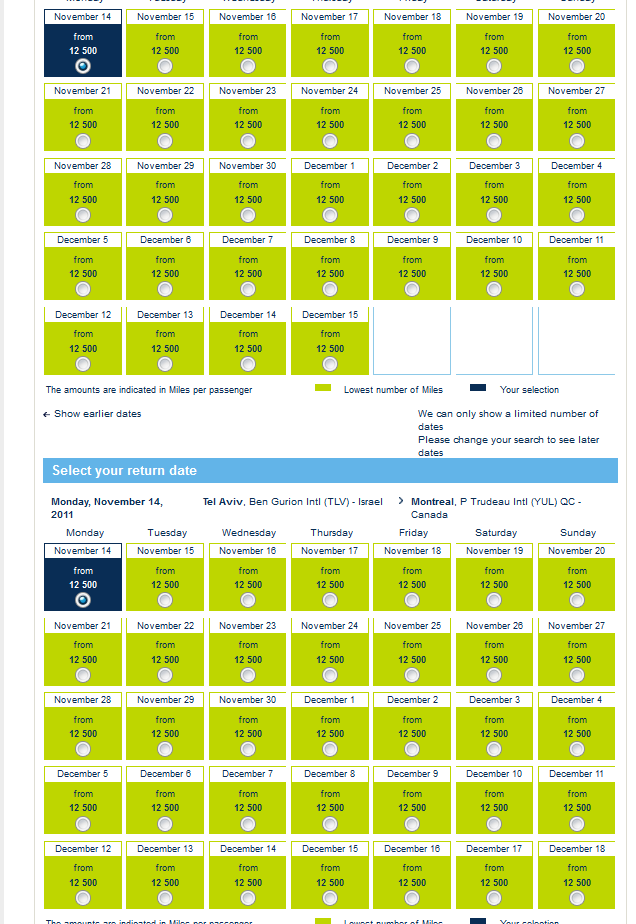 I've been blogging about about Air France/KLM Flying Blue's promo awards for many years now. They're a bit of a mixed bag. You can go to or from select cities in North America (the cities rotate every 2 months) and Europe for half of the regular rate. The good part about the awards is that Flying Blue counts Israel and Russia as part of Europe. The bad part is that they're only good on Air France and KLM and are therefore subject to heavy fuel surcharges. The other bad part is even when there are promo award rates for both the North America-Europe and the Europe-Israel segments sometimes their buggy website doesn't recognize the promo rate when searching North America-Israel and their call center is just a royal pain to deal with.
The rate in coach is 12,500 miles each way, in premium economy it's 15,750 miles each way, and in business class it's 25,000 miles each way.
That means you can transfer 20,000 Starpoints or 25,000 American Express Membership Rewards points into enough miles for a round-trip promo award ticket in coach or double those amounts for a round trip business class ticket.
The current cities valid for travel in November or December are:
KLM: Chicago, Calgary, Montreal, and Toronto.
Air France: Detroit, Orlando, Seattle, and Washington D.C.
Air Europe: Miami.
(Don't worry…they feature NYC as well multiple times per year, just not this time)
As the picture above illustrates, when searching on Air France's website for Montreal-Tel Aviv it shows 12.5K availability on every single day!  But the catch are the fuel surcharges.  While you can use 50,000 or 100,000 Flying Blue miles to fly nonstop Delta in coach or business without paying fuel surcharges, if you use these half-price promo awards you will have to cough up some dough.  For example for Montreal-Tel Aviv on 11/14-11/21 the total charges are 25,000 miles plus $522 in coach or 50,000 miles plus $662 in KLM World Business Class.
Is it worth it?  That all depends on where you need to fly out of, when you need to fly, what class you want to fly in, how many miles or Starpoints you have at your disposal, and how averse you are to paying fuel surcharges on award tickets.  See the related link above about other methods of getting to Israel with Starpoints that don't involve paying fuel surcharges.