3 weeks ago DansDeals broke the news that ANA was no longer collecting fuel surcharges on United and USAirways award tickets.  They have an awesome international partner award chart, with round-trip  tickets to Europe starting at just 38K coach/63K business and to Israel for just 60K coach/90K business.
However ANA's award chart is terrible for domestic tickets.  JFK-LAX in business is 63K miles and Newark-Honolulu in business is 85K miles.
Now this may not be breaking news, but Singapore also is not charging fuel surcharges for United and USAirways.  Their miles have been traditionally used to experience Singapore's sublime service in business, first, and suites class, which are generally only available if you have Singapore miles.  However those come with fuel surcharges.
However take a look at their partner award chart for domestic purposes. You can fly round-trip JFK-LAX in business class for 40K miles or Newark to Honolulu for just 60K miles in business class.  Compare to Air Canada where booking that United flight in business would be 50K for JFK-LAX and 80K for EWR-HNL.
You can also use Singapore miles to fly to Israel on USAirways or United for 75K in coach and 115K in business.  Why would you do that if you can transfer to ANA where it's just 60K/90K?  -First of all Singapore will hold award tickets even if you don't yet have the miles in your account, so you won't lose the ticket while you wait.
-Second of all the transfer from AMEX to Singapore is faster (typically overnight) than AMEX to ANA. 
-Third of all you can book one-way awards with Singapore miles for half of the round-trip rate.
-Additionally if you want to fly in business, first, or suites class on Singapore from JFK to Frankfurt and then on Lufthansa from Frankfurt to Tel Aviv you'll probably need to use Singapore miles, though that will be subject to a fuel surcharge.
I searched for saver level award tickets on United.com and then called Singapore to check for those flights.  They had no problem finding the same availability and taxes were just $5 USD.
United flies 2 cabin 757-200 aircraft with lie-flat business class seats on select flights between JFK or Newark and Los Angeles or S. Francisco.  Later this year all aircraft between JFK and Los Angeles or S. Francisco will be converted to having lie-flat business class seats.  At just 40K miles round-trip this is a great deal!
You can see if the 757 currently has lie-flat seating by viewing the seating chart.  If they are selling 3 classes of service on the 757 then business won't be lie-flat, but those 3 class planes are being converted into 2 class planes with lie-flat seating, so later this year it will be much easier to find lie-flat transcontinental business awards.
A 757-200 with lie-flat business class seating: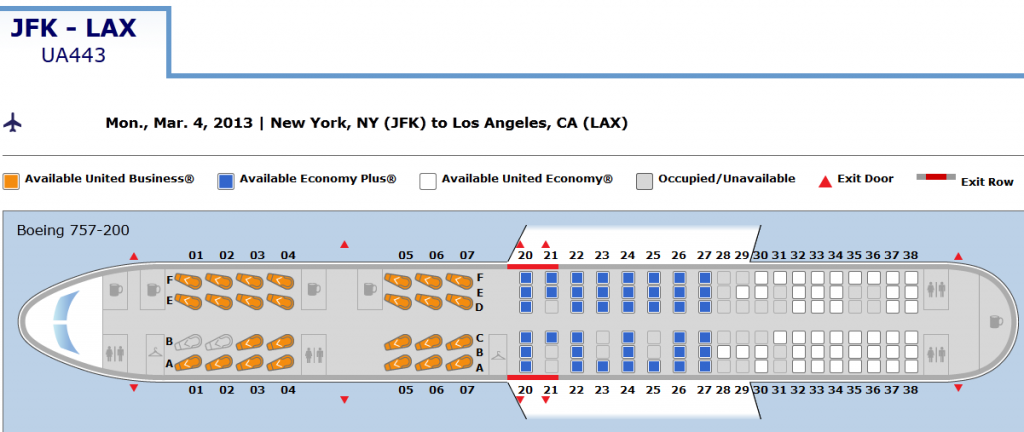 A 757-200 without lie-flat business class seating: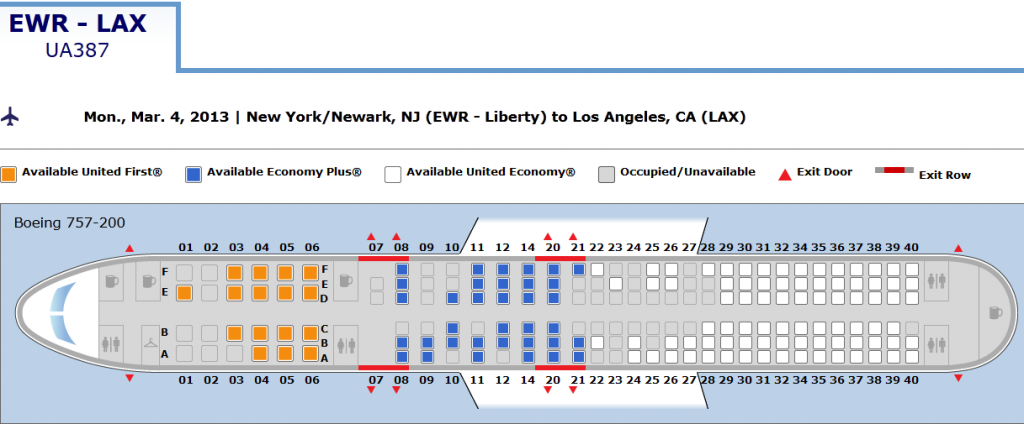 —————————————————————-
Want to start collecting Singapore miles? Here are some credit cards with points that will transfer to Singapore. AMEX points transfer 1:1, Starpoints transfer 20K:25K.
These cards all have a 25K signup bonus:
–American Express® Premier Rewards Gold Card
–The Platinum Card® from American Express
-Starwood Preferred Guest® Credit Card from American Express
-Starwood Preferred Guest® Business Credit Card from American Express OPEN