Update #2, 01/17: Reports from commenters today are that the $100 transactions are now ringing up at $99.90 instead of $89.90.
It's still a great deal though with an Ink card, even if not trying to hit a spend threshold. You get gift cards that can be used anywhere with no fees and you earn 5 points per dollar on all the spending!
————————————————–
Update, 01/15: Picked up a couple dozen more cards from another Office Max tonight 😀
Earning a whopping 5 points per dollar spent on top of a $10.10 profit per transaction? Priceless!
————————————————–
Related posts:
-Want To Boost Your Credit Score? Spend On Business Cards Instead Of Consumer Cards.
-A Rundown Of The Chase Ultimate Rewards Program And Ultimate Rewards Cards
-Updated Chase Ink Offers
-Another Flavor Of Vanilla: My Vanilla Debit Card
-Need To Meet A Spending Threshold Deadline? Send And Receive $1,000/Month With No Fees Using Amazon Payments!
-My Current Credit Card Lineup
-Today's Escapades
-Top Credit Card Offers
———————————————————————————-
The goal: Meet a $5,000 spend threshold on a Chase Ink Plus card in 1 night. Because 3 months is for sissies who don't know how to burn and move onto the next card 😉
Total spend in 25 minutes of "work": $5,020.50
Total amount that will be liquidated: $5,100
Total points and cash earned: 58,977 points (worth at least $1,120 at my personal "value" of at least 1.9 cents each) and a $79.50 cash profit.
The points are transferable and are roughly enough for:
-13 one-way short haul flights on American via BA or a round-trip flight to Israel on Air Berlin via BA,
-3 round trip coach flights to Alaska, or 2 round-trip coach flights to Hawaii, or 1 first class flight to Hawaii on Alaska Airlines or Hawaiian Airlines booked via Korean
-4 nights at the fantastic Park Hyatt Melbourne, Andaz West Hollywood, Park Hyatt Aviara (CA), or Park Hyatt Toronto
-A one-way business class ticket to Israel or a round-trip coach ticket to Europe (with up to 12 stopovers and connections if you're crazy enough) on any Star Alliance carrier via United.
Stop 1: Office Max.
What I bought: 22 prepaid Mastercards of $50 each in 11 transactions.
Why: This week only you can save $10 off each card instantly, up to 2 cards per transaction. Earn miles while turning a profit!
Total cost per transaction: 2 x $50 prepaid Mastercards = $100 – $20 instant rebate + $9.90 in prepaid debit card fees=$89.90
Total cost of all transactions: $988.90
Total points earned from spending: 4,945, due to 5 points per dollar earned on Ink cards at office supply stores.
Actual value of the prepaid cards: $1,100
How I'll liquidate them: Amazon payments. When adding prepaid debit cards to Amazon Payments just put an incorrect expiration date so that they don't put a hold on your funds. Then when you send money to a friend fix the expiration date.
Liquidation fees: None.
Stop 2: Walgreens
What I tried buying: 1 Vanilla Reload card of $500
Total cost: $0. Walgreens has gotten smart and now when you swipe your card it only lets you pay the $3.95 fee with your credit card. You may be able to get a manager to override that, but in a city with dozens of VR stocked CVS stores I didn't bother.
The upshot: Nothing works forever. burners used to have dollar coins, money orders, and travelers checks. Now we have Amazon Payments, Vanilla Reloads, Vanilla Debit cards, and Bluebird. Those won't last forever but I'll use them while I can and find something else once they're gone.
Stop 3: CVS
What I bought: 8 Vanilla Reload card of $500 each in 4 transactions.
Why: Earn points on the cheap, even if you're not gunning for signup bonuses. Limit of $1,000 of prepaid cards per transaction.
Total cost per transaction: 2 x $500 Vanilla Reloads = $1,000 + $7.90 in prepaid card fees=$1,007.90
Total cost of all transactions: $4,031.60
Total points earned from spending: 4,032
Actual value of the prepaid cards: $4,000
How I'll liquidate them: Transfer to my Bluebird card and then write a check from there to pay any bill to any company or friend or just pay off the card directly from there.
Liquidation fees: None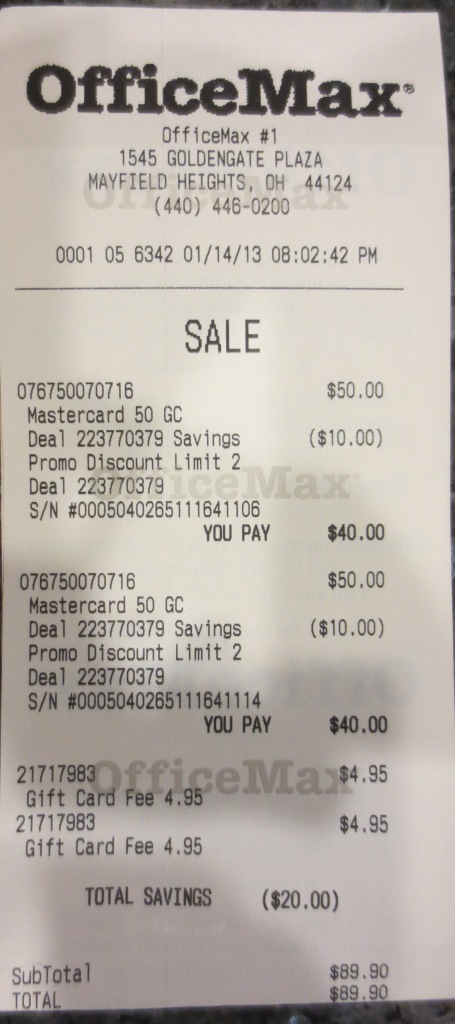 Good ole' Office Max Store #1.  Ctown copycats…you may want to avoid Store #1 😀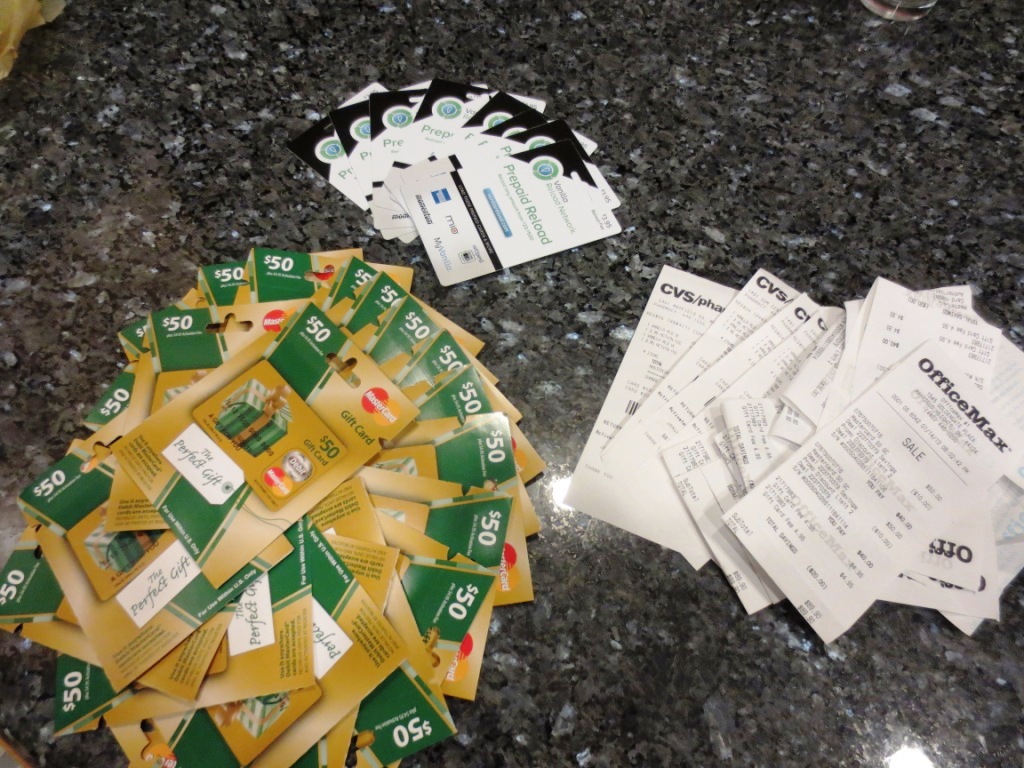 The bounty.
HT: Stu M.