When American Express Membership Rewards lost Continental as a partner a couple years ago it lost the best gateway towards the Star Alliance. The Star Alliance is a network of dozens of airlines on which you can redeem miles from one partner to the other. With so many airlines it's usually easy to find award availability.
The problem is that most airlines outside of the US collect a fuel surcharge on award tickets. United and USAirways do not collect a fuel surcharge even if you fly on an airline that would charge heavy fuel surcharges had you been redeeming their miles.
The Star Alliance airlines that you can transfer to from American Express Membership Rewards now include just Air Canada, ANA, and Singapore.
Those all have pluses and minuses.
-Air Canada Aeroplan miles require activity every 12 months and expire after 7 years even with activity. Their award chart can be pricey. If you fly on these carriers you will pay a fuel surcharge: Adria, Air Canada, ANA, Asiana, Austrian, LOT Polish, Lufthansa, TAP Portugal, and THAI.
If you fly on these carriers you will not pay a fuel surcharge: Aegean, Air China, Air New Zealand, Avianca/TACA, Brussels, Copa, Croatia, EgyptAir, Ethiopian, SAS, Singapore, South African, Swiss, TAM, Turkish, United, and USAirways.
On the bright side they do allow 2 stopovers on awards. There are no close-in/expedite fees. Plus they have the best infant lap child policy in the industry, you pay just $50 for a coach award, $100 for a business award, or $125 for a first class award. No 10% of the full fare rubbish that many other airlines do.
-ANA has an incredible award chart, but unless you want to fly United and USAirways you'll pay fuel surcharges.
-Singapore has perhaps the best business and first class in the industry and they can only be had if you have Singapore miles. However they collect fuel surcharges so the value of this program is mostly limited to redeeming miles to experience flying in your own suite on a plane.
If you open a points.com account you will be able to transfer points from Air Canada Aeroplan into USAirways at a 100:84 ratio.  This is much better than other typically terrible points.com exchange rates.
You need to transfer a minimum of 15,000 points.
15K Air Canada nets 12,601 USAirways miles. 100K Air Canada miles nets 84,011 USAirways miles.
If you transfer 85,000 Membership Rewards points from the current promotion you would have over 71,000 USAirways miles.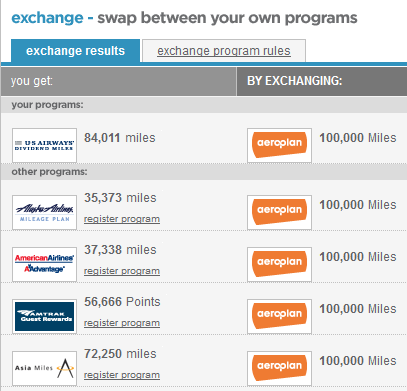 So is that worth it?
-USAirways does not collect a fuel surcharge on any airline, however they do collect an award processing fee of $25-$50.
-USAirways will hold awards for 3 days.
-USAirways award tickets on partner airlines must be booked over the phone. But at least they waive the phone fee for Star Alliance redemptions.  You can search for Star Alliance award availability on United.com or Aeroplan.com and then call USAirways to book.
-USAirways miles never expire if you have activity every 18 months.
-USAirways does not allow redemptions for Lufthansa First Class.
-USAirways also has a number of non-alliance partners, including Bahamasair, Jet Airways, Hawaiian, Qatar, Royal Jordanian, and until June 12th, Virgin Atlantic.
-Bear in mind that USAirways miles are not as valuable as United, though you can't get United miles with Membership Rewards points or Starpoints. While United allows free date and routing changes on award tickets USAirways charges $150 for that. United allows for changes to award tickets at any time while USAirways prohibits them completely on partner awards once your you fly on the first leg. And United allows for one-way bookings, allows online bookings, and does not charge an award processing fee.
Here is USAirways partner award chart.
And here is Air Canada's chart.
Noteable differences:
-North America to Israel in business class is 120K USAirways miles versus 135K Air Canada miles. Air Canada is 12.5% more miles.
-Domestic 3 class First Class is 50K USAirways miles versus 70K Air Canada miles. Air Canada is 40% more miles.
-Hawaii is 40K coach/70K Business/70K 3 class First USAirways miles versus 45K coach/80K Business/110K 3 class First Air Canada miles. Air Canada is up to 57% more miles.
-North Asia (China, Japan, Hong Kong, South Korea, etc) is 60K coach/90K Business/120K First USAirways miles versus 75K coach/125K Business/175K 3 class First Air Canada miles. Air Canada is up to 46% more miles.
-Australia/New Zealand is 80K coach/110K Business/140K First USAirways miles versus 80K coach/135K Business/185K 3 class First Air Canada miles. Air Canada is up to 32% more miles.
-South Africa is 70K coach/110K Business/150K First USAirways miles versus 100K coach/150K Business/210K 3 class First Air Canada miles. Air Canada is up to 42% more miles.
Conclusion:
As you can see in many cases USAirways gives more than a 16% discount from Air Canada on many routes plus they don't collect fuel surcharges on any airlines, so it definitely can make sense to transfer, albeit depending on the exact situation.
However where USAirways really gets lucrative is that they are very generous on award routing. People have booked travel to Asia, Australia, and South Africa with a stopover in Europe or Israel! Because of their bizarre award pricing a business class ticket to Asia is cheaper than to Europe, but even if you stopover in Europe or the Middle East on the way to Asia, Australia, or South Africa you just pay the rate of the final destination.  Plus you can get multiple connections of up to 24 hours on an award to check out even more cities for free.
Sometimes you'll have to play HUCA (Hang up, call again) as they have many incompetent agents, but then again that can work in your favor…that's probably how this Twitter follower of mine tweeted about how they got a ticket from NYC to South Africa with a stopover in Israel for just 40,000 USAirways miles!
-USAirways also has an award chart for flights on USAirways only with gems like off-peak awards to Europe or South America for just 35,000 miles round-trip.
Plus if you have a USAirways credit card you get 5,000 miles off every award ticket when you are only flying on USAirways.
Bear in mind that USAirways is currently trying to convince American to merge with them and if they do they will join OneWorld.  Not that that's the end of the world as American miles are quite valuable.
Also award charts are always subject to change, so it's probably not wise to stick too many points into USAirways.
—————————————————————
Want to start collecting USAirways miles? Here are some credit cards with points that will transfer to USAirways:
-Starwood points transfer to USAirways at a 20K:25K ratio.  It can take 2-10 days for a transfer and transfer names do not have to match.  100K SPG=125K USAirways.
-Membership Rewards points transfer instantly to Air Canada at a 1:1 ratio and transfer names do not have to match.  Air Canada points currently transfer to USAirways at a 100:84 ratio though that is subject to change. 100K MR=84K USAirways.
American Express Consumer cards:
These cards all have a 25K signup bonus:
–American Express® Premier Rewards Gold Card
–The Platinum Card® from American Express
-Starwood Preferred Guest® Credit Card from American Express
American Express Business cards:
The Gold card has a 75K signup bonus for this week only while the Starwood card has a 25K signup bonus.
-The Business Gold Rewards Card® from American Express OPEN
-Starwood Preferred Guest® Business Credit Card from American Express OPEN