Hyatt: Register For Bonus Points On Paid And Award Stays
Register via the link above and you can get 2,500 bonus points for every 5 nights spend at Hyatt Regency and Grand Hyatt hotels.
This is valid for stays with a checkout date between 6/1-8/31.
Registration closes 7/15.
There is no limit to how many bonus points you can earn with this promo.
The nice thing about this bonus is that it's valid on both paid and award stays, so it's effectively a small rebate on award point requirements. In past years Hyatt has also offered a redemption rebate on award stays for Hyatt cardholders in the summer, but nothing has been announced for that as of yet.
In other news, Hyatt finally responded to criticism that top-tier Globalist members (formerly called Diamond members) have their confirmed suite upgrades expire 365 days after they are earned. That created a system where members were booking away from Hyatt in order to reach Globalist status later in the year so that the confirmed suite upgrades would be valid for a later period of time.
Confirmed suite upgrades earned this year will now be valid until the end of February 2020, just like how it was under the old Diamond system. The confirmed suite upgrade certificates are what makes the Hyatt program so valuable, so it's good to see Hyatt fix this.
Unfortunately for me, while I am a Globalist this year, I didn't earn any confirmed upgrade certificates this year as a I qualified under a loophole that existed for just 2 months last year.
I wish Hyatt would just kill the World of Hyatt program and go back to Gold Passport entirely. The new status level names (Discoverist, Explorist, Globalist) are so much worse than Gold, Platinum, and Diamond. The old program offered a Diamond 1,000 points amenity for every stay, while the new program eliminated the points in favor of an expiring free night after 30 or 60 nights per year. And the new program requires 60 nights instead of 25 stays for top-tier status, something that's hard to do with a hotel program that has as small of a footprint as Hyatt does. Status levels under 60 nights are not very valuable at Hyatt.
It would also be nice to see Hyatt match some of the benefits that it's bigger competitors like Hilton and Marriott offer, such as a 5th night free on award stays and a path towards top-tier elite status with credit card spending.
The lowlight of the Hyatt program is that many of their hotels play games with award availability, offering standard rooms for sale on 3rd party sites or on Hyatt.com as a package, but not at a standard rate on Hyatt.com. That allows them to avoid offering any rooms for points bookings. There are some workarounds, but it's annoying to have to deal with that.
This also happens with suites where some hotels call a large room a suite so that they don't have to offer confirmed upgrades to a real suite. Hyatt won't even allow you to confirm an upgrade to a standard room with a nicer view with a confirmed suite upgrade, it can only be used for a standard suite as defined by the hotel.
Some hotels, like the Park Hyatt Sydney, completely opt out from offering suite upgrades: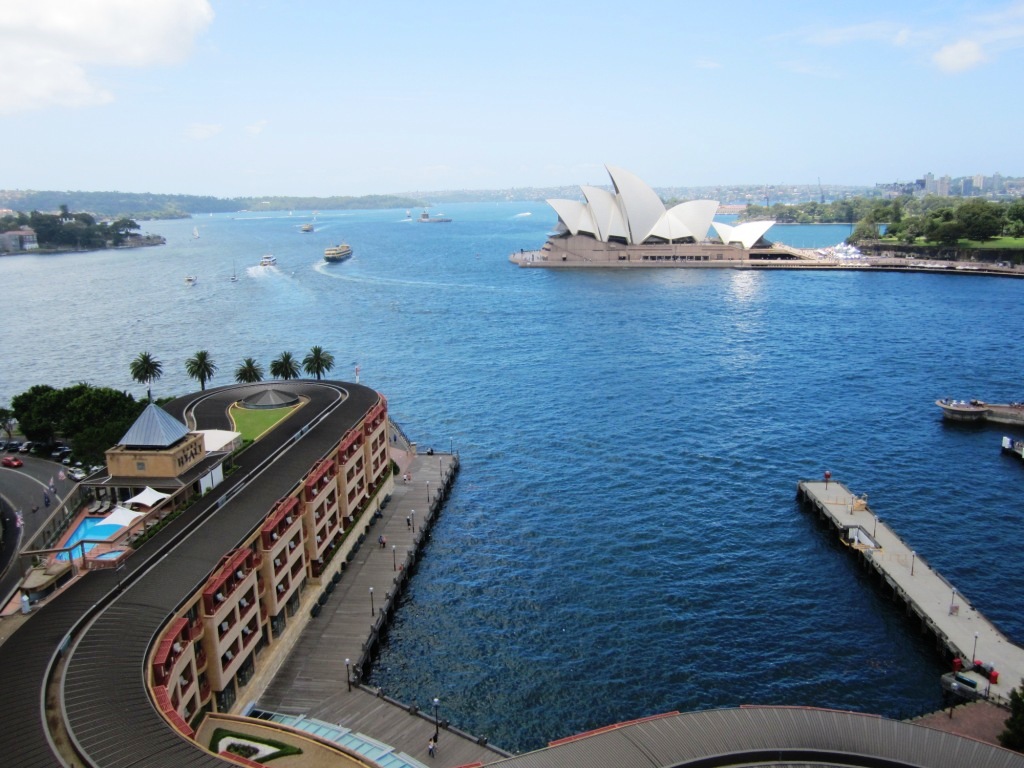 The Andaz Maui is famous for some of these award night and suite upgrade shenanigans, though I was compensated with 35,000 points after I didn't receive a ocean view suite that was supposed to have been confirmed for me as well as several other service issues that happened on my stay there last November.
The Hyatt program has the potential to be the best in the industry, but it just needs to fix several items to get there.
You can earn 50k signup points and a free anniversary night on the Chase Hyatt Card. Click Here to get more details on this card and compare to other hotel cards!
HT: zagguru and mochjas, via DDF