Find more articles like this by clicking on the "Mileage Posts" tab on top of the DansDeals banner at the top of this site.
Related posts:
-Chase British Airways Visa, 50K-100K signup bonus
-Get A 30% Bonus When You Transfer American Express Membership Rewards Points Into British Airways Avios
-Getting To Israel On The Cheap With BA Avios And Air Berlin
-Save $400 On Fuel Surcharges To Israel By Booking Avios Rewards Via Iberia Instead Of British Airways!
-Booking With Avios? Check Those Surrounding Airports!
-Using BA Avios To Fly Business For An 80 Minute Flight Can Make Sense.
-Flying With An Infant With Miles In Business Or First Class? Start Collecting Air Canada Miles Or British Airways Avios
-Short-Haul Flights: BA Avios Versus LAN Lanpass.
-BA Miles Are Now Avios…For Better Or For Worse.
————————————————————
Previously in order to use BA.com to book award tickets on partner airlines you had to find availability without BA flights and then include partners.
It was a process that confused many.
Now however BA.com is displaying all partner flights without that whole process, just search and book!
BA.com is still not as powerful as searching OneWorld flights on AA.com. On AA.com you can see an entire month and easily change the class of service as well.  Plus the most important feature of AA.com's award search is that you can filter the month-long view for just nonstop flights, which can help piece together an award or find a specific flight (like Tel Aviv-Berlin nonstop to help find Air Berlin availability). Still this makes it much easier to book awards on BA.com once you've done your research and found sAAver award flights on AA.com. Qantas.com is another good OneWorld award research website.
You do still need to call to book awards on partner airlines like Alaska and Aer Lingus.  Their flights have no fuel surcharges.
With Avios you never pay a close-in expedite fee, you can book one-way awards, you can book an infant for just 10% of the Avios instead of 10% of the full paid fare, and you only need activity every 36 months to keep your miles alive.
Step 1: Login to your BA.com Avios account.
Step 2: Scroll down the page and in the bottom left you will see this "create a trip" search box.  Type in where you want to go.  (Below: Los Angeles to the Hawaiian Islands is an Avios bargain at 25,000 miles round-trip with no surcharges.)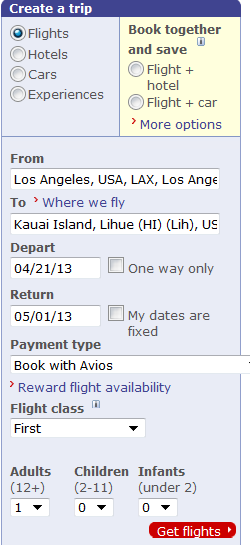 Step 3: Just select the flights you want, no more having to include partner flights after searching, they're there already! You can even see award availability on this screen for the entire week and shift the weekly award view back and forwards. (Below: NYC to Montreal and other short-haul awards are just 4,500 Avios each way with no fuel surcharges)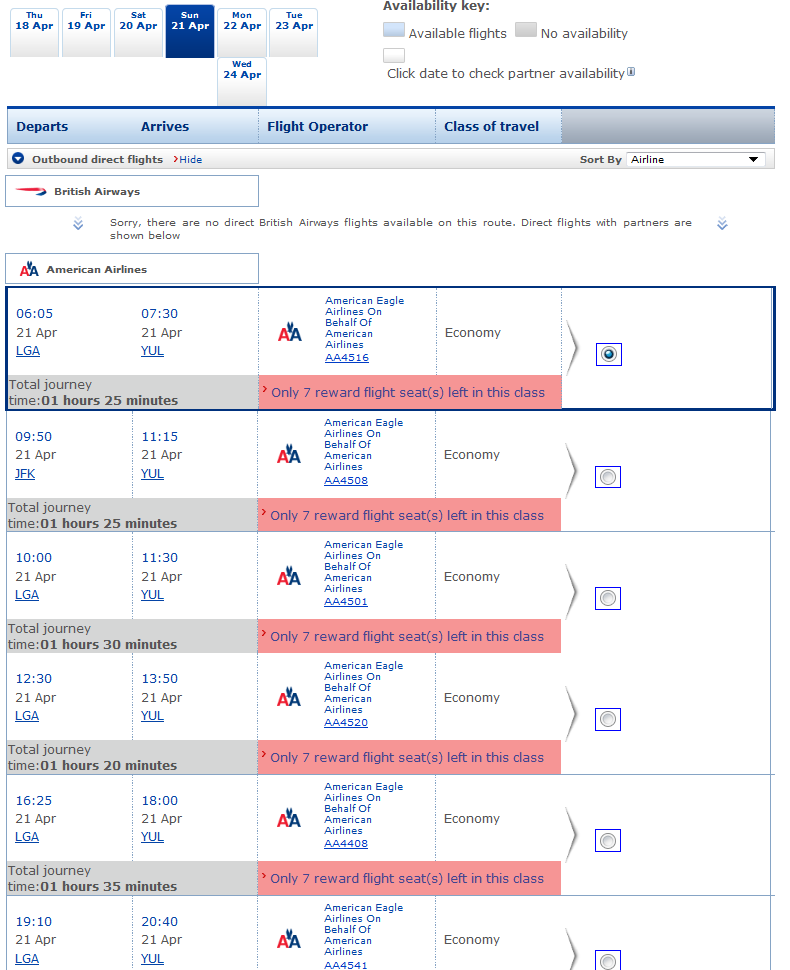 Step 4: Confirm your selected flights. (Below: A flight from NYC to Tel Aviv on Air Berlin is just 60,000 Avios round-trip with $81 in taxes.)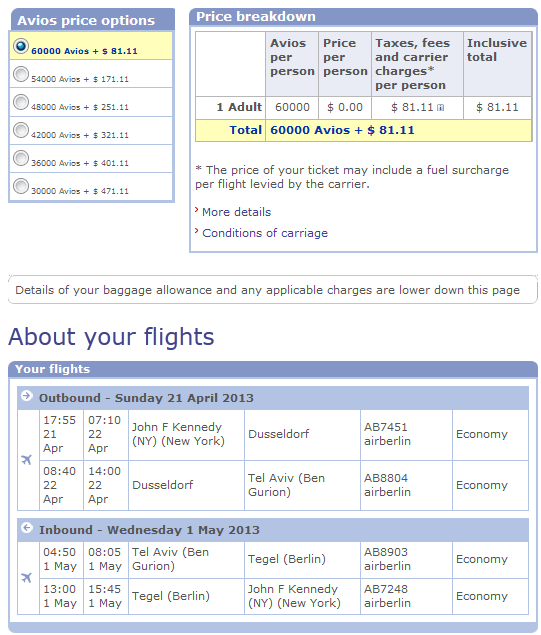 ——————————————————————–
Need Avios?
-Get A 30% Bonus When You Transfer American Express Membership Rewards Points Into British Airways Avios (For example this drops the cost of that round-trip short-haul Avios award from 9,000 to 7,000 AMEX MR points, the flight to Hawaii from 25K to 20K, or the round-trip to Israel from 60K to 47K)
-Chase British Airways Visa, 50,000 bonus Avios for spending $1,000, an additional 25,000 bonus Avios for spending $10,000 in 12 months, and another 25,000 Avios for spending $20,000 in 12 months for up to 100,000 bonus Avios.
Earn 2.5 Avios for every $1 spent on British Airways purchases and 1.25 Avios for every $1 spent on all other purchases. No foreign exchange fees. Every calendar year that you make $30,000 in purchases, you will earn a free companion ticket when you redeem Avios for a flight on British Airways. $95 annual fee.