Per request I've added some pictures to this roundup.  Your feedback is always appreciated! Have another city you'd like to see covered like this? Hit the comments!

DansMeals: Hawaii For The Kosher Traveler:
Part 1: General Info And The Island Of Oahu
Part 2: The Big Island of Hawaii
Part 3: Maui
Part 4: Kauai
Related posts:
–Which Miles To Use To Fly To Hawaii?
–DansMeals: Los Angeles For The Kosher Traveler
Previous trip reports with pictures:
-Hawaii Trip Notes: Oahu (2009)
–Hawaii Trip Notes: Kauai (2009)
–The Hawaiian Islands (2011)
–Traveling To Hawaii…With A 5 Month Old (2011)
And one of these days I really ought to write up a trip report on Maui and The Big Island.
DDF forum threads:
–Hawaii Master Thread: General Questions And Which Island To Visit?
–Big Island Of Hawaii Master Thread
-Kauai Master Thread
–Maui Master Thread
-Oahu Master Thread
—————————
The 2nd most popular destination that people booked with the Delta glitch was Hawaii. More details can be found via the trip reports above, but this will give a quick overview of the options.
If you're flying to Hawaii in coach on the Delta glitch with your family you should look into the Gold Delta SkyMiles® Credit Card from American Express which gets a free checked bag (a $50 round-trip value per person per trip) for up to 9 people on an itinerary with the primary cardholder!
The revealed series of books are absolutely required reading if you are going to Hawaii. They read like a novel and are unlike any other guidebook you've seen before. They have great recommendations for everything there is to do on the islands, from private beaches to the best hikes. It'll be the best money you spend on your entire trip:
–Oahu Revealed
–Big Island of Hawaii Revealed
–Maui Revealed
–Kauai Revealed
————————————————————————————–
Some other general tips:
-If you're going to a beach with an infant invest in something like this pop-up tent where you'll be able to keep them out of the sun.
If you still don't know which islands to hit up:
–Oahu for a plethora of museums, aquariums, water parks, nightlife, and Pearl Harbor.  Oahu is very kid-friendly.  It's also the only island with a daily minyan and a shabbos minyan within walking distance of tons of hotels.  Plus kosher food is readily available.
–Maui's nickname is Maui No Ka Oi, or Maui is the best. It definitely has a nice mix of things to do for everyone and is a good balance between Oahu and Kauai. Great snorkeling, a plethora of water activities everywhere, lots of shopping, the best whale watching boats, and it's not overly touristy like Oahu and not as remote as Kauai. And the road to Hana is the stuff dreams are made of.  There is a Monday and Thursday minyan, but nothing for shabbos.  Shabbos food can be ordered locally though and the Hyatt Regency stocks kosher food.
-The Big Island of Hawaii has incredible snorkeling, diving, and beaches on the west, stunning beauty and waterfalls in Waipio Valley, sunsets you'll never forget up Mauna Kea, raw beauty on the south coast, and volcanoes erupting in the southeast along with volcanically heated hot springs.  There is usually a shabbos minyan and locally make kosher food.
–Kauai is just stunning, perhaps there are less activities than can be found on Maui and Oahu and the greenery makes up for it.  You may be able to get a minyan if you stay in Princeville up north.  The Grand Hyatt stocks food from Oahu Kosher though it may be cheaper to just order it yourself from Oahu.
There's incredible hiking on every island.
Of course there's also Molokai and Lanai. Molokai is preserved as Hawaii was before tourists changed it. You'll want to rent a condo here. Lanai is nearly entirely owned by Larry Ellison and he'd be more than happy to put you up at one of the two Four Seasons hotels on his island.
Most hotels will have an Inncom thermostat. These have motion sensors if you open or close a balcony, so unless you block the motion sensor you can't open and close a balcony door on shabbos.
If you do leave the balcony open for shabbos you won't have A/C in the room, as that turns off when the balcony is open., even if the balcony is just slightly cracked open.
VIP mode allows A/C to get colder than normally allowed and it runs even if the balcony is open.
-While you are holding "display"
-Press "off", then
-Press "Up" arrow
-Then release "display"
Please read Part 1/Oahu for tips on interisland flights, how much time to spend on an island, bringing kosher food from home, ordering kosher food from Oahu, gear that you'll want in Hawaii, and whether you may have to keep 2 days of shabbos. See Part 2/Big Island of Hawaii for more kosher food options for Kauai as well.
Having your own snorkeling gear and Tabi's is really great, more on that in part 1 as well.
————————————————————————————–
Kauai: A stunningly beautiful island that's less touristy than Maui and Oahu.
Kosher traveler info:
-Chabad of Kauai has just recently started having Shabbos morning prayers at the Princeville community Center at 4334 Emmalani Drive Princeville, HI 96722. While most weeks there is not yet a minyan, recently more tourists have been staying nearby so hopefully in the near future there will be a more consistent minyan.
On some weeks there are communal meals available, email them at jewishkauai@gmail.com for more info.
-The Grand Hyatt Kauai has a kosher menu with food supplied from Oahu Kosher that you can order from their restaurants or from room service with advance notice.
-Costco (Lihue), WalMart (Lihue), Times (Lihue), and Safeway (Kapaa) have kosher groceries.
See Chabad of Kauai's site for more detailed info.
Cars:
There are some places on Kauai where having a 4WD can come in handy such as in Waimea Canyon and Polihale.  While a 4WD isn't needed, it can definitely be worth renting for a day. Besides for that, if you can fit into a convertible that is definitely the car of choice.
Chabad of Hawaii has passed on a corporate rate for rentals at Enterprise or National in Hawaii that provides better rates, waives underage fees, and waives different location drop-off fees.
The company name is Hawaii Kosher Weddings. The contract number is XZ36016 and the pin is HAW
You can also bid for car rentals on Hotwire or Priceline that can save you a fortune!
Buy gas at Costco where it's cheaper than at most stations on the islands.
Hotels:
The north side of Kauai (Princeville area) is lush and beautiful but that comes at a cost: it's also rainier and buggier.  Usually the rain is brief and shouldn't disturb your trip. The south side (Poipu area) is less lush and drier and closer to Waimea Canyon.  If you're driving down to the Poipu resort area you'll go through a tree tunnel that is pretty neat.
There's no road that circumnavigates Kauai. Polihale Beach on the west coast and Ke'e Beach on the north coast may only be several miles apart, but you'll need to drive across the entire island to go from one to the other.
If you're traveling with a family in Hawaii it's definitely worth looking into renting a private home or condo from sites like VRBO , Home Away , or airbnb.
Before I was married I got $150 tickets for my family to go to Hawaii and we stayed at a great condo in Poipu found on VRBO.
You can also bid for hotels on Hotwire or Priceline that can save you a fortune!
-The S. Regis Princeville Resort is an SPG category 7 property (30-35K Starpoints per night or 24-28K points per night on a 5 night redemption). This is by far the most luxurious hotel on the island and the views from the rooms are simply  unparalleled. Beware that most rooms have no balconies. The setting however is breathtaking with the ocean crashing on the cliffs below and the waterfall-filled mountains in the background. There are several hot tubs and pools and butler service on the beach as well as in the suites.  They even give kids free S. Regis branded plush animal upon checkin! Chabad is 1.2-2 miles away depending on how you walk there.
S. Regis view from the room: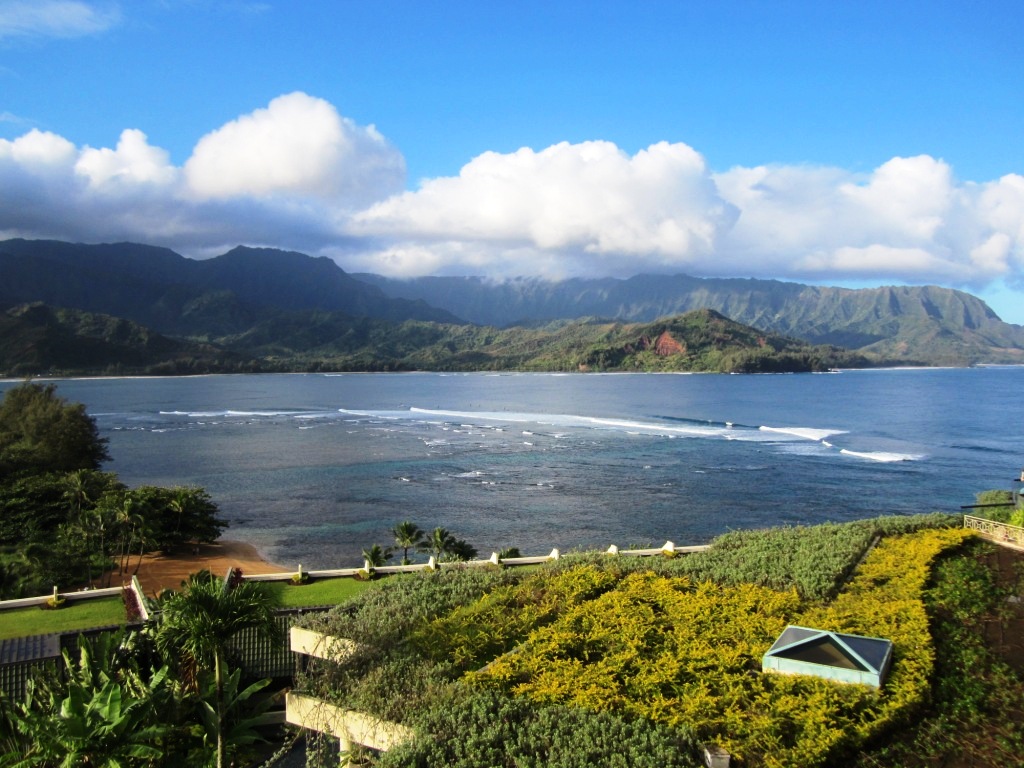 S. Regis lobby:
-The Westin Princeville Ocean Resort Villas is an SPG category 6 property (20-25K Starpoints per night or 16K-20K points per night on a 5 night redemption). The villas come with full kitchens and other nice amenities not found in normal hotels. Chabad is just 0.6 miles away.
The Starwood Preferred Guest® Credit Card from American Express earns 10K bonus Starpoints for spending $1 and 15K bonus Starpoints for $5,000 in 6 months which would give you a total of 30,000 Starpoints.
-The Grand Hyatt Kauai in Poipu is a category 6 hotel (25K Hyatt or Chase points/night or 12.5K points+$150 per night).  This is an excellent south shore property with countless pools, beautiful grounds, and exotic birds.  It's a great place to be if you never plan on leaving the hotel grounds, but that would be absolutely criminal.
Grand Hyatt Kauai:
-The Sheraton Kauai Resort in Poipu is an SPG category 5 property (12K-16K Starpoints per night or 9.6K-12.8K per night on a 5 night reservation).
-The Marriott Kauai Lagoons in Lihue is a Marriott category 7 property (35K Chase or Marriott points per night or 28K per night on a 5 night reservation).
-The Kaua'i Marriott Resort in Poipu is a Marriott category 7 property (35K Chase or Marriott points per night or 28K per night on a 5 night reservation).
The Chase Sapphire Preferred earns 40,000 Ultimate Rewards bonus points for spending $3,000 plus 5,000 points for adding a free additional user.  It offers 2.14 points per dollar on all travel and dining expenses and has no foreign exchange fees. The Chase Ink Plus and Ink Bold each earn 50,000 bonus points for spending $5,000 in 3 months, offer up to 5 points per dollar spent, have no foreign exchange fees, and come with free lounge passes. Chase points can transfer into Hyatt or Marriott points instantly at a 1:1 ratio if you or your spouse holds a Sapphire Preferred, Ink Bold, or Ink Card card.  Chase also has a Hyatt card which gives 2 free nights for spending $1,000 though the bonus categories on the Chase Ultimate Rewards cards like Sapphire, Freedom, and Ink are generally much more lucrative than the Hyatt card.  Bear in mind that Ultimate Rewards points don't expire and are transferable while the Hyatt nights must be completed within 1 year and are officially non-transferrable.
Activities:
–Drive north. The scenic drive past Hanalei Valley on one lane bridges is just stunning. Don't miss the wet and the dry caves along the way, regardless of whether Puff the Magic Dragon is around.
-Take a helicopter ride. They're not cheap, but it will be the highlight of your trip. The interior of Kauai is stunning but it's extremely remote. The only way to see places like Waialeale, the rainiest place on this planet, is from the air. A helicopter ride will take you over the "Jurassic Park" falls and the jaw-dropping Na Pali coast. Some helicopter tours even land at Jurassic Park falls and allow you to hike into them. Other tours will whisk you away to the forbidden island of Niihau.
I've flown on Blue Hawaiian twice, once before marriage and again on our honeymoon. The first time it was raining but that made the waterfalls and Waialeale really look incredible. The second time it was dry which made for better lines of sight, but less impressive waterfalls. You can't go wrong either way but definitely try to get seats in the front row.
-Waimea Canyon is nicknamed the Grand Canyon of the Pacific, drive up slowly and take in the beautiful and changing scenery with the canyon on one side, and the sheer cliffs of Na Pali on the other. Come here early in the day before the clouds set in and block the views. Bring a sweater!
-The hiking up in Waimea Canyon is second to none. Stop in the visitors center for hike suggestions and maps. If you're up for an all day hike that is a real treat try the Nu'alolo/Awa'awapuhi grand loop hike for indelible views of Na Pali that you will always reminisce about.
Note that it is much warmer at the lower Na Pali side of this hike than it is at the beginning of the hike due to the change in elevation.
The scenery from this hike is way too unbelievable to describe, but the hike is 11 miles long and has to be started before 10am to finish it before 5pm.  I'm not crazy about La Britue meals, but it was really cool to have a hot lunch hours away from civilization while overlooking Na Pali.
You may have to hang tight for some parts of the Nu'alolo/Awa'awapuhi grand loop hike:
But the views will stay with you for a lifetime: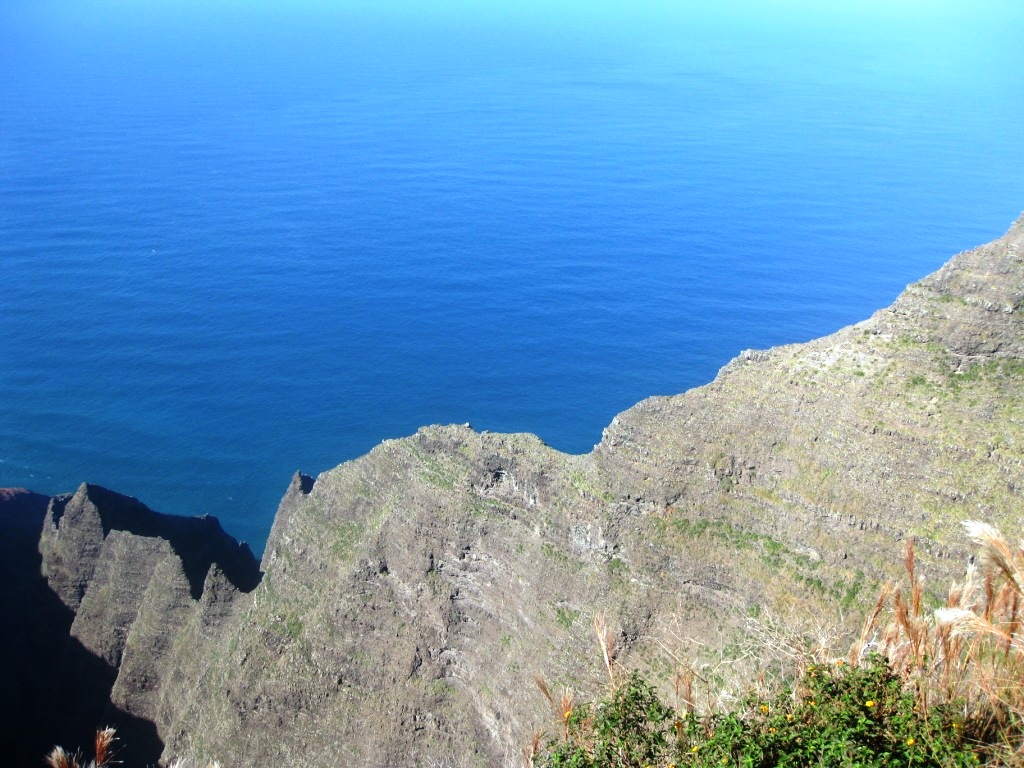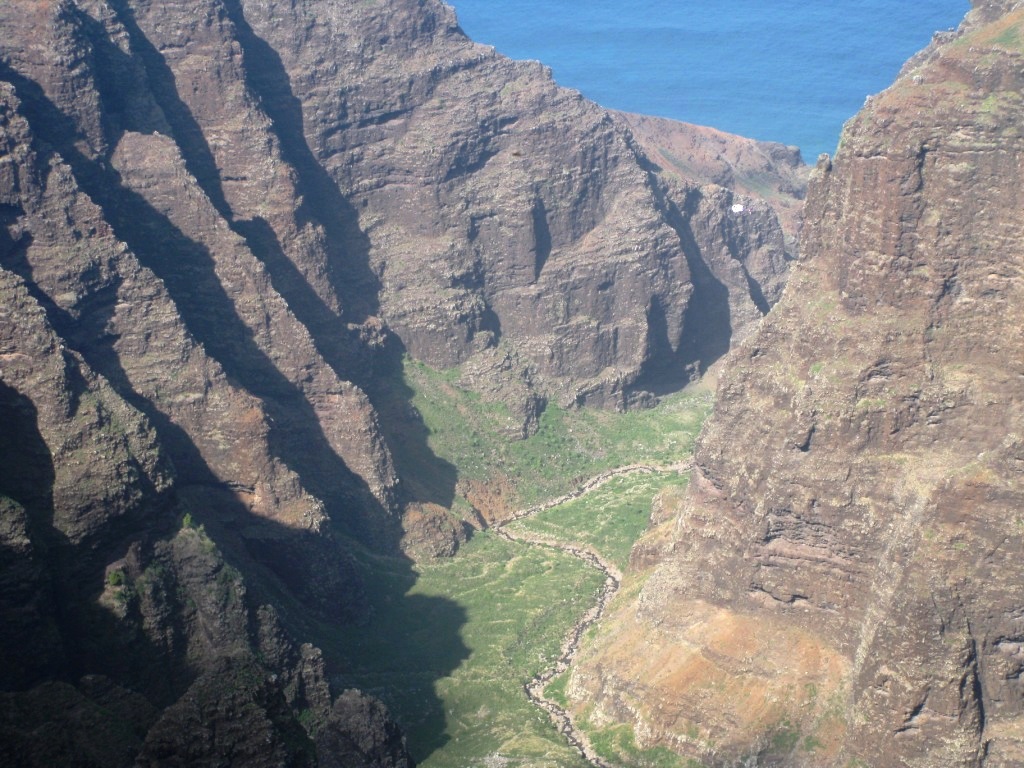 Not too worry, there are plenty of shorter and easier hikes up here and all around Kauai, see Kauai revealed for more!
-If you have a 4WD vehicle with 4-low and are feeling brave then don't miss Miloli Ridge Road which will open up to the a truly stunning view of Na Pali. You can also take the paved Makaha Ridge road in any car, but the end is blocked off by a government building. Just before the building though we found a place to pull over and take in a partial view of Na Pali.
With a 4WD in Kauai you can also access several other trailheads inaccessible with other cars and you can drive on the sand dunes of Polihale.
-Kayak to Fern Grotto and hike to Secret Falls. You can rent a kayak from Kamokila Hawaiian Village across from Opaekaa Falls.
Kayak, hike, and head right on into the falls: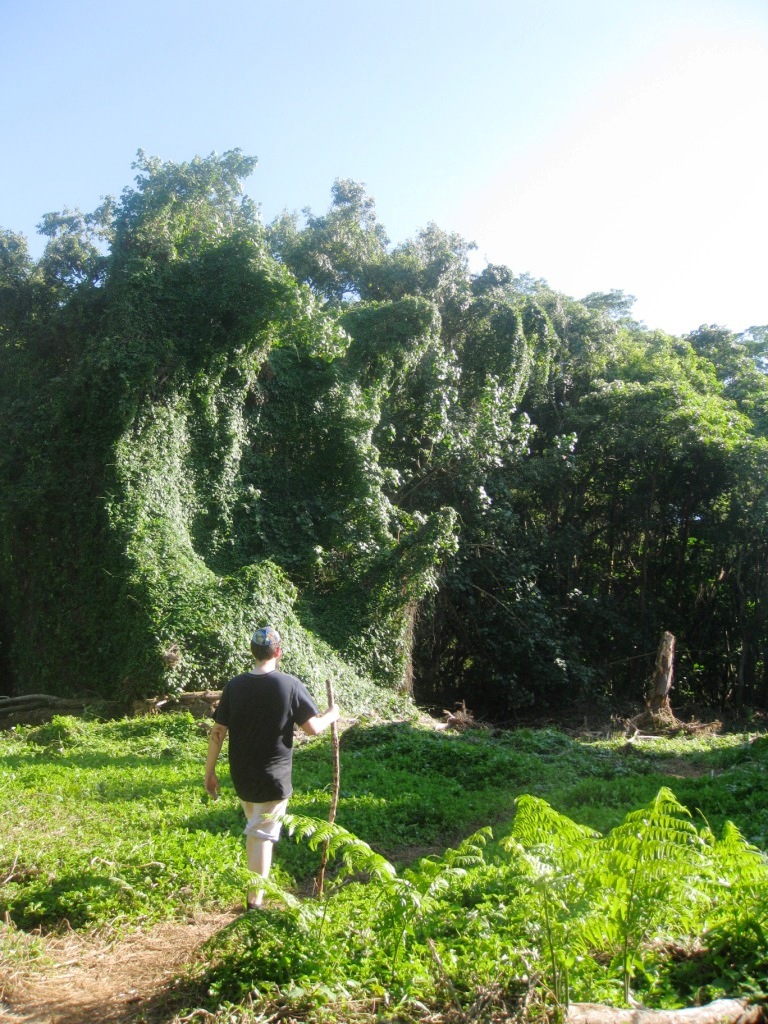 -Polihale Beach: The waves make it dangerous for swimming (though Queen's Pond offers a respite) but the west coast of Kauai has miles and miles of empty beaches.  Calmer beaches to swim in can be found elsewhere.
The sunset from anywhere on the west coast of Kauai is sure to be awesome: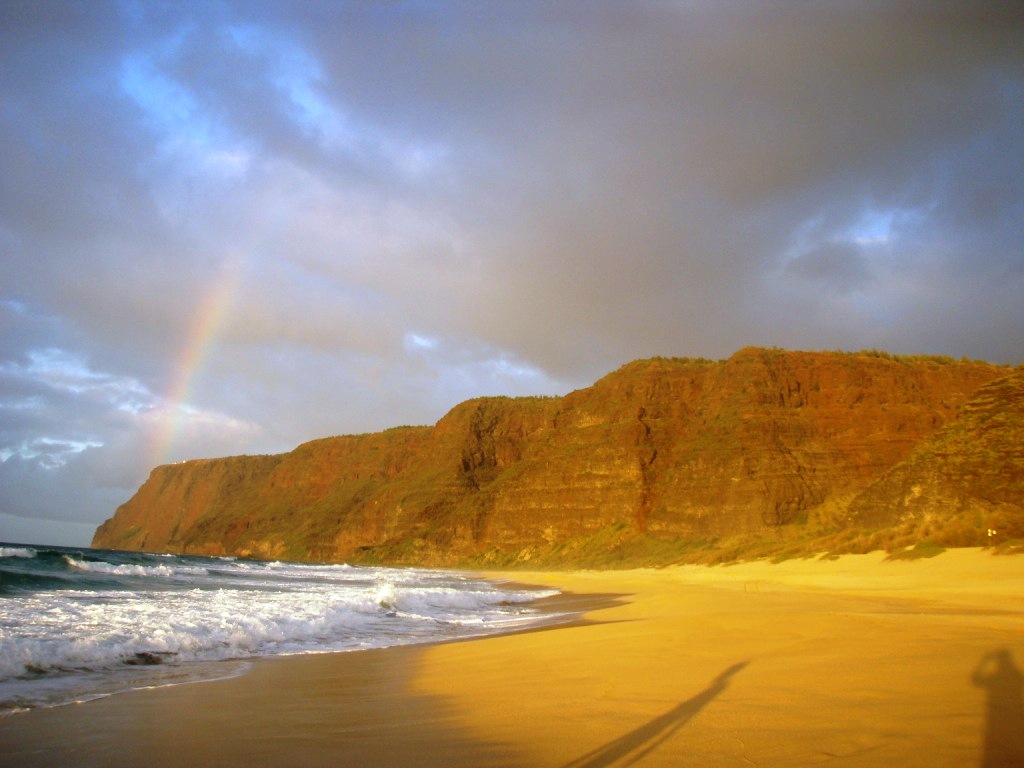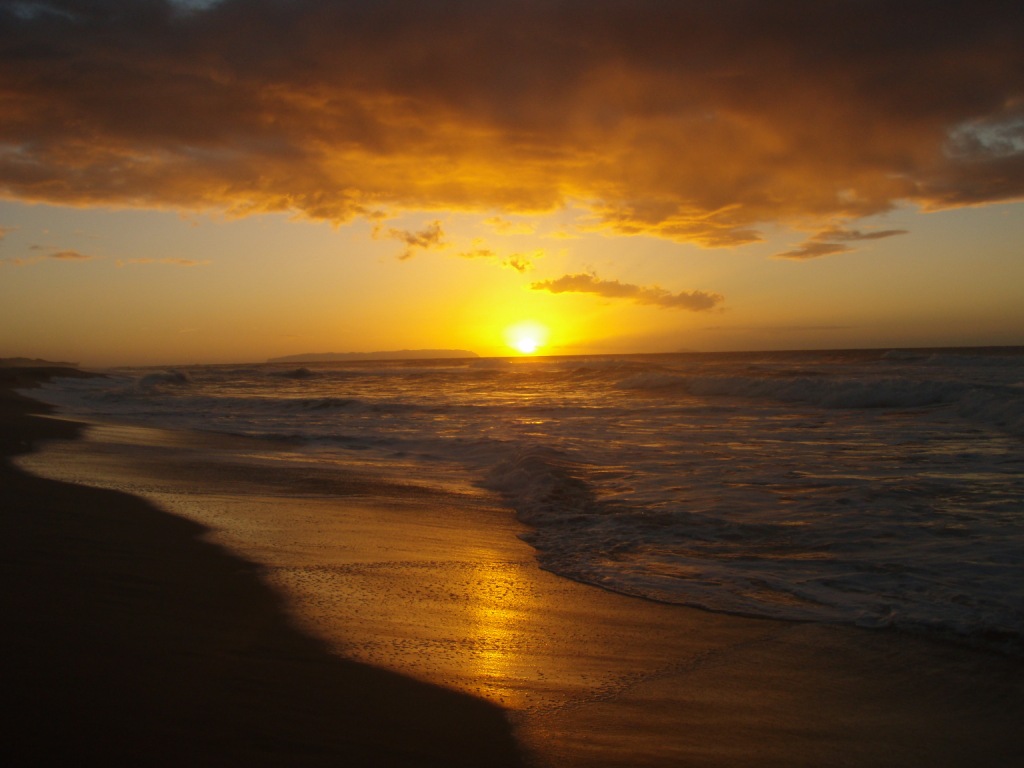 -You can drive right up to Wailua Falls.
-Queen's Bath in Princeville is supposed to be stunning, though I haven't made it there yet.
-Snorkeling and diving are must-dos in Hawaii.
-We went on a boat tour of Na Pali that left from the South shore in the winter time. The entire boat was covered in vomit. The good news was that I paid with my Starwood AMEX and won the chargeback on a trip that never should have happened. Stick to summertime tours that leave from the north shore. Or see Na Pali from the air or on foot.
-Other activity ideas: ATV, zipline, horseback riding, powered hang-gliding, golf, etc.
-Find a local fruit stand or farmers market and skip the grocery stores.  The fruit in Hawaii is just amazing, don't leave without trying locally grown Maui Gold Pineapple, passion fruit, papaya, mango, lychee, mangosteen, rambutan, etc.  They just taste so much better in Hawaii and they're much cheaper at farmers markets.  Beware that you can't bring any fruit home with you besides for Pineapple or Coconut.
-Finally, I'd be remiss not to mention the most famous and scenic hike in the Hawaiian Islands, Kalalau Trail. You can hike the first couple miles as a day trip, but you need camping permits to do the whole trail. Allow a couple nights and be sure that you're prepared for the hike of a lifetime!  It's definitely on my bucket list, though I think I should have crossed this one off before having kids…
And don't forget to relax too

Have more tips? Hit the comments and share your thoughts!