Update: You can use this intro pricing up to 6 times, see below for instructions.
Step 1: Find a check style that you like and enter the following offer code on the product page and click "update pricing": DWF120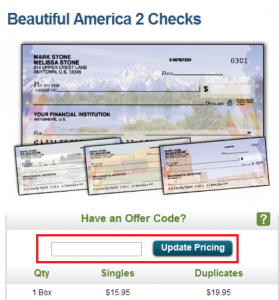 Choose from over 800 styles of checks and get 2 boxes for just $8.95 shipped or 4 boxes are $19.80 shipped with that code.
This code is generally limited to once per customer, however you can get the special from each of the check vendors (Artistic Checks, Check Gallery, etc), so if you've ordered in the past just look for a new vendor. In total there are 6 different vendors, so you can take advantage of this offer 6 times.
2 boxes of carbon-copy checks are also available for $9.95 shipped.
-Boxes of single checks contain 125 checks, so you'll get 250 checks with this option.
-Boxes of carbon-copy checks contain 100 checks, so you'll get 200 checks with this option.
Step 2: You will need to click "no thank you" on both of the EZShield offers that will in your cart. (One appears after declining the other)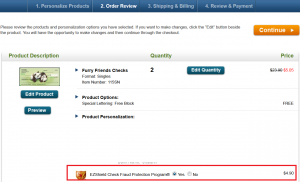 Step 3: Decline in-plant rush and select USPS bulk shipping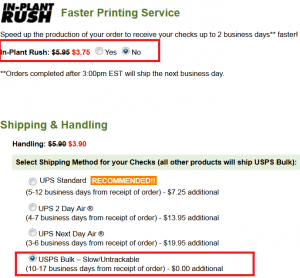 Sales tax may be additional depending on your state.