Update: The code below is set to expire tonight.
———————————————————————
Originally posted 02/25/14:
Step 1: Find a check style that you like and enter the following offer code on the product page and click "update pricing" (Exp: 07/31): DB4381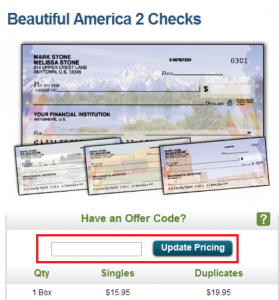 Choose from over 800 styles of checks and get 2 boxes for just $8.95 shipped or 4 boxes are $19.80 shipped with that code.
This code is generally limited to once per customer, but if you have used it already in the past you should try the code with a few different check styles.
2 boxes of carbon-copy checks are also available for $9.95 shipped.
-Boxes of single checks contain 125 checks, so you'll get 250 checks with this option.
-Boxes of carbon-copy checks contain 100 checks, so you'll get 200 checks with this option.
Step 2: You will need to click "no thank you" on both of the EZShield offers that will in your cart. (One appears after declining the other)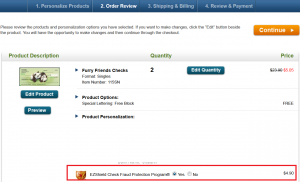 Step 3: Decline in-plant rush and select USPS bulk shipping