Giving feedback on Kosher Meals:
A couple of years ago I asked if awful kosher meals on airplanes were our own fault. That was based on a conversation between DDF member ChAiM'l and the owner of Hermolis about the issue who told him that airlines served bad kosher meals because "NOT ENOUGH PEOPLE ARE COMPLAINING!"
Trust me, I complained when I got this Stogel long-life cat food in business class on USAirways and Lufthansa, but I guess others don't complain about it?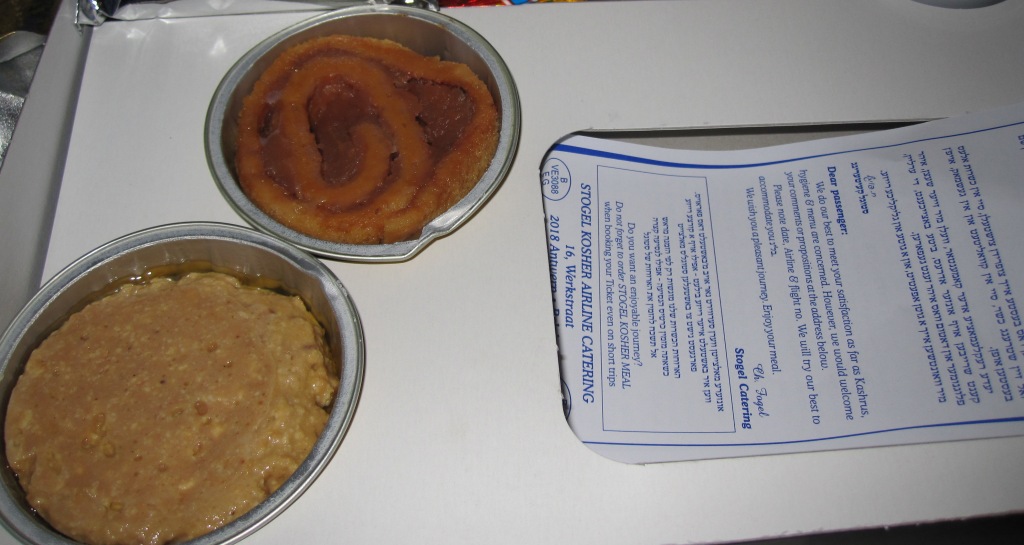 Hermolis serves what's generally considered the best kosher airline meals in the sky, but no airline offers their meals from the US.
Most airlines in the US serve food from El Al's Borenstein caterers, where the food is typically mediocre, with some exceptions of actually decent or completely inedible meals.
As I was about to publish this post, Zalmy Silver, who is currently en-route to Vietnam in Cathay First Class from this deal, sent me a picture of this vile Borenstein Regal breakfast. Yes, this was served in Cathay Pacific first class from JFK to Hong Kong!
No word yet on whether Borenstein/El Al charged extra for all of that mold on his omelet.
I don't eat those rubber omelets even when they're not covered in mold. Gross!
United's New Newark-Tel Aviv Meals:
United says they have heard feedback about these meals and they have switched to locally made Fresko meals on their Newark to Tel Aviv route in all classes of service. The meals are under the hashgocha of the Star-K and Tartikov.
"Partnering with New Jersey-based fresh food provider Fresko, meals on the Newark to Tel Aviv flight will feature an entirely new menu. Options will include dishes such as fresh bagels, a cheese omelet, blintzes, chicken marsala, a kale quinoa burger and traditional bakery items like rugelach and black and white cookies."
OK, those press images looks pretty, but what do they look like in real life?
DansDeals reader Charles Herzog flew from Newark to Tel Aviv yesterday and shared his images of the new meals. He says that the food was very good and a marked improvement over the previous offering:
Sure seems like an improvement over the previous offerings! Meals on other Tel Aviv routes are being enhanced as well, though only Newark to Tel Aviv will get the Fresko offerings.
New Kosher Wines:
As previously reported, they are also serving Herzog Lineage Cabernet Sauvignon and Herzog Lineage Sauvignon Blanc on the Newark-Tel Aviv and San Francisco-Tel Aviv routes in business class. They will bring kosher wine to the Washington DC-Tel Aviv route next month.
United previously served Covenant Mensch wine in 2017, but it was discontinued when there weren't many takers, so be sure to have a glass or 3 this time!
New Kosher Food Options For Kids:
If you are flying from Newark to Tel Aviv or San Francisco to Tel Aviv, you can call United to request a kids kosher meal in all classes of service.
United is testing this out to see if there is demand for the option, so be sure to request it if you're flying in March!
Illy Kosher Coffee Packets:
United is switching from Sanka coffee packets to Illy coffee packets. That's already in effect from Newark to Tel Aviv and will be phased in on other Tel Aviv routes from now through the summer.
Hot Kosher Meals In The Newark Polaris Lounge:
United currently offers kosher wines in the Newark Polaris lounge.
United will be adding hot kosher dining in the Newark Polaris lounge for business class customers starting at the end of February or early March.
There is no need to pre-order these, you can request them when you arrive in the lounge.
Customers on all business class routes who have access to the Polaris lounge will be able to request the hot kosher meals.
Post a comment to let us know if you are able to order these meals and how they are!
New Kosher Snacks In NYC United Clubs:
Passengers at the United Clubs in LaGuardia and Newark can now request bagged kosher snacks, such as pretzels, chips, crackers, cookies, whole fruits, and more.
Kosher Mid-Flight Snack Bowl:
United has added more kosher snacks to their mid-flight snack bowl. It seems like several of the snacks are dairy, which doesn't help much after a meat entree or for those that keep Cholov Yisroel. But there are some parve options as well:
Summary of Changes:
I'd say overall this is a great start for United. They fell behind other airlines to Israel that serve kosher wines in all classes, so it's great to see some effort being made to improve their offerings.
While Delta offers kosher meals on all domestic premium cabin routes with meals, United only does so on 2,000+ mile flights. It would be great to see some kosher food improvements systemwide.
But Kudos to United for these changes and let's hope there are more to come!