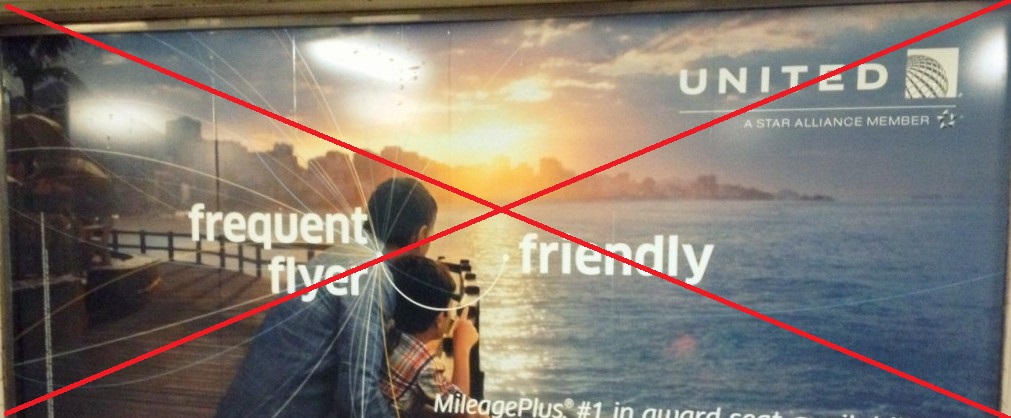 United took a $5 billion taxpayer bailout earlier this month.
Today they devalued their elite status program and per Zach Griff, they also removed their partner airline award charts that used to be located here.
That surprised me as I was under the impression that the partner award charts were deleted in November, when they deleted the award charts for traveling on United. United previously said that partner awards would remain unchanged for now, but may be higher if they also had a United flight.
Mileage rates haven't gone up today, though they can in the future. You can view the United award chart here, saved on the DansDeals servers.
As I noted then, and still applies now,
"The partner award changes don't scream dynamic pricing to me. For now those flights are priced according to the current award chart, and United will make changes as they see fit. I think it's unlikely that partner flights will be tied to the actual cost of a ticket anytime soon, so there's no major surprise here. But this allows United to change the partner award cost without giving any warning, which is why programs like Delta and Hilton deleted their award charts.
As I always say, don't store excessive amounts of miles with any individual airline or hotel program where they are subject to devaluation. Keep them with banks that can transfer them to miles on demand or use them with cards that give a bonus value for your points when they're used for paid travel."
That same advice remains true.
I'm just amazed that United has decided to go down this anti-customer path. Is this really the time to tell your members that you don't really care about them or their business?
I'm even more amazed that they have doubled down this path, despite it becoming more and more obvious that airlines will need their loyal members in order to climb out of the COVID-19 wreckage. It may take years for airlines to return to pre-coronavirus capacity and profitability.
They could have reversed course today and turned back the clock a few years to when they actually appreciated and rewarded their customers with an industry leading mileage and elite program.
Instead United doubled down on slapping their customers in the face, and that will make their recovery much more painful.
The airline went through a brutal merger with Continental and suffered for years under CEO Jeff Smisek.
Smisek was forced out and the airline turned industry outsider Oscar Munoz to fix things up. He made some improvements, but then along came Scott Kirby.
Scott Kirby and Doug Parker teamed up at America West in the 1990s and reshaped that airline as a low cost carrier. They merged with USAirways and wanted to do the same there, even changing its ticker symbol to LCC.
Their philosophy was to cut passenger benefits as much as possible.
They never did integrate the airlines well, but with American in bankruptcy, they managed to merge with them and gain control of that airline. Relentless cost cutting ensued, some of which I highlighted in 2016. Not only did they massively devalue AAdvantage, they once again failed to integrate the airlines and operational performance plummeted. I've written off even trying to fly American as it seems like all of my American flights wind up delayed or cancelled. They messed up multiple trips to London, to my grandfather's 90th birthday party with delays, and cancellations.  At the same time they also stopped rebooking passengers onto other airlines, meaning that a 7 hour flight can turn into a weeklong nightmare.
In the meantime Scott Kirby was second fiddle to Doug Parker at American and wanted to know what the succession plan would be for him to take over.
Instead he was showed the door.
Feeling the slap in the face, Mr. Kirby jumped ship to United and became President of the airline in 2016. Oscar Munoz was a people person and was hired to turn United around in 2015 after a disastrous stint under Jeff Smisek, who had been hired to merge Continental and United and also failed to integrate them. But Mr. Munoz had health issues early on that hampered his ability to complete the turnaround, though he did improve employee morale at United. And he wasn't an airline industry insider.
While Mr. Munoz is well liked, Mr. Kirby is not a people person. However, Mr. Kirby knows the airline industry well and has added routes and made decisions that have helped United. His knowledge of American's playbook has also been useful. If United wanted to retain him and not have him jump back to take over American, they had to give him leadership of the airline.
Scott Kirby will become CEO next month as Oscar is shown the door.
This is not the leadership that consumers want. Truthfully though, it was clear when Kirby was hired that things were going to change. And not for the better. He has been behind most of the devaluations since he arrived.
United has made so many negative changes and cuts to their program that it's dizzying.
In 2019 alone they announced that:
They would kill award charts, allowing them to charge whatever they want for award tickets.
Top-tier elites are expected to spend more and more sums of money, but benefits continue to get less and less.
And then in 2020:
Airline merger after airline merger have taken the life out of the competition and the race to the bottom just keeps getting quicker. The pace of change for the worse has been astounding, but that's what happens than there's an oligopoly.
I'd expect things to continue to get worse with Mr. Kirby as CEO. But with his ex-partner running American and Delta not even trying to have a competitive mileage program there's nowhere left to run or hide. Except opting to be a free agent and ditching loyalty until airlines realize that loyalty is a 2 way street.
United elites, will you stay loyal to the airline?