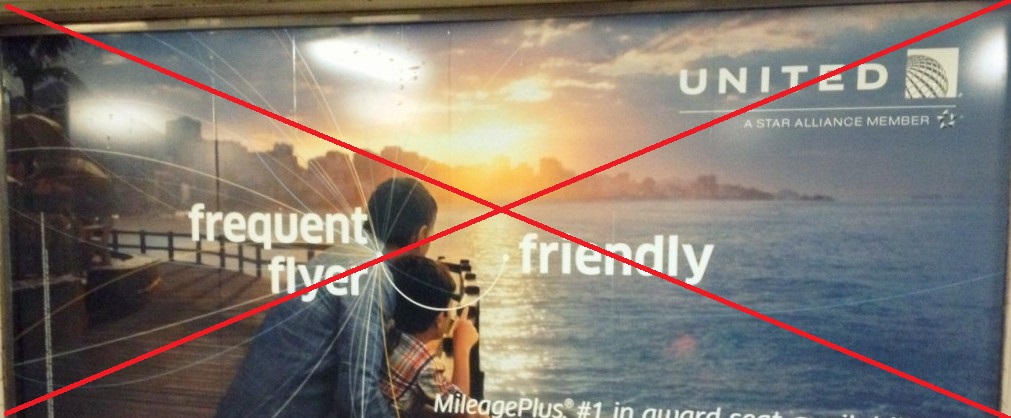 I rushed to break the news and compile a chart of the pain in the wee-hours this morning about the United devaluation.  Here are some more thoughts that I have:
1. A devaluation was expected. The shocking part is the split partner chart and the massive increase in partner awards rates, especially in First Class.
It's been a long time since a serious inflation for the Continental/United programs.
Inflation happens for a couple reasons:
-First of all as the value of a dollar goes down the cost to buy airplane tickets goes up. Just as the value of a dollar sitting in a bank account goes down on a daily basis, so must the miles sitting in your account. Except that it would be ludicrous to have it change daily so we're hit with these devaluations every few years.
-Second of all we've seen credit card bonuses increase and with more miles chasing fewer seats something has to give.
But let's take the Tel Aviv route for example.
In September 2008 Continental raised the cost of an award ticket to Israel from 70K coach/100K business to 90K coach/120K business. In October 2009 Continental joined the Star Alliance and actually lowered rates to 75K coach/115K business.
When Continental/United synchronized their charts the flight went up to 80K coach/120K business where it's been for a while.
With these changes the cost to fly in coach goes up to 85K, still lower than it was 5 years ago.
For business it goes up to 140K round-trip on United and 160K on partners. This hurts. The 20K increase is something I can live with, but the 40K partner increase seems too high.  It stinks to have to deal with a separate United chart and partner chart.  If you want to fly United First and tag on a short flight on a partner it can make more sense to book a separate ticket rather than subject your whole ticket to partner rates.
For first class you'll now need an eye-popping 280K round-trip on partners. This is just an insane 86.7% increase. The first class partner award increases are really hard to fathom.
Other uncool changes that were buried in the footnotes:
-You'll need an extra 10K miles to fly to Alaska round-trip, which is being broken out of the US49 category for the first time.
-A Round-The-World award which lets you fly to multiple cities for as long as you want goes way up as well. And that's on top of a huge increase from the old Continental chart in 2011.
2. It's not a matter of if American and USAirways will devalue, it's a matter of when.
Their charts look silly compared to United's new chart. If you have miles with those programs the time to start planning for a nice trip is now.
Don't shift from accumulating United miles to American/USAirways miles just because their charts look way better right now as you will be disappointed.  Transfer Starpoints to those programs on an as-needed basis.
At least you know that the United chart will probably be free from devaluations for the next few years. That can't be said for American, Delta, and USAirways.
3. Cash-back cards need to be looked at more seriously.
Sure your dollars are also devalued, albeit more stealthily. But you can invest those dollars to hedge against inflation. You can't do the same with your miles.
The Barclaycard Arrival Plus™ World Elite MasterCard® earns 2.11% miles back on everything with no foreign exchange fees. It also has a sweet 50,000 point signup bonus.
You get 2 miles per dollar everywhere and a 5% point rebate every time you redeem your points. People have been changing those points into cold hard cash by booking a refundable travel reservation. At that point they redeem their points to get cash for them for it before refunding the travel reservation. 2.11% back is pretty much as good as it gets for cash.
If you redeem for an international coach ticket you'll usually do better with this card than with a mileage card. Last-minute coach tickets, short-haul coach tickets, one-way coach tickets, business class tickets, and first class tickets are still much better with real airline miles than with cash. But can you really justify burning 280K miles to fly First Class to Israel on a partner airline? Business class may be the sweet spot of the future.
4. Transferable currencies are a hedge against devaluations.
If you're only earning miles on a United card you've been hosed today. Those miles are stuck there and come February they're worth less.
But if you have a Chase Ultimate Rewards cards at least you have other excellent options. I'll go over them in the coming days.
Starwood Starpoints are really shining brightly today. They have dozens of transfer partners so even when one devalues there are tons of other options.  And they give a 25% bonus for each 20K transferred. Plus unlike with other transferable currencies, your points stay alive even if you close your Starwood Preferred Guest® Credit Card from American Express.
Membership Rewards also allows you to transfer to several programs, though they're not partners with "exciting" partners like Alaska, American, or USAirways like Starwood is. And they don't offer good hotel options like both Chase and Starwood have. Still it's always nice to have transferable points.
It definitely pays to diversify.
5. We don't have to take this sitting down!
-Retweet my Tweet here and send your own tweets to @United with the hashtag: #UnitedUnfriendly
The more you post the quicker mainstream media will pick up on this story. Let's get it trending!
-Express your displeasure to Chase (Twitter: @Chase, @Chase Support) about these changes. Chase buys billions of dollars of United miles and isn't likely to be happy that they've been devalued. They're especially not going to be happy to lose customers to cards like the Starwood AMEX. If anyone has the power to put pressure on United it's Chase.
-Contact United CEO Jeff Smisek and let him know how these changes will affect your travel patterns and credit card spending. He can be reached at jeff.smisek@united.com
-If you feel that an 87% increase is just flat-out unfair you can also file a complaint with the US DOT.  Sure United is free to do what they want, but this devaluation simply doesn't happen if Continental and United were still competing.  Delta and Northwest miles have gone from being worthwhile to being worthless thanks to their merger. Let the DOT know that you feel an 87% increase in the cost of some awards is unfair to consumers and that you want to see the DOT keep fighting the American-USAirways merger in court.  If that merger goes through you can be sure we'll be seeing more painful changes like this one.
What are your thoughts? How will these changes affect what cards you spend on or where you accumulate miles? Sound off in the comments!