Airtran has long run an excellent program that allowed you to redeem points for travel on other airlines.
Today is the last day to redeem for a voucher for that option.  If you do redeem for that voucher you will have 1 year to use the voucher to book a ticket on another airline. You can redeem for a voucher by logging into your Airtran account under My Rewards>Redeem Other Awards.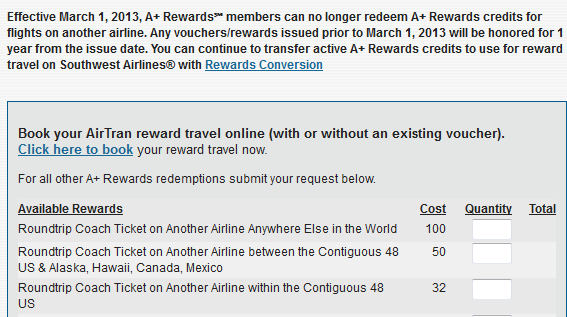 32 credits gets you a roundtrip domestic US48 ticket, 50 credits gets you a roundtrip ticket to Alaska/Hawaii/Mexico ticket, and 100 credits gets you a roundtrip ticket worldwide.
You can also transfer increments of 1,200 Southwest points into 1 Airtran credit, so 38,400 Southwest points or Chase Ultimate Rewards points gets you 32 Airtran credits.
Airtran actually buys the ticket, so you do earn miles on the ticket.  The rules are fairly simple, you need to book 7 days in advance, a Saturday night stay at your destination is required, you can stay up to 30 days, and no stopovers are allowed.  They'll generally book you on the least expensive option, but you can request for the most direct option.
It's a shame to see this go away as I've used this many times over the years for pricey tickets.  Mergers are rarely ever good news for consumers.