Related: "Aloha, Aloha"
"Another One (ATA) Bites The Dust"
"How do you become a millionaire? Begin as a billionaire, then go into the airline business."
-Richard Branson (You can find many variations of this truism online)
Skybus ceased operations on Saturday, finishing an unglorious week for aviation in which an unprecedented 3 US airlines with published schedules went out of business.
With fares like this, it's easy to see how they burned through $160 million in startup funding in under a year of flying: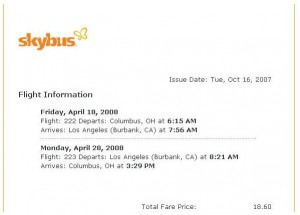 I was quite proud of myself when I nailed 7 RT tickets at that price for my pittsburgh cousins. (C'mon you would also drive a couple hours to save that kind of money!) Unfortunately it doesn't help much when they close down less than 2 weeks before the flight…At least it was bought on a Starwood AMEX, looks like it's time for a chargeback! (Little consolation at that price…)
Free advice to new airline startups:
1. Don't name your airline after something with as negative a connotation as "bus." The last thing air travelers want to fly on is something related to Greyhound; Stay classy. (What's next SkySubway?)
2. Don't form your business plan based on $40 oil, because those days aren't coming back anytime in the near-future.
Coming soon: $100+ oil means bad times for US aviation, but especially for LCC's (low-cost carriers) -so who's next to go bust?