Update, 3pm: American will indeed add daily Los Angeles-Sydney service on their new 77W aircraft featuring lie-flat business and first class effective 12/17/15. Qantas will also be adding S. Francisco-Sydney service effective 12/20/15.  Tickets are not yet on sale for either route.
————————————————————————————————
American is poised to announce at 3pm that they will finally begin flying from Los Angeles to Sydney, duplicating a route currently served by Delta, Qantas, United, and Virgin Australia.  Well, they didn't announce that they will be flying that route or even that they will fly to Australia, but the Kangaroo in their tweet is a bit of a giveaway and it's only logical route for them to serve.
Oh how I wish they flew to Australia 10 years ago when I had several American systemwide free tickets thanks to the AVNYC promotion…
Park Hyatt Sydney and Sydney Opera House. Picture taken from Sydney Harbour Bridge: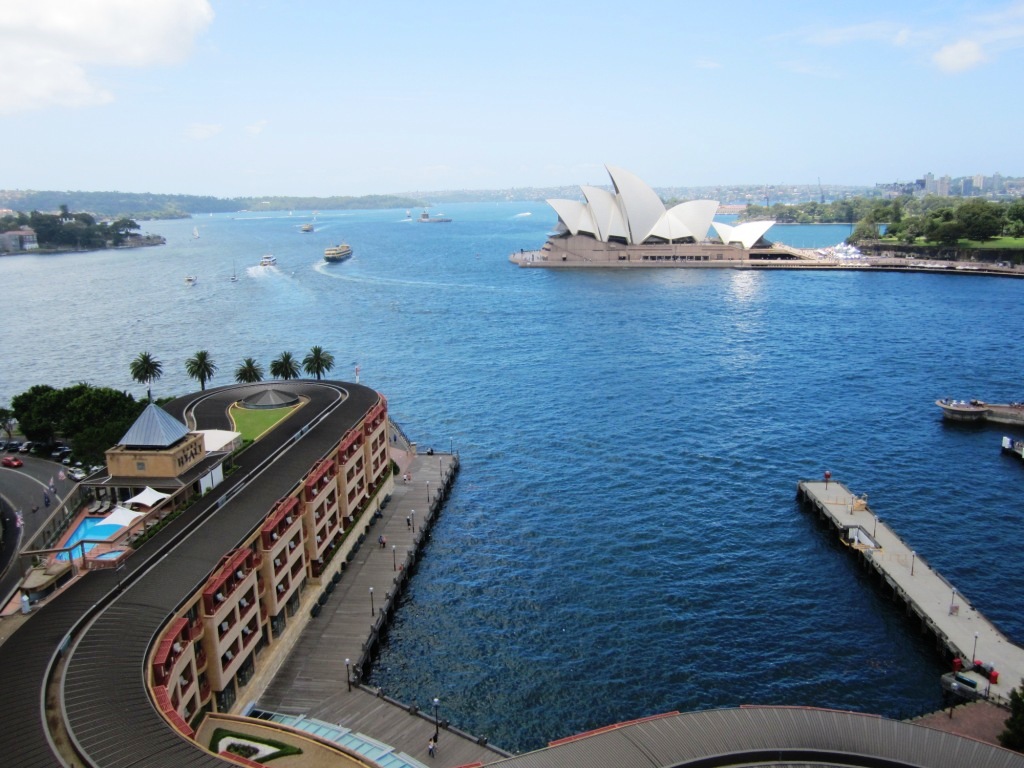 Business and first class saver award space between the US and Australia can be difficult to find.
Delta rarely has saver award space on their own planes, though you can use 80K Delta miles for a one-way business class award on Virgin Australia, which has decent availability.
United has decent premium cabin award space within a few weeks of travel on their own planes, and the value is pretty good, 40K coach, 70K business, and 80K first.  United also allows you to route from the US to Australia via Asia and allows for a free stopover and a free open jaw.  That means you can get very creative at opening award space as long as you don't mind the extra travel time.
If you're already in a place like Hong Kong (say you used 67.5K American miles to fly in first class on Cathay Pacific) you can actually take advantage of one of the best awards in the entire United system.  It's just 30K miles to fly business class or 40K miles to fly first class from Hong Kong to Australia via Thailand.  In Bangkok you'll be shuttled from your plane to a free hour-long massage in the Thai first class lounge.  On a round-trip you can even stopover in Thailand and have an open jaw between Sydney and Melbourne for free.
It only costs 37.5K American miles in coach, 62.K in business, or 72.5K in first class to fly from the US to Australia.  However American has much stricter routing rules, not allowing to you to fly via Asia to Australia without purchasing a 2nd award.  American doesn't currently fly to Australia, which leaves Qantas as the only good option for which you can redeem American miles on.
It wasn't always this way.  In 2010 I redeemed for an around-the-world OneWorld award in first class and wrote about our experiences in Phuket, Chiang Mai, Melbourne/Great Ocean Road, and Sydney, though I never did finish writing about Tasmania, Hamilton Island, and Hong Kong. We flew Qantas first class from Hong Kong to Melbourne as part of that 20 segment journey around the world.  That award allowed you to route however you wanted but the option was eliminated as part of the AAdvantage MAAsacre (That was just part 1. Parts 2 and 3 will come later this year or next with the switch to revenue based mileage earning, a devalued award chart, and possibly systemwide upgrades that have a fare class requirement)
Unfortunately Qantas is notoriously stingy with the premium cabin award space. They do sometimes release some space within a week of the flight, but for the most part they only release award space 355 days before the flight when they open their schedule.  American only allows booking 330 days into the future, meaning that people with British Airways Avios or Qantas miles can snap up those award seats before people with American miles can.  However British Airways and Qantas both charge insane amounts of miles and fuel surcharges for premium cabin awards to Australia, making that a poor solution.  One workaround would be to book an award with British Airways 355 days into the future, pay the $55 cancellation penalty, and hope that the award goes back into inventory so that you can rebook it with American miles.  But aside from the $55 gamble, that approach takes a whole lot of BA Avios, 2 one-way first class seats from Los Angeles to Melbourne would require that you are sitting on 400K Avios in addition to 145K American miles.
It seems from American's tweet that this will be a joint venture with Qantas:
Is it realistic to hope that American will release premium cabin award space on a joint venture with Qantas? At this point we don't even know if the route will be served by a 77W with first class or by a 772 or 787 with just business class.  Either way there probably won't be much award space, but hopefully it will be more than Qantas has.  American's top-tier elites are sure to be delighted with the new route, thanks to their systemwide upgrades working on a more valuable route than ever before.
The best odds for premium cabin award space may be hoping for a glitch when they load the inventory for the flights.
Twice earlier this year we saw glitches open up tons of premium cabin award space on tough routes like Tel Aviv.  I booked 6 awards on that glitch for us to fly with our in-laws to Israel for Purim in business class using American miles.
Can we hope for another glitch like that to occur when this route goes for sale?
If I can hope that the Cavs can pull off an against-all-odds miracle to bring Cleveland its first championship in 51 years, then surely we can hope for wide open award space down under as well 🙂