AA.com added the ability to search for and book awards on Alaska Airlines not long ago and has now added the ability to search for and book awards on British Airways and Hawaiian Airlines.  As always, fuel surcharges do apply for travel on British Airways.
AA.com's search calendar makes it much easier to find award flights than BA.com does for their own flights, so this is definitely a welcome addition.  Hopefully they will add the ability to book all partner airline flights in the near future, such as world-class carriers Cathay Pacific and Qantas.
Click to enlarge screenshots: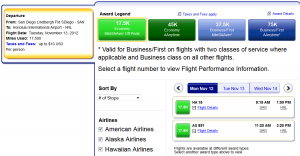 Sample Alaska (AS) and Hawaiian (HA) flights on AA.com from S. Diego to Honolulu.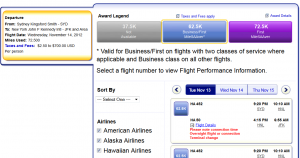 Sample Hawaiian (HA) flight on AA.com From Sydney to JFK via Honolulu.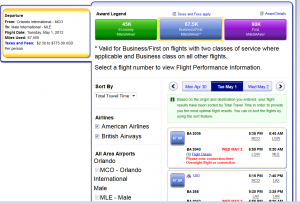 Sample British Airways (BA) flight on AA.com from Orlando to the Maldives via London.
Or you can see AA logic: Where a flight on 03/17 from Honolulu to Seattle costs 22,500 miles but a flight from Honolulu to London via Seattle on 03/17 costs 20,000 miles and you're also free to stopover in Seattle for as long as you want.  I discussed this more at length in this post on Hawaiian Airlines flying nonstop from JFK-Honolulu starting in June.