Award Map Promo Registration Linky
Register for the sweepstakes above and you'll get a 2,500 mile rebate for one award booking on aa.com
From the fine print:
-Member must register for Award Map promo before redemption occurs.
-Members will receive 2,500 miles off flight award redemption for AA and partner flights.
-Miles must be redeemed during Jun 26-Jul 24, 2013 for travel between Sep 4-Nov 20, 2013.
-Award itinerary must be booked online on aa.com.
-Each AAdvantage member account is only eligible for one rebate during this promo.
-Please allow for 6-8 weeks for miles to be posted to your account, after travel occurs.
-Miles will be credited to the AAdvantage member account from which the redemption occurs.
A one-way award flight from Maui to Kauai on AA.com is 5,000 miles. With this rebate it would only set you back 2,500 miles. If you have an AA credit card you would also get a 10% rebate on the full rate so you would get a separate 500 mile rebate dropping the price paid to just 2,000 miles.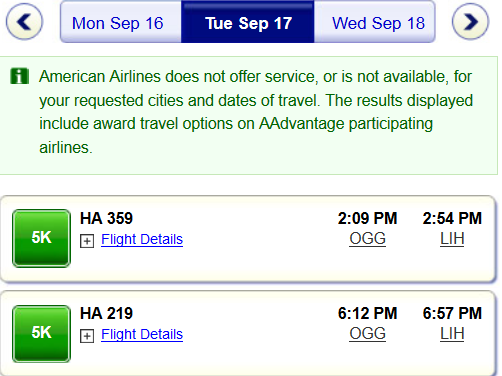 Then again Hawaiian charges for luggage and I'd be happy to book you a flight using my DansDeals corporate account which entitles you to 2 free bags on Hawaiian.
A one-way domestic 12.5K award would be 8,750 miles after the 2,500 mile rebate and the 1,250 AA card rebate.
This can't be combined with the AA credit card reduced mileage awards as those have to be booked over the phone.