Any kosher observant airline passengers has their share of KSML (airline-speak for a special kosher meal) horror stories. Often times the meals aren't loaded at all. Sometimes that results in compensation, such as the 15K miles United gave me for forgetting my KSML on the final 747 flight. Sometimes it results in an airline telling you to pound sand, as Etihad told me when they forgot my meal in first class from the Maldives to Abu Dhabi. More often than not, the meal is onboard but the flight attendants are too lazy to hunt it down, after all my brother in coach on the same flight did have a kosher meal. A similar thing happened on SAS business class from Newark to Oslo when I was told the KSML didn't come with any entree while DDF member whYME was on that flight and his KSML did have a hot entree.
Of course kosher observant airline travelers know to always have a backup plan. After all I've been served this pile of cat food from Stogel on several airlines in business class from Europe, which made me wish they would have just forgotten my meal altogether: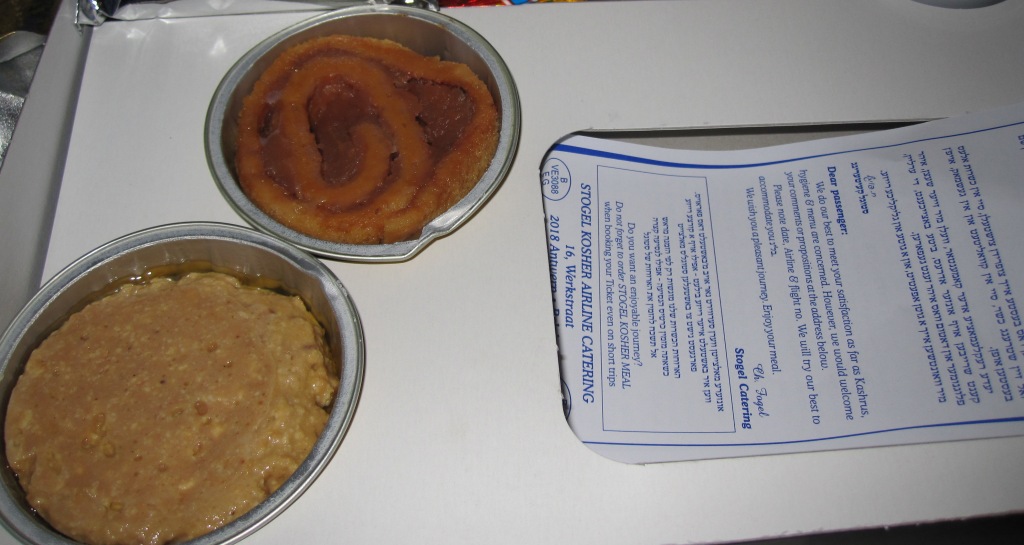 That SAS business class did have my Weiss cold entree, though frozen would be the more appropriate term. Because who doesn't want a bunch of frozen gefilte fish…
DDF member Yaalili got a Passover meal on Aeromexico business class from KOSHair several weeks after the holiday had ended:
Of course, not all meals are bad.  Hermolis meals are usually decent enough.
Hermolis sliced lamb stew kosher meal served in Cathay Pacific first class from Hong Kong to Toronto in January 2011:
My favorite kosher meals have been from even more exotic locales. The KSML on Singapore from the Maldives catered by Sydney based Lewis caterers and the KSML on United from Honolulu catered by Oahu Kosher stand out the most.
But my personal favorite is always the BYOK. That's when I double wrap a meal from a restaurant and ask the flight attendant to warm that up for me after they see how atrocious the KSML is or if they are missing the KSML. That works better than 95% of the time, though some airlines, like Cathay Pacific, frown upon it.
Can KSMLs be fixed?
The owner of Weiss caterers told me at a DansDeals Seminar that airlines relentlessly drive costs down for KSMLs. The race to the bottom has led to the meals being as awful as they typically are.
DDF member ChAiM'l spoke to the owner of Hermolis about the issue and got a blunt response. "NOT ENOUGH PEOPLE ARE COMPLAINING."
He told him that so many people complained to British Airways that their kosher food from Argentina was awful, so BA started catering Hermolis meals from Argentina.
Is the reason that kosher meals are so bad our own fault? Should we be letting the airline know what we really think about them?
I complain when I don't get a meal, but I almost never complain about a bad or frozen meal.
You can send a complaint to American here, Delta here, or United here.
Do you ever complain about poor quality KSMLs? Will you start to complain more often in hopes of improving things?
Read more on DDF: