Update: Congrats to Joe, comment #485! Follow @DansDeals and you won't miss the next promo!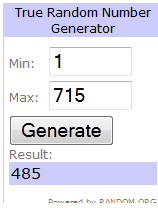 ————————————————————————
DansDeals now has over 12,000 followers on Twitter!
Join the 12,000 people who are following @DansDeals on our twitter page at twitter.com/DansDeals for instant alerts of every single deal.  You will have the option to subscribe to get a text message every time there is an update to the site (and the option to turn off texts at night)!
Just signup for a twitter account, start following dansdeals.com, and setup your phone to receive text messages whenever there is an update from selected accounts that you follow.  You can even specify which hours of the night not to bother you.  Once you setup your mobile device just go to twitter.com/DansDeals, click on the drop-down menu next to the blue "Following" button on the top-right, and select, "Turn on mobile notifications."
Now for the promotion part!
Step 1: Tweet out a message that includes @DansDeals and the hashtag #DDPromo
Step 2: Leave a comment on this post today by 11:59pm EST.  In your comment be sure to say what your Twitter handle is (e.g. @DansDeals) and you'll be entered into a raffle to win a brand new HP TouchPad, HP Protective Case, and HP Touchstone Wireless battery charging dock!
Leave just 1 comment on this post  Placing multiple comments may result in disqualification.
I'll contact the winner via Twitter, so be sure you are following @DansDeals so that I'll be able to send you a direct message.  If you didn't tweet what is required in step 1, or if you don't comment what is required in step 2, or if you don't follow @DansDeals, or if you don't claim the prize within 24 hours of receiving the direct message I will pick another winner.
Good luck!
The bounty: (WebOS is the built-in OS but if you like to tinker there are mods to have it run Android)