Update, 08/17: I had no problem cancelling my subscription online tonight.  I just logged in, went to my subscriptions, and clicked to cancel it.  It offered to lower the price to $12.95/month but I declined and got an email confirming the cancellation.
———————————————————————————–
Originally posted on 08/13:
You can check your Equifax FICO score for free from MyFico.
You do have to cancel the service within 10 days in order not to be billed for the service.  Checking your own score has no effect on your credit score.
They also sell Transunion and Experian FICO scores but I'm too cheap to actually pay for my score. 99.9% of other scores that you find online are FAKOs or fake scores that are practically meaningless.
I'll admit that most people's Equifax FICO score will be somewhat higher than their Transunion and Experian FICO scores, though I don't think it's worth spending ~$40 to find out exactly what that difference is. Nor do I think the difference will be that significant in most cases.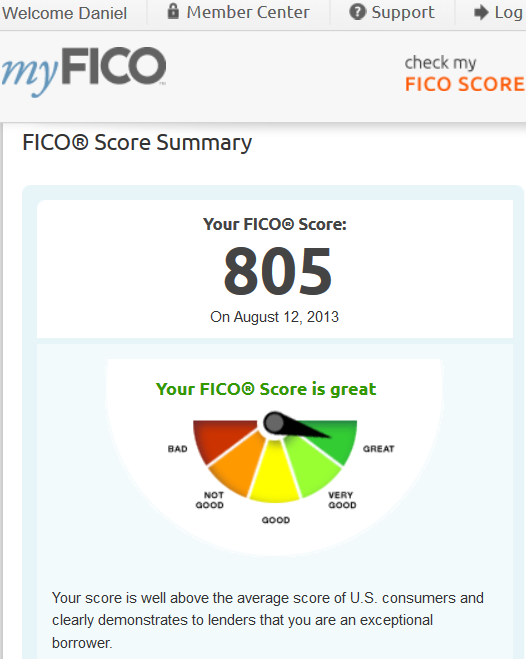 My 805 FICO score goes to prove that with proper credit usage and strategies you can rack up millions of miles and have a rock-star score. I may have hundreds of cards on my report but stories about that being bad for your credit score are just fables.
-I pay off nearly my entire bill before the statement closes so that owe just a few dollars or nothing when the statement comes in the mail.
-I never miss a payment.
-I'm careful that accounts that I'm an authorized user on (that my parents set up years ago for my benefit) are also barely utilizing their credit lines.
-If I have purchases that I need more time to pay off I use business cards that don't report credit utilization to the credit bureaus.
-I apply for cards using 2/3/4BM methods that limit the number of credit pulls you get for multiple card applications from the same bank using multiple browsers at the same time.
-I avoid Capital One like the plague due to them slamming you with 3 credit pulls for one card.
-I don't worry about the effects of closing a card as closed cards stay on my report and help my average account age for 10 years after they're closed. Once 10 years go by I'll have other cards to take their place.
-I do try to salvage and transfer credit lines before closing a card as those disappear when a card is closed.
-I took out a car loan and paid it off early to take advantage of financing rebates and to add another type of loan account to my credit profile.
So, what's your FICO score?  You can see what DDF members reported in this thread.