Update #2, 01/07: Got all of my Staples gift cards today!  A couple of them were slightly smaller than what I expected, but still not bad at all for a deal that paid out $$$ for gift cards that earned tens of thousands of Ultimate Rewards points at 5 points per dollar and helped me complete the signup bonus threshold spending for my Chase business 3BM that netted over 125,000 signup points.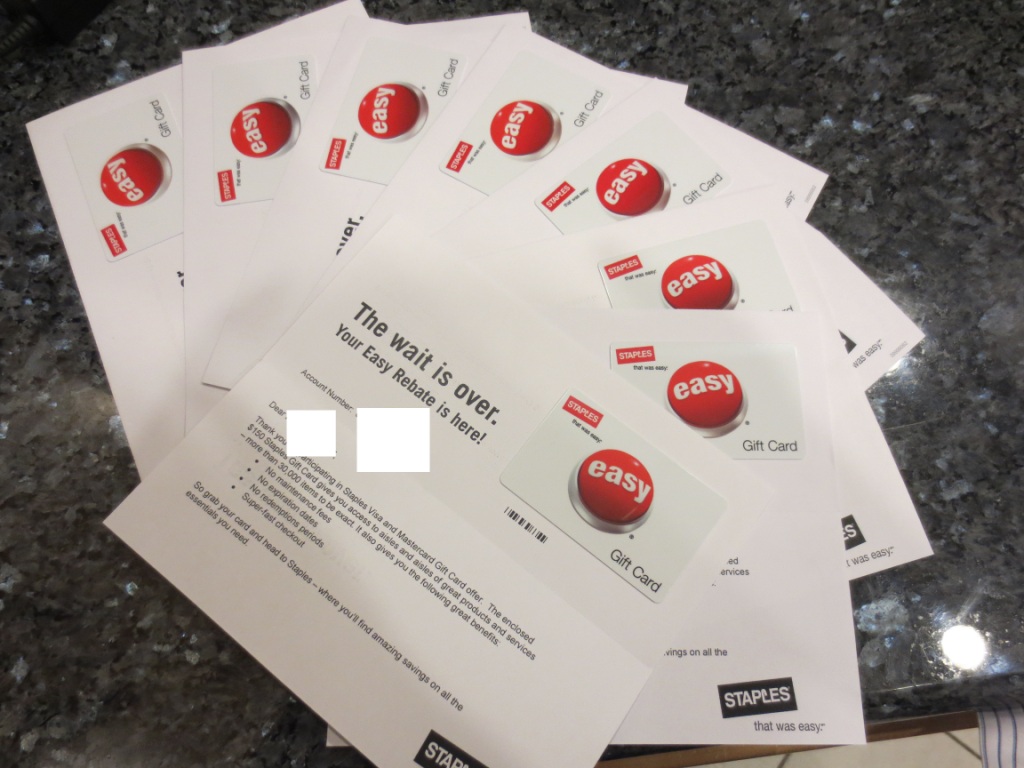 Update, 11/13: Staples has gone crazy and I'm all-in!  I'm currently due some $1,170 in Staples gift card rebates (which can be liquidated via Cardpool for $983 or used for rebate items) and have earned over 31,000 Ultimate Rewards points just in base spending on my Ink card, not even counting the 50,000 point signup bonus threshold help.  Amazon Payments works perfectly to cash out the Visa and Mastercard gift cards as described below.

So here's where it gets crazy.  If you buy 3 of the $200 prepaid gift cards the system processes it for $135 in staples gift cards.  The fee on these cards is $6.95 each, so for $20.85 in fees I'll earn over 3,100 points plus $135 in Staples gift cards (which can be liquidated for $113.40).  It's probably a glitch, but I've got screenshots and printouts so they'll be hard to argue with. Below are some of the combinations I tried on Monday.
In other news I continue to love CVS for bringing the Vanilla love to Cleveland and for having dozens of stores nearby 😀 You've made meeting my spending threshold on my recent App-O-Rama full of 4BMs and 3BMs easier than ever!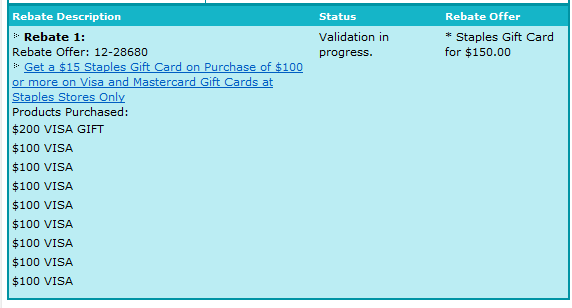 —————————————————————————-
This was originally posted on 11/11:
Related posts:
-Want To Boost Your Credit Score? Spend On Business Cards Instead Of Consumer Cards.
-A List Of Gift Cards Sold By Office Supply Stores
-Chase Ink Offers Being Updated
—————————————————————————-
Cleveland, home of the original Office Max, isn't blessed with an Office Depot. The nearest ones that I could find are a couple hours away in Columbus, Detroit, and Pittsburgh.
In case you're living under a rock, people have been stalking Office Depots for the past few weeks waiting for their latest supply of Vanilla Reload cards. The card costs $3.95 and can be cashed out at full value via Bluebird. Plus you earn 5 points per dollar with any Ink card. So for a $3.95 fee you earn 2,500 points, or 0.158 cents per point, or $127 at those rates to fly round-trip to Israel with United.
The current rumor is that Vanilla Reload cards have been pulled from Office Depot, but you can still get $500 gift cards at Office Depot for a $4.95 fee and then use that to buy a Vanilla Reload at one of dozens of stores that still carry them. That brings the fees up to $8.90 for 2,500 miles or 0.356 cents per points, or $284.80 for that round-trip to Israel with United.  Or just use the gift card for your everyday spending and earn 5 points per dollar everywhere.
Escapade #1:
As for me I went to a CVS and stocked up on Vanilla Reload cards to meet a spending threshold. It's not nearly as lucrative, as there is a $3.95 fee and you only get 500 miles. Still buying miles at 0.79 cents is a great deal. The really nice thing though is to use that to meet a spending threshold. If you need to spend $5,000 to get 50,000 points then doing it like this will just cost you $39.50 and you'll get those 50,000 points plus the 5,000 purchase points and you can use Bluebird to pay off your bill. You can use 40,000 Starpoints and transfer those to Flying Blue who can book you on Delta to fly to Israel with no fuel surcharges, though availability can be tough with Delta. At .79 cents per point that would run you $316 round-trip to Israel, though if you are getting points for opening a card and just need to meet a spend threshold then the cost will be much less than that.
I've already added the funds to my Bluebird account and can now cash it out for free.
Some DDF members have had success at Walgreens as well, post your experience in a comment.
Escapade #2:
I was browsing the DansDeals Forums on my Galaxy Nexus while I was out and read a post by member "DP7" that when you buy $100 in Visa or Mastercard gift cards at Staples you get a $15 Staples Gift card. The promotion runs through 11/24.
I happened to be passing by a Staples so I went in and they had plenty of those gift cards. You can get that rebate on up to 10 gift cards per address. So I plunked down $1,059.50 (The $59.50 were gift card fees) and had $1,000 in prepaid Mastercards.
-I used my Ink card, so first of all I got closer to a spending threshold bonus and I also earned 5,298 Ultimate Rewards points at 5 points per dollar.
-When I got home it took me less than 2 minutes to fill in my online easy rebate and receive confirmation with a tracking number. I'll get $150 in Staples gift cards in the nest 4-6 weeks.
-I can now cash out those gift cards for free via Amazon Payments or I can also go buy Vanilla Reload cards and cash them out via Bluebird.
-When you add a gift card to Amazon Payments it does a $1 authorization that stops you from being able to completely cash it out until the authorization drops. One way to get around that is to use an incorrect expiration date when you add it to your Amazon account and then correct it right afterward. Then you will be able to spend the full gift card amount without having to wait for the authorization to fall off.
-Assuming I just use Amazon that's $59.50 for $150 in Staples gift cards AND getting $1,000 closer to a spending threshold, AND getting 5,298 points that are worth about $100 to me.
-I can also sell the $150 in Staples gift cards to CardPool for $126 cash. That would leave me with 5,298 points that I paid $59.50 for but received a cash rebate of $126, so that's negative $66.50 which means cash going back into my pocket for "buying" those points. Good luck figuring out the cost per mile on that one!
-Staples also runs promotions for free stuff after rebate fairly often, so that would be another way to cash out those gift cards if you didn't want to take the 16% haircut that CardPool takes.
Not bad for a short weekend drive.