Update, 01/16/12: Through the help of commenters here I realized that Chase had accidentally downgraded my account from Sapphire Preferred to the plain Sapphire (which doesn't have the benefits of the Preferred card like No foreign transaction fees, double points on airfare/car rentals/hotels, point transfers to airlines/hotels, and the 7% annual dividend) during the conversion process.
I just got home from visiting the in-laws in Kansas City and my brand new Sapphire Preferred World Mastercard was waiting for me. And yes, it is made from that great heavier metal cardstock we all know and love 😉


Originally posted on 01/06/12:
Chase Sapphire Preferred Linky
Renting a car in Israel can be a challenge.  And I'm not talking about the rental car facility being located ridiculously far from the terminal.  You are required to buy CDW and liability insurance when you rent even if your personal insurance at home covers you and the insurances they make you purchase also have high deductibles.  The rental agencies are all franchises and they love to create imaginary damages to upcharge you with at the end of your rental.  (Always take lots of pictures when you rent and get every nick and scratch signed by an agent on a paper when you rent!)
Most credit cards exclude Israel from their CDW coverage (with agencies like these I can't imagine why…)  For a while all World Mastercards covered Israel, but then many, such as the Continental OnePass Plus world Mastercard stopped providing CDW coverage in Israel (although the Continental and United cards provide excellent primary CDW coverage in almost every other country in the world).
The Sapphire Preferred card is a Visa Signature by default, but I was able to call up Chase and have them switch it to a World Mastercard without any hassle at all.  Once I received the card I called up MasterRental and they confirmed in writing that my card does provide CDW coverage in Israel!
You still are forced to buy liability coverage in Israel, but with the Sapphire Preferred world MasterCard you will be able to decline the CDW coverage as you receive zero deductible coverage from the card free of charge.  Without a valid World Mastercard that works in Israel you pay for CDW coverage and you pay for imaginary charges as they fall within the deductible.  With a valid World Mastercard you don't pay for CDW coverage and MasterRental will pay you back for any damages done to your rented car.
Best of all?
-The Sapphire card does not charge any foreign exchange or transaction fees so you will get the best possible rates!
-You will get 2.14 Ultimate Rewards points per dollar spent on the car rental!
The downside of making the card into a World Mastercard? My new card is not the heavy card made from metal and no longer says "Preferred" on the front, but all other benefits remain the same.
Instead of switching and losing your nice metal card, you are actually allowed to have 2 Chase Sapphire cards. You probably won't get automatically approved for a 2nd card, but if you apply for a new card you can just tell a reconsideration rep, a credit analyst rep, or your local banker that you want a Sapphire World Mastercard and a Visa Signature card and if your credit allows (or even if it doesn't allow but you can shift around credit lines or close other older cards in exchange) you will be able to get both cards.
The argument for needing 2 Sapphire cards should be fairly easy to make, Mastercards can come in handy if you want to shop at Sam's Club and for renting in Israel.  Visa cards are accepted at more locations internationally than Mastercard and most dollar stores only take Visa.  Plus both cards charge no foreign transaction fees, so the need to have both should be easy to explain.  And I have been successful getting the signup bonus on the Sapphire Preferred card multiple times…
Front image (Visa/Mastercard)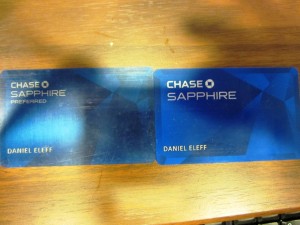 Back image (Mastercard/Visa)