Have questions when reading this post? It's probably already been answered in one of the following related posts.
Related spend threshold posts:
-Another Flavor Of Vanilla: My Vanilla Debit Card
-Today's Escapades
-Meeting A Spend Threshold In One Night.
-Need To Meet A Spending Threshold Deadline? Send And Receive $1,000/Month With No Fees Using Amazon Payments!
Related cards
–Chase Ink Bold Charge Card
–Chase Ink Plus Credit Card
–Chase Ink Cash Credit Card
Related posts:
–Want To Boost Your Credit Score? Spend On Business Cards Instead Of Consumer Cards.
–A List Of Gift Cards Sold By Office Supply Stores
–A Rundown Of The Chase Ultimate Rewards Program And Ultimate Rewards Cards
–Credit Score FAQs: Opening And Closing Cards (Including 2bm/3bm info)
———————————————————————
So the big news over the weekend is that you can now assign a pin number to gift cards, effectively turning them into debit cards.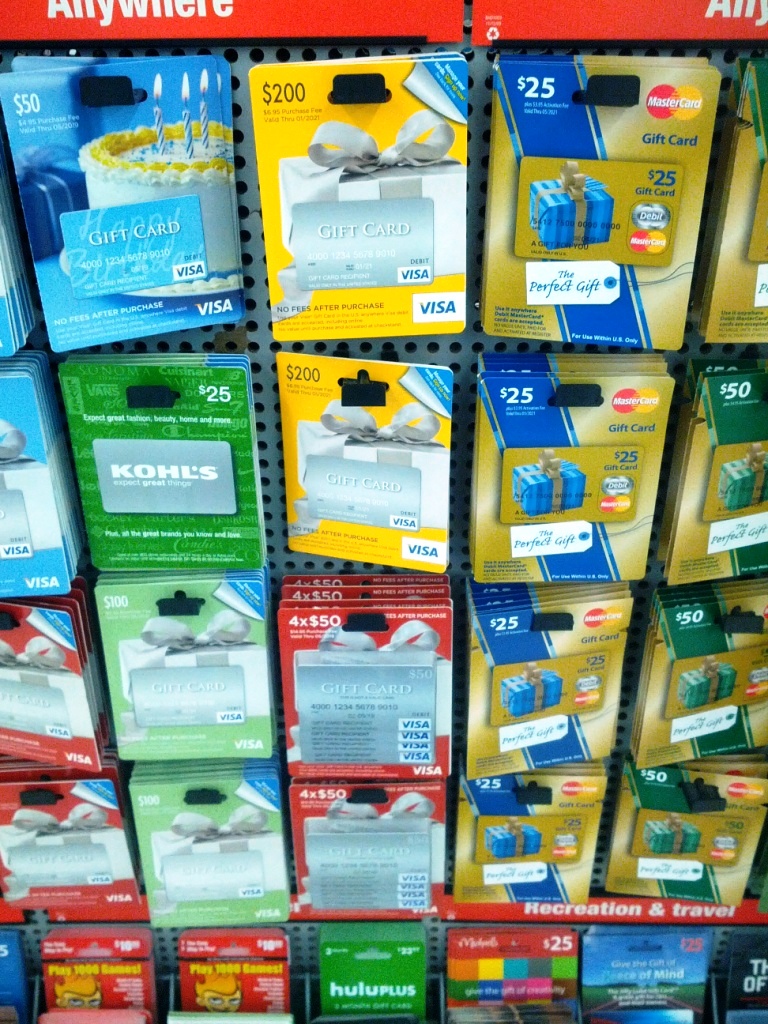 Gift cards for sale at Staples. Those $200 ones are the jackpot!

I bought many thousands of dollars of gift cards during previous promotions at Staples and Office Max when they had them on sale for wayyy less than face value, earning me tons of points and cash.  I've been cashing them out slowly with several Amazon Payments accounts for free, but as there are always other spend thresholds to be met that process takes time.
Now the game has changed.
The automated call number for my gift cards easily allowed me to assign a pin number for my gift cards. I just dialed the number on the card, entered my card info, and followed the easy prompt on the phone (5) to assign a pin.
Load gift cards directly to Bluebird:
I took a few thousand dollars worth of gift cards to WalMart today and loaded $1,000 onto mine and my wife's Bluebird cards.  You are able to do this with any cashier.
In the process I learned that you can use up to 3 cards per transaction, so that's $300 of loads with 3 $100 cards or $600 of loads with 3 $200 cards.  This saves you time over doing a separate transaction for every card. You can load up to $1,000 per day and $5,000 per month.
Once it's in Bluebird you can use the cash to pay off your credit card bill, your mortgage, write a check to anyone, or even transfer funds to your bank account.  You can even get free checks for your Bluebird account if you request them by 05/21, just login to your account, hover over the dropdown "my account" button in the top-right, and click on order bluebird checks.
Get cash back from gift cards:
I was also able to pickup a 98 cent bottle of Softsoap and select cash back to get cold hard cash from a gift card. However I was only able to get cash back in multiples of $20, so I'll probably use Amazon Payments to wipe the remaining balance from the cards.
I went to WalMart to be able to load Bluebird and to get cash back on a purchase.  I'm sure it will work at other stores as well so if you try to use a gift card with a pin to make a cash back debit purchase elsewhere please post the results in the comments.
There are no fees to load the cards onto Bluebird in Walmart and there are no fees to get cash back.
I did not have success though with the Mastercards from Office Max and Staples, I only had success with the Visa cards.  If you get the Visa gift cards from Office Max or Staples you should be good to go.  Other brands may work as well, I just haven't tested them myself.
So is this worthwhile?
When the gift cards go on sale and you can buy them for less than face value there's no question. What about when the gift cards are not on sale?
If you have an Ink Bold, Ink Plus, or Ink Cash card you earn 5 points per dollar at Office supply stores.
If you buy 5 of the $200 Visa gift cards you will incur $34.75 in fees if there are no promotions.
That means you'll get 5,174 Ultimate Rewards points of a cost of 0.67cpp (cents per point).
What does buying Ultimate Rewards points for .67cpp mean in layman's terms?
-A one-way ticket from NYC to Cleveland, Detroit, Montreal, or Toronto costs 4,500 BA Avios. At a cost of 0.67cpp that ticket costs $30.
-A one-way ticket from NYC to Chicago is currently 3,780 Southwest points, or about $25.
-A round-trip business class ticket to Israel on United, USAirways, or Air Canada nonstop from North America is 120,000 United miles, or $804. The 80K coach ticket would be $536.
-A round-trip ticket to Israel via Germany on Air Berlin is 60K Avios or $402.
-A one night stay at a $1,005.950/night Hyatt hotel in Paris, Sydney, or the Maldives is 22,000 Hyatt points, or $147.
-A round-trip ticket from JFK to Asia in ANA's new first class suite with closing doors is 135,000 United miles, or $904 for what is normally a $19,000 ticket.
Of course these rates are all after you've already met the spend threshold.
Otherwise buying $5,000 of gift cards to meet the spend threshold will cost you $5,173.75 and will net you 75,869 points at a cost of 0.23cpp, or roughly 1/3rd of the price examples above.
I've done a 3BM for 2 Ink cards and a United card and got them approved with just 1 phone call to net over 200K miles after spend thresholds.
Getting a business card is quite simple. You don't need to be a traditional "business owner" as you might think of one.
For example if Joe Smith sells items on Ebay or on Amazon, or has any other side business/hobby and wants a credit card to better keep track of business expenditures he can just open a business credit card for "Joe Smith Sole Proprietorship" as the business name. You don't need to file any messy government paperwork to be allowed to do that.
Just be sure to select "Sole Proprietorship" as the business type and just use your social security number in the Tax Identification Number field as well as in the social security number field.
I've had business cards since I turned 18 as a Sole Proprietor and never had a problem getting approved with reconsideration if needed. You can reach Chase business reconsideration at 800-453-9719.
Another card where this can make sense with is the Blue Cash Preferred® Card from American Express, which gives 6% cash back for purchases at grocery stores which also sell gift cards
The Blue Cash Preferred receives 6% back on $6,000/year, the Ink Cash gives 5 points per dollar on $25,000/year, and the Ink Bold and Ink Plus give 5 points per dollar on $50,000/year each.
HT: jk2 via FT (who appears to be the first to break this news online), MMS for his research and yitzf via DDF for the heads up.