Update: This offer will be changing at some point tomorrow. Now is the last change to signup and get 2 free nights that are valid at any Hyatt in the world! You can get approved for a Hyatt card even if you have been approved for 5+ consumer cards in the past 24 months.
---
Originally posted on 6/21:
From 2002 through 2010 Hyatt ran Faster Free Nights, a promotion that offered a free night in any Hyatt after every 2 stays. In 2009 I was earning 13,500 United miles+6,000 Hyatt points+1 free night at any Hyatt in the world for every 2 stays that I made.
The last Faster Free Nights promotion ended in August 2010. In September 2010 the Chase Hyatt card launched and essentially offered 2 "Faster Free Nights" for signing up. The nights could be used at any Hyatt in the world, which made them very valuable. Hyatt marketed these nights as an effective replacement for the Faster Free Nights promotions.
Alas, all good things come to an end. Effective on 6/29, the signup bonus on the Chase Hyatt card will drop from 2 free nights to 40K points. If you want to signup under the current bonus to earn 2 free systemwide nights after spending $2,000, you'll want to do that before 6/28. If you add a free additional user with the current offer you'll also get 5K bonus points.
The Chase Hyatt card is not subject to 5/24 guidelines.
Don't have a Chase Hyatt card? You can view credit card offers by clicking on the "Credit Cards" tab on top of the DansDeals banner to view links for card offers. You can click on the link that says "View hotel cards" and scroll down to view card offers.
Here is the Hyatt award chart:
| Hotel Category | Standard Room Award | Suite Night Award | Points+Cash Standard Room Award | Cost of points saved with P+C Award |
| --- | --- | --- | --- | --- |
| 1 | 5K | 8K | 2.5K+$50 | 2 cents/point |
| 2 | 8K | 13K | 4K+$55 | 1.38 cents/point |
| 3 | 12K | 20K | 6K+$75 | 1.25 cents/point |
| 4 | 15K | 24K | 7.5K+$100 | 1.33 cents/point |
| 5 | 20K | 32K | 10K+$125 | 1.25 cents/point |
| 6 | 25K | 40K | 12.5K+$150 | 1.2 cents/point |
| 7 | 30K | 48K | 15K+$300 | 2 cents/point |
As you can see, 40K points is enough for 2 free nights in a category 5 hotel, but 2 nights in a category 7 hotel like a Park Hyatt in Paris, Sydney, Tokyo,  or New York will cost 60K points. Paid rates can cost up to $1,200/night.
2 nights in a category 6 hotel like the Grand Hyatt Kauai, Andaz Maui, or the Park Hyatt Maldives will cost 50K points.
Park Hyatt Sydney and Sydney Opera House. Picture taken from Sydney Harbour Bridge: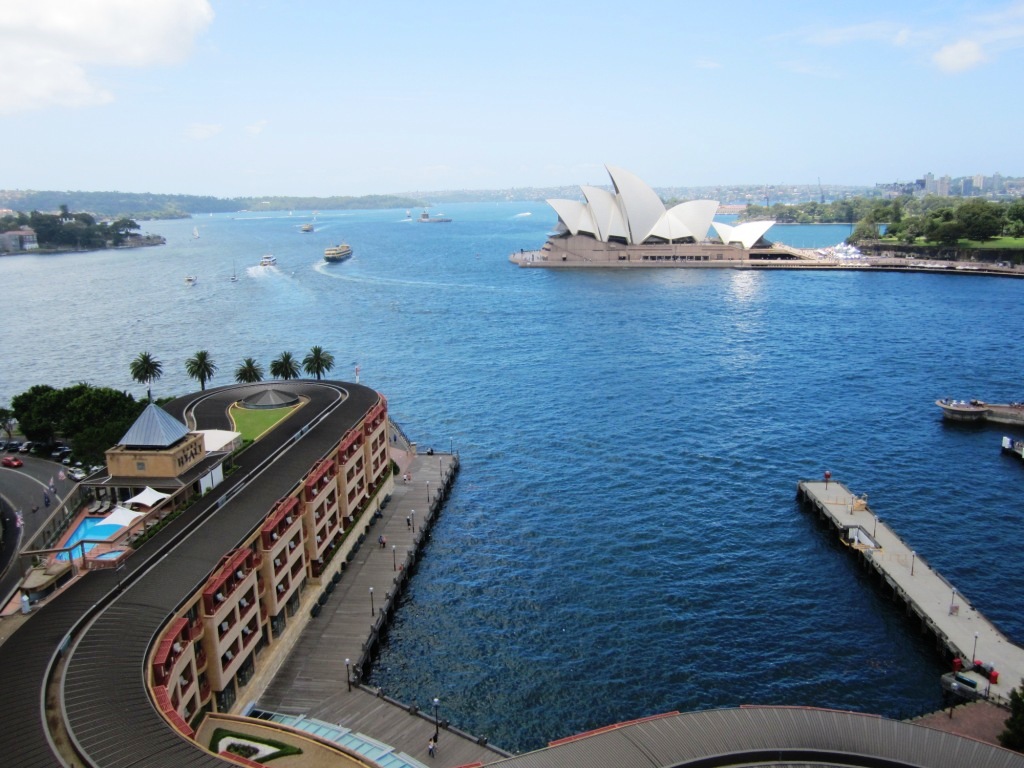 Those rates will come down slightly if you take advantage of the annual points rebate promotion for cardholders, but it will still cost more than 40K points.
Of course points have the advantage of never expiring if you maintain account activity, but Hyatt gives about 13 months to use the 2 free nights from when you finish the $2,000 in spending.
The card gives Discoverist status, which gives free premium internet, bonus points, and 2PM late checkout.
The card also gives a free anniversary night at category 1-4 Hyatt hotels, which is worth much more than the $75 annual fee. For example that covers a free night at the category 4 Andaz Costa Rica Resort, where rooms can cost up to $650/night. The Hyatt Place LaGuardia is also a decent hotel for an anniversary night, as the only anniversary night eligible Hyatt in NYC.
Chase recently discontinued the Fairmont card which gave systemside free nights as a signup bonus. This Hyatt card change will leave the Chase IHG card as the only hotel card left that will give a free night that valid at any hotel in the chain, which it gives an an annual anniversary bonus. That card is also not subject to 5/24 guidelines.
Where have you used your most valuable Hyatt free nights over the years?