Related:
-Chase Sapphire Mega Bonus Offers Will End On Tuesday, April 3rd At 10am!
-Is The Mega Sapphire Bonus Going Away, Bonus Offer Matching, And Other Thoughts On My Credit Card Lineup.
I opened a Chase Sapphire card late last year and got 50,000 points for signing up. No it wasn't my first Sapphire card, though after cycling through cards I didn't have any active Sapphire cards as that point.
Earlier this year I converted it to a Mastercard so that I would be able to have Rental car CDW coverage in Israel with no foreign exchange fees and earn 2.14 points per dollar spent there. By accident the card was converted to a non-preferred Mastercard and they had to upgrade it back to preferred and gave me 5,000 bonus points for the mistake and hassle.
Of course that left me without an active Sapphire Preferred Visa card, so I reapplied for the Visa and got a denial letter as I already had a Sapphire Preferred card. I called credit reconsideration (888-270-2127) who told me that I could not have 2 active Sapphire Preferred cards even if I needed a Visa and a Mastercard for the various stores that only take Mastercard or Visa (like Sam's and dollar stores). However I then called the credit analyst department (888-245-0625) and they approved me right away when I offered to have my Mastercard credit line split into 2 to get the new card approved.
Well, I logged into my Chase.com account and my first statement just closed and she's a beauty 😀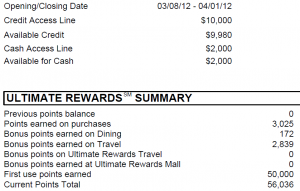 Plus I'll still get a 7% annual points dividend (about 4,000 more bonus points) on top of those points come next February. And my latest United card's statement (that I applied for simultaneously with this Sapphire card) has closed as well with another 50,000 points after a secure message match. I'm afraid I'm hopelessly addicted to miles and flying in First Class!