Related posts:
Today's Escapades
————————————————————————–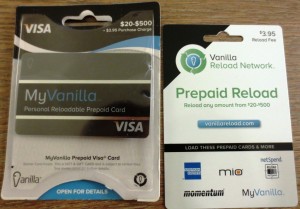 In the past I've blogged about buying Vanilla Reload (VR) cards (right).
Another flavor of Vanilla is the My Vanilla Personal Reloadable Prepaid Visa card (left). On DDF it's simply known as MVD or My Vanilla Debit.
I bought 2 of these with $500 each at CVS today with my credit card. There were $7.90 in fees, but this week they are offering $5 in ExtraBucks to spend in the future at CVS if you buy 2 in one transaction, effectively dropping the cost for 2 cards down to $2.90. The ExtraBucks did not print automatically but I showed the teller the offer in the store circular ad on page 8 and they printed a $5 ExtraBucks voucher for me valid for 30 days.
After that I went online to register the card at myvanilladebitcard.com to activate both cards in my name. Soon they will now mail me a permanent version of the card.
Then I went down the block to Citibank, went to a teller, and took out a cash advance of $500 on each of the cards and was given the money in cash with no fees and no account required.
Other DDF members have reported cash advance success at other banks, like Chase, with no fees.  Be sure to sign the back of your card before going to the bank as your name is not otherwise listed on the temporary card.  If your bank needs a name on the card you may need to wait for your permanent card to come in the mail.
So I got $1,000 closer to the $5,000 spend threshold on my Ink Plus to earn 50,000 points and earned 1,000 Chase UR points for under 0.3 cents each.  To put that in perspective (completely ignoring getting closer to the signup bonus points) if you were able to earn 22,000 UR points at 0.29 cents you'd be able to stay at the Park Hyatt Paris, Sydney, or Maldives for $69/night instead of the normal $1,000/night rate.  120,000 points would give you a business class ticket to Israel (along with a free stopover in Europe and a free one-way ticket to Hawaii in business class as well good for an entire year if you play your cards right) for just $348.
Vanilla Reload is much easier than MVD, though VR cards can be harder to find. They can be bought with a credit card, and then you can go online to transfer the funds to a free Bluebird card, and then from the Bluebird card you can pay off your credit card bills, your rent or mortgage, or any other bill.
The limit on Bluebird is $1,000 on Vanilla reload funding per day and $5,000 of Vanilla reload funding per month. Always nice to have a spouse for things like this 😀
The total cost of this route is $7.90 in Vanilla fees. For that you get at least 1,008 miles (or more depending on the card you use) and more importantly you get $1,000 closer to that spending threshold you may need to meet. But even if you don't have a spending threshold to meet it's still buying miles for under a penny a point which is awesome.
You can find stores that sell Vanilla Reloads here, but I've had great success at CVS. CVS has a $1,000 per transaction limit, so that's 2 Vanilla Reload cards of $500 each.  Vanilla Reload is not a Visa, so no ExtraBucks there.
Other Vanilla versions, like OneVanilla or any version other than the ones in the picture above can't be cashed out via cash advance (like the MVD) or via Bluebird (like the VR).
The Visa versions of the Vanilla gift cards though do earn the $5 ExtraBucks bonus this week.  They can be cashed out via Amazon Payments though, so you can load up on them if you need to meet a spending threshold and cash them out later on in future months on Amazon.  In this post I wrote a workaround for how to cash out the full amount of those and all other Mastercard, Visa, and AMEX gift cards on Amazon Payments.