Update, 1pm: The 75K offer appears to be dead.  The current promotional offer is back to 50K signup bonus points.

Related posts:
-Business Cards In My Wallet
-Want To Boost Your Credit Score? Spend On Business Cards Instead Of Consumer Cards.
-ANA Not Charging Fuel Surcharges For Award Travel On United Or USAirways!
-Singapore Airlines Also Not Charging Fuel Surcharges For Award Travel On United Or USAirways!
-4BM Success! (2 consumer card and 2 business card approvals with just 1 hard pull!) .
-Which Miles To Use To Fly To Israel?
-Flying Round-Trip To Israel On Air Berlin For 47K American Express Membership Rewards
-Credit Score FAQs: Opening And Closing Cards
-Credit Card Reconsideration: Don't Give Up!
—————————————————————————
The Business Gold Rewards Card® from American Express OPEN
A single credit card that will give you more than enough miles for 2 round-trips to Israel without fuel surcharges or more than 15 short-haul round-trips tickets…read on!
Currently when using select browsers you can get 75,000 signup bonus points when using the link above.  It's unknown how long this will stick around for.
When I clicked on the link in IE and Firefox the offer was 50,000, but from Chrome the offer is 75,000.
Definitely try the link from all 3 of those browsers or try the link from your phone to see the 75K offer.  It may also be a cookie issue, so you can also browse incognito and then click on the card link to access the 75K offer.  To browse incognito in Chrome just hold down Ctrl, Shift, and N and the same time. In IE and Firefox you can access this mode by holding down Ctrl, Shift, and P buttons on your keyboard.  Then just return to DansDeals.com and click on the card offer again and hopefully you will get the 75K offer.
Others have had success from their phone's browser or just trying from another computer.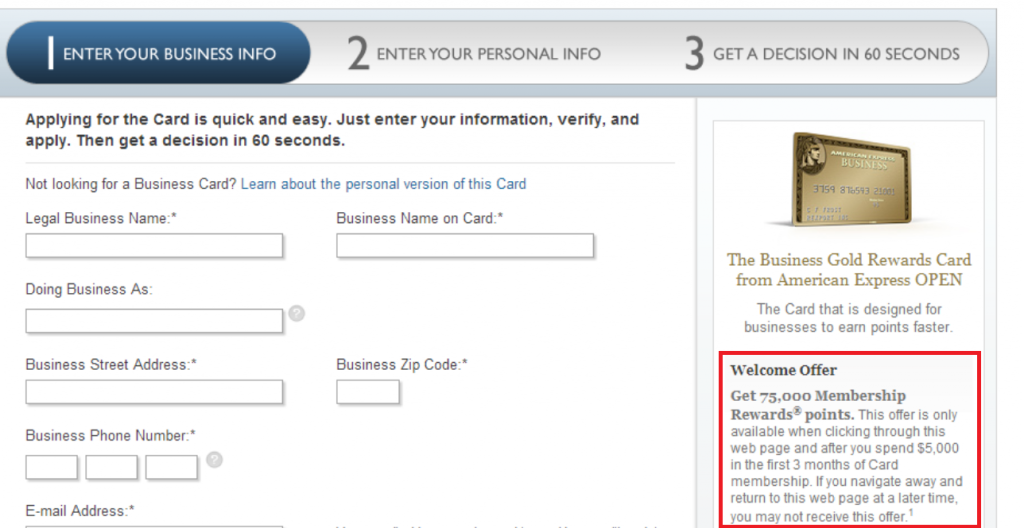 Signup bonus:
-75,000 bonus Membership Rewards points for spending $5,000 in 3 months.
Plus this card offers 3 points per dollar spent on airfare, making this one of the best cards to use to purchase airline tickets. You also get 2 points per dollar at gas stations, on shipping, and for advertising.
Having consumer charge cards (Green, Gold, Platinum, etc) , consumer credit cards, or business credit cards will not stop you from earning this signup bonus.
If you have had a business charge card (Green, Gold, or Platinum) in the past 12 months the terms state that you will not receive the bonus. YMMV.
People have been able to apply for the gold and platinum at the same time and reported success.
Upgrading the card: Earn an additional 25K signup bonus points and $200 airline fee credit!
Numerous DDF membersas well as myself have used this link after getting the card and receiving the signup bonus to upgrade the card from Gold to Platinum. The link gives you 25K bonus points for upgrading within just a few days.  There is no credit pull for this upgrade.
Plus you can get the Platinum $200 cash back in airline fee refunds once it's upgraded as well!
Offer Terms:
-Earn 75,000 Membership Rewards® points after you spend $5,000 in purchases on the Card in the first 3 months of Card membership
-Earn points even faster to get more rewards for your business.
-3X points on airfare purchased from airlines. 2X points at US gas stations.
-Up to $100,000 in each category per year, then 1 point.
-Terms and limitations apply.
-Reduce travel costs, show appreciation for employees and clients, and offset everyday expenses by using points to get something back and grow your business.
-$0 introductory annual fee for the first year, then $175.
-Apply online to qualify for this offer. See offer terms for details
Spending $5,000 in 3 months:
Spending $5K isn't what it used to be.
With options like gift cards with pins that can be easily cashed out, Vanilla Reloads/Bluebird, Vanilla MVD cards that can be combined and cashed out, and prepaid gift cards sold at a discount there are lots of ways to help you meet thresholds.
And of course there's trusty old Amazon Payments made even easier with free additional user cards.
No need to rehash everything, Here are articles I've already written on this stuff:
–Having Fun Cashing Out Gift Cards
-Another Flavor Of Vanilla: My Vanilla Debit Card
-Today's Escapades
-Meeting A Spend Threshold In One Night.
-Need To Meet A Spending Threshold Deadline? Send And Receive $1,000/Month With No Fees Using Amazon Payments!
American Express Benefits:
-American Express offers the best dispute resolution in the industry. If you have a problem with the item or merchant you'll be glad if you made the chaarge on an AMEX.
Plus they offer incredible return protection, purchase protection, and warranty service.
With return protection you can return items up to $300 to AMEX for 90 days even if the merchant won't accept returns.
With purchase protection your items are covered if they break or are stolen within 90 days.
With extended warranty you will have double the manufacturers warranty, up to one additional year, for free. Plus the AMEX warranty year is incredible as they will just refund your purchase price if you have problems with your item, without any hassle at all!
Additionally if you spend $1,000 at Fedex on this card for example you'll get a 5% automatic cash rebate and 2,000 points (double points for shipping as stated above). $1,000 at HP gets a 10% automatic cash rebate and 1,000 points plus their awesome extended warranty coverage as long as you have any open American Express card at the time of the claim.
What can you do with the points:
-Once you're done with $5K in spending you'll have at least 80K American Express Membership Rewards points. Or if you do the upgrade you'll have at least 105,000 points!
With the current 35% bonus for transfer to Avios, 105,000 Membership Rewards points transfer into about 142,000 British Airways Avios.
With the bonus you can get to Israel for as just 45K Membership Rewards points round-trip with no fuel surcharges!
-A flight from NYC to short-haul destinations (like Cleveland, Detroit, Montreal, Toronto, and many others) on American booked via Avios is just 4,500 each way with no fuel surcharges. With 142K Avios you'd have enough for more than 31 short-haul flights.
-A flight from NYC to medium-haul destinations (like Miami) on American booked via Avios is just 7,500 each way with no fuel surcharges. With 142K Avios you'd have enough for more than 18 medium-haul flights.
-A flight from NYC to resort destinations like Cancun or Puerto Rico on American booked via Avios is just 10,000 each way with no fuel surcharges. With 142K Avios you'd have enough for 14 of those flights.
-A flight from NYC to stunning Costa Rica on American booked via Avios is just 12,500 each way with no fuel surcharges. Or you can fly from the West Coast to any Hawaiian Island for that rate. Or you can even fly from Boston to Ireland for the same rate with no fuel surcharges on Aer Lingus (you'll have to call to book trips on airlines like Aer Lingus or Alaska). With 142K Avios you'd have enough for more than 11 of those flights.
-A flight from NYC to Israel on Air Berlin booked via Avios is just 30,000 each way with no fuel surcharges. With 142K Avios you'd have enough for more than 4 of those flights.
-The only way to fly in Singapore's First Class Suites, or in their awesome business or first class products, is with Singapore miles. Book on their website to save 15% of the miles needed. I flew to Europe in December in a couples suite with my wife for about 58K miles each.
-Air France/KLM Flying Blue charges only 25K miles round-trip to Israel during a Promo award or just 50K miles round-trip to Israel on Delta with no fuel surcharges. Business would be just 100K on Delta. Plus there are occasionally bonuses to Flying Blue as well, dropping those rates even lower.
-The only way to fly in El Al First Class, which includes the best glatt kosher food in the sky, is with El Al points.
-Air Canada can book you on other Star Alliance carriers, like United and USAirways and many more, with no fuel surcharges. Bonus: They also allow for 2 free stopovers, so you can checkout 3 different cities on 1 ticket.
-ANA and Singapore also charge no fuel surcharges on United and USAirways.  You can fly round-trip to Europe for just 38K points or round-trip to Israel for just 60K points.
What do you do with your points? Post a comment!
Getting a business card:
Getting a business card is quite simple. You don't need to be a traditional "business owner" as you might think of one.
For example if Joe Smith sells items on Ebay or on Amazon, or has any other side business/hobby and wants a credit card to better keep track of business expenditures he can just open a business credit card for "Joe Smith Sole Proprietorship" as the business name. You don't need to file any messy government paperwork to be allowed to do that.
Just be sure to select "Sole Proprietorship" as the business type and just use your social security number in the Tax Identification Number field as well as in the social security number field.
I've had business cards since I turned 18 as a Sole Proprietor and never had a problem getting approved with reconsideration if needed. You can reach reconsideration at 866-314-0237.
Best of all, spending you make on a business card won't hurt your credit score as spending on a consumer card does.
Charge card:
This is a charge card without a defined credit line, so even when you're ready to close the account you won't lose that line of credit.
Plus it's not subject the limit of 4 American Express credit cards per person, as charge cards are not limited in the way credit cards with a credit line are limited.
If you make zero income:
Then why are you applying for credit cards? American Express has the right to ask to see you tax returns at any time. While people have reported passing the financial review as long as they make something (DDF'ers have reported as little as $5K/year) it's not a good idea to apply for this card if you don't have income on the books.
Membership Rewards points transfer to:
Transfers are at 1K:1K ratios or are otherwise listed.
Airlines:
–Aeromexico (Skyteam)
–Air Canada (Star Alliance)
–Alitalia (Skyteam)
–ANA (Star Alliance)
-Asia Miles, Cathay Pacific (OneWorld)
–Avios, British Airways (Currently 1,000:1,350 ratio) and Iberia (OneWorld)
–Delta (Skyteam)
–El Al (1,000 MR:20 El Al ratio)
–Flying Blue, Air France/KLM (Skyteam)
–Frontier
–Hawaiian
–Jetblue (250 MR:200 Jetblue ratio)
–Singapore (Star Alliance)
–Virgin America (200 MR:100 Virgin ratio)
–Virgin Atlantic
Hotels:
–Best Western
–Choice
–Hilton: (1,000 MR:1,500 Hilton ratio)
–Starwood: (1,000 MR:333 Starwood ratio)
———————————————————————————–
You can apply for both consumer and business American Express cards on the same day with just 1 credit pull. Other cards from American Express include:
Consumer cards:
-Starwood Preferred Guest® Credit Card from American Express
–American Express® Premier Rewards Gold Card
–The Platinum Card® from American Express
–Gold Delta SkyMiles® Credit Card from American Express
-Blue Cash Preferred Card® from American Express
-TrueEarnings® Card from Costco and American Express
-American Express® Gold Card
-Blue Cash Everyday Card® from American Express
-Blue Sky from American Express®
Business cards:
-The Business Platinum Card® from American Express OPEN
-Starwood Preferred Guest® Business Credit Card from American Express
-Delta SkyMiles® Gold Business American Express Card
-SimplyCash® Business Card from American Express