Update for all of the naysayers: All of the points from these 4 churned cards (30K Starwood+30K Starwood+25K MR+30K Delta) have posted automatically.  Additionally I now have received 8 elite stay credits and 20 elite night credits this year from my 4 currently active Starwood cards.
————————————————-
This post was originally published on 08/26:
Find other articles like this by clicking on the "credit card posts" tab on top of the DansDeals banner at the top of this site.
————————————————-
Click images to enlarge: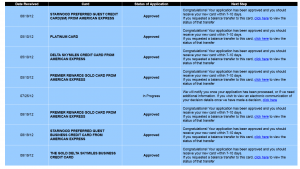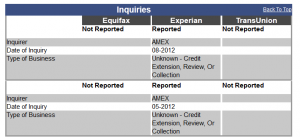 I've been doing 2BMs and 3BMs since I started blogging back in 2004. I did it on a whim with 3 Citi AA cards and got 3 instant approvals and coined the method to my madness the "3 browser method" and its made the rounds online ever since. I used to do that every 60-90 days on those cards, but in recent years Citi has gotten much tougher with AA card approvals for people who have had the card in the past.
I recently wrote about the process of a 3BM and an AOR in this post. The advantage is that you increase your odds for instant approvals and you limit the number of hard pulls.  I've been known to do a few 3BMs with different banks (Chase works well for me also) as close to the same time as possible.
This past May I did a 3BM with American Express for the Delta Gold Consumer, the Premier Gold, and the Platinum Consumer card. All were approved within a few days without having to call and the points posted for all of them although I have had them all in the past.
You can check approval status with this online tool.
This past Sunday I was feeling brave and for the first time decided to try for 4 cards from American Express. I applied for the Starwood Consumer card and the Premier Gold Consumer card first and then followed up a couple minutes later with the Starwood Business card and the Delta Gold Business card.
I had no instant decisions, but by Friday I had 3 approvals without speaking to anyone. For my last card I got a voicemail to call them up. I gathered my courage and called up, chatted with the offshore rep about his dislike to work on the weekend and his love to relax with a smoke and a bourbon, and after a few minutes he just verified that my address was correct and approved me on the spot.
After that I signed up yet again for Citi Identity Monitor for $1 for the first month (using Citi's own virtual card number program so that I won't be charged extra if I forget to cancel) and confirmed that I only had received 1 credit pull for my May 3BM and 1 credit pull for my August 4BM with American Express. In OH, American Express pulls from Experian and Chase pulls from Transunion.
If you make no income on the books I wouldn't recommend doing this with American Express, but as long as you make something on the books (a DDF member recently passed a financial review with just $6K on the books even though he reported income many times that) you should not have a problem passing a financial review should it ever come to that.
I have had 3 Starwood cards in the past, but this is my first time having 4.  I'll let you know if I get 8 elite stay credits from this!
Total haul with the limited time promotions will be 60K bonus Starpoints, 25K bonus MR points, and 30K Delta miles.  Plus I can't wait for Small Business Saturday or for the next AMEX promotion like Gift Chain with so many cards!  Of course my local restaurant looked at me like I was nuts for paying my bill with 4 different credit cards all signed up for $5 off $10 with AMEX Foursquare!
For those keeping score at home, my current active card lineup with American Express is 9 cards:
-SPG Consumer #1
-SPG Consumer #2
-Delta Gold Consumer
-Platinum Consumer
-Premier Gold Consumer #1
-Premier Gold Consumer #2
-SPG Business #1
-SPG Business #2
-Delta Gold Business
And I have 10 active Chase cards:
-Sapphire Preferred Visa
-Sapphire Preferred World Mastercard
-Ink Bold Business (with Chase Exclusives linked)
-Ink Classic Business
-Freedom Visa (with Chase Exclusives linked)
-Hyatt Visa
-United MileagePlus Explorer Visa
-United Club Mastercard
-United MileagePlus Explorer Mastercard
-Southwest Visa