Reposing this article that I wrote a month ago after the United glitch. Since then it seems that even the Wall Street Journal has started monitoring my Twitter feed (1:00-1:05 in the video) :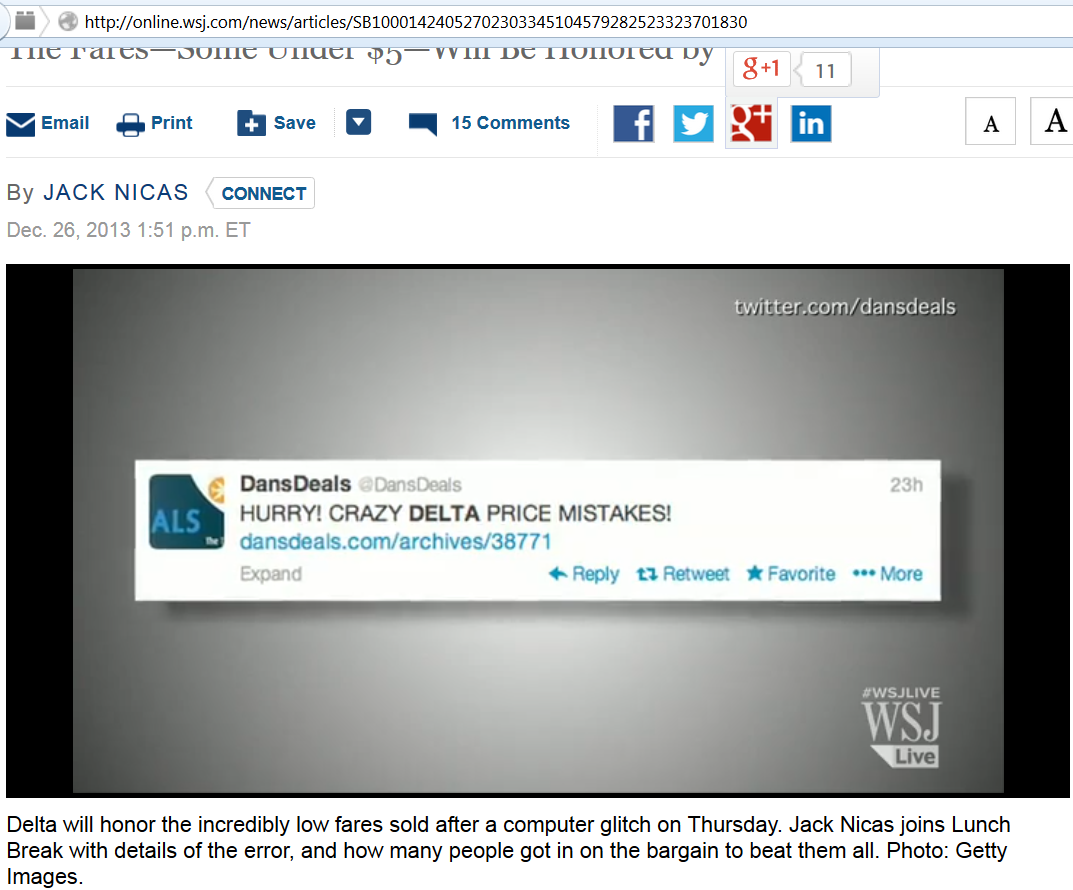 Price mistakes happen a few times a year. Some of my favorites that I've blogged about besides for yesterday's Detla bonanza:
-Last month there were $127 tickets to Milan and $287 tickets to Israel on United.
-My first time in Hawaii was with airfare and hotel for $87 with tax.
-I and thousands of others scored Airfare and 5 star accommodations at hotels like the Bellagio with Cirque tickets in Las Vegas all for free thanks to Expedia.
-Tons of people were able to get free airfare and hotels in the Bahamas.
-My whole family has lifetime free stays in suites at Fairmont hotels.
-There have been $250 tickets to anywhere in Europe.
–$336 El Al tickets to Israel for Pesach
-Dirt cheap tickets to anywhere when booked via LAN.
-$460 USAirways tickets to Israel from NYC.
-$347 USAirways tickets to Israel from other US cities.
-$550 nonstop Delta tickets from JFK to Israel along with $372 Delta tickets from Los Angeles to Israel and $498 Delta tickets from Newark to Israel.
-$376 Alitalia tickets to Israel.
-Lucky people had their WalMart price mistake orders honored
-HP even gave out $200 coupons to people who got in a price mistake…perhaps they didn't realize the coupon was able to be used multiple times though.
Of course the fine line between price mistake and deal is often blurred.
In the past I stocked up on dozens of cases of free diapers and wipes thanks to Amazon. My wife and I have stayed at the Encore and Wynn just for having an American Express Platinum card. We flew to Aruba and Boston last year for free thanks to Jetblue's voucher generosity in May as well as in September again. I racked up countless free Hyatt nights and hundreds of thousands of United miles with promotions like this one.
Years of burning dollar coins minted me hundreds of thousands of miles as well. Even some simple soda cups earned me tens of thousands of dollars of free United flight vouchers.
None of those were mistakes, it's not always easy to tell what's a mistake and what's just an incredible deal.
Rules Of The Deal:
1. Don't call.
Don't talk to the airline or companies offering a deal while the deal is live. You can always ask questions once the deal is gone.
2. Don't hesitate.
These deals never last long, you've got to act fast.
Most online booking agencies have generous cancellation policies, so book first and then decide later.
With some really crazy deals like 4 mile island some DDFers flew in first class around the world for just 4 miles because they booked to travel immediately.
3. Don't forget your infant!
A common theme that I've seen with price mistakes is that people forget their infant children. You need to pay 10% of the normal fare for the privilege of holding your child on international tickets. Wouldn't you be better off spending the few extra dollars for them to have their own seat?
4. Follow @DansDeals on Twitter.
I've gotten tons of complains from my email subscribers about missing the deal.  Unfortunately the emails just go out once a day.  If you want real time alerts you'll want to follow @DansDeals on twitter and have Twitter send you a text message whenever a new deal is posted.  Once you're signed up you never have to go onto Twitter again if you don't want to.
5. Join DDF
The United deal last month was posted by Drago on the DansDeals Forums wayyy before it was posted on the main DansDeals site as I was offline for shabbos while Israel based DDF members got a big jump start.
6. Create your own free trip!
Don't want to wait around for the next great deal to arrive?  The credit card companies are happy to fly you for free anywhere in the world, even in business or first class.  I've flown around the world countless times in private first class suites with miles earned from opening credit cards.  You can read some of those trip reports here.  I've banked 8 figures of miles and points by doing this stuff over the years and that means I don't have to worry about being under pressure to book during a quick glitch, I travel free on my own terms.  And I still have a top-notch 800+ FICO score.
This page includes links for tons of great credit cards that will have you flying for free in no time!
There's more information about applying for cards in this DDF FAQ page also with many credit card deals and links to dozens of others useful threads in this DDF credit card starting point thread.
You can also learn more about my favorite hobby by clicking on the credit card posts tab and the mileage posts tab.
Posts like this one on opening and closing cards and this one on getting business cards to improve your credit score are helpful as well.
Once you have the miles you can read about Getting To Israel Using Starwood Starpoints and Getting To Israel Using Miles. It can be done starting at just 20K round-trip!
And now Chase offers free primary car rental insurance, even in Israel!
Or stay tuned for a DansDeals Seminar near you where I teach the tricks of the trade in person and answer any questions you might have. I've done 6 of them so far and they're a blast!