Update #3:
-DDF members and DD commenters have are reporting significantly better luck with flight changes (date and one-way changes) and hold times of under 10 minutes by calling the Israeli number at 01197239771111 (from the US), and then prompts 2, 3, 1. Call using Google Voice or your OBi for 2 cents per minute.
-People are now reporting being able to entirely switch their trip by weeks!
-Additionally reps are now saying that some 9,000 people got in on this deal…cool!
Update #2: Email confirmation showing booked into "W" fare class, which earns full AA miles according to this AA page.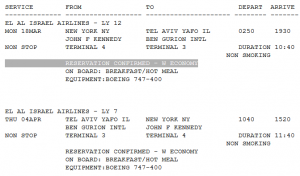 Click to enlarge/clarify.
Update: People are reporting that different reps are enforcing different rules. Some won't make changes until tomorrow. Some won't allow any date changes, some will allow 1, 2, or even 3 days. Some require a round-trip change for $150 while others have done a one-way change for $75.
Bottom line as I always say if you don't get the answer you want: HUCA!
And do it soon as seats appear to be quite limited on the nonstop flights. It seems the best prompts to push is for new reservations, as I suggested in the post below.
Based on the twitter postings of Will Run For Miles (@katruns26point2) on Twitter I just called El Al to change my friend's flight for Pesach.
He was originally booked from 03/19-04/04 for $336.80. I also booked him on an additional flight in January that he wanted to change as well. Lucky he was at my house when the whole deal went down!
I just called El Al for him (800-223-6700) and followed the prompts to change a ticket book from a 3rd party. After waiting on hold for over half an hour the phone call was disconnected. I called back to book a new ticket and waited just 10 minutes. The agent that answered took down my phone number and promised a return call by tomorrow.
After just a few minutes I got a return phone call. The rules are:
-You must change both directions, you can't change just one-way, so the fee is $150.
-Not all flights are available and seats are limited, so you'll definitely want to call sooner rather than later.
-These tickets are being booked into fare class "W" which earns 100% redeemable miles when credited to American Airlines! This is much better than the G fare class for the connecting flights that only earn half the miles (or possibly even no miles depending on the airline) and is in it of itself a good reason to switch to the nonstop flights! American miles are much more valuable than El Al miles, plus unlike El Al miles they never expire if you maintain any activity and you can redeem them for travel on El Al without fuel surcharges (unlike with El Al miles as well)
-You can change the date forwards or backwards by one day on both ends. They may be flexible on this as "Will Run For Miles" reported being able to move them by as many as 3 days, but that flexibility may be based on how full their flights are on the surrounding dates as they were not willing to budge from that rule for my friend and for others on twitter.
-The agent was very kind, even offering to move him as close to the front as possible and was extremely thankful for the business!
Kudos to El Al for booking people into a fare class that earns full mileage and for being flexible on the travel dates!