Currently the cheapest nonstop NYC-Tel Aviv flights are $1,118.
If you're creative though you can manufacture a cheaper ticket, though the airlines may not like it and they may punish people who abuse hidden city ticketing repeatedly, so don't do this every month.
For example go to the Travelocity multi-destination search page and search for NYC-TLV (in flight #1) on 04/22 and then TLV-ORD (in flight #2) on 05/08.
You can book a nonstop on Delta from JFK or on United from Newark to Tel Aviv on 04/22.  For the return on 05/08 you can select a Delta flight from Tel Aviv to Chicago connecting in JFK or a United flight from Tel Aviv to Chicago connecting in Newark.  Everyone, whether their destination is NYC or anywhere else in the world, must pickup their luggage in JFK or Newark on the return and bring it through customs.  At that point you can either recheck your bags or just leave the airport.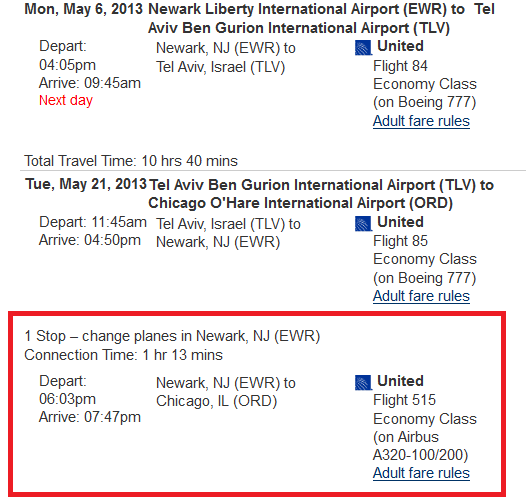 In the red square is a flight that nobody is going to force you to board.
The price using this "hack" is $906, a $212 savings off the regular nonstop fare.  Now the price for Chicago-Tel Aviv via NYC is just $696, but this allows you to fly nonstop both ways and realize part of that fare differential without flying to Chicago to start the trip.
For other sample dates just try the ones posted in yesterday's Chicago post.
Of course other dates can work as well. The more critical portion is finding cheap return dates to Chicago (many of which are listed in that post or can be found by using ITA calendar search as I wrote in that post) as the outbound dates from NYC are much more flexible than the valid return dates to Chicago.