Update: You can now fly from JFK to the major neighboring islands via Honolulu (HNL) for just $394 round-trip with tax!  This includes flights to Lihue on the island of Kauai (LIH), Kahului on the island of Maui (OGG), Hilo on the Big Island of Hawaii (ITO), and Kona on the Big Island of Hawaii (KOA).
Related DD Posts:
-Hawaii Trip Notes: Oahu (2009)
-Hawaii Trip Notes: Kauai (2009)
-Traveling To Hawaii…With A 5 Month Old (2011)
-Shaloha! (2011)
-Pearl Harbor…70 Years (2011)
-View From The Room (2011)
-The Hawaiian Islands. (2011)

Related DDF Destination Threads:
-Hawaii Master Thread: General Questions And Which Island To Visit?
-Big Island Of Hawaii Master Thread
-Kauai Master Thread
-Maui Master Thread
-Oahu Master Thread
————————————————————
The great $382 fare is bookable directly from Hawaiian for travel between JFK and Honolulu (on the island of Oahu) during December.  Flights in January and February are $424.
I've been around the world and there's truly no place like Hawaii.  I've been there 5 times (including a 4 week honeymoon on 4 islands) since the $87 mistake airfare+hotel deal back in 2006.  Of course if you go all the way there and just stay in the touristy city of Honolulu the whole time you may as well go to South Beach and save yourself the long flight.  While Oahu does have some beautiful sights, it's the neighbor islands that are each a true gem in their own unique way.
Here is a calendar of available dates in either direction (Click to enlarge):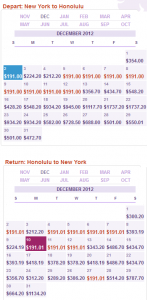 I have a Hawaiian Airlines corporate account for DansDeals, and booking through the corporate portal entitles you to 2 free checked bags.  Checked bags are normally $25 for the 1st bag and $35 for the 2nd bag.  If you're interested you can email me (dan at dansdeals.com) with your name, date of birth, and when you want to travel (you can check fares on Hawaiian.com).  There is a $15 per person booking fee for flights between the mainland US48 and Hawaii and a $10 per person booking fee for inter-island flights.
Follow @DansDeals on twitter and you'll get a tweet when a deal is posted on DansDeals.com! You can even opt-in to get a text message (and choose which hours of the night not to bother you) whenever DansDeals.com is updated!
HT: YCW