Update #2, 2:15pm: This deal appears to be dead for today! Check back tomorrow for more 90% off tickets.
Follow @DansDeals on Twitter to be alerted right when the sale starts.
———————————————————————————-
Update: Jetblue has added more LGA/JFK-Fort Lauderdale flights back into the system for just $65 round-trip!
You can also search for flights by region like from New York City area to Los Angeles area, S. Francisco area, or South Florida area.
Then you can select flights from JFK to Burbank or Long Beach and returning from Los Angeles to JFK for under $90 round-trip!  Just remember that only EWR, JFK, and LGA are valid for 90% off.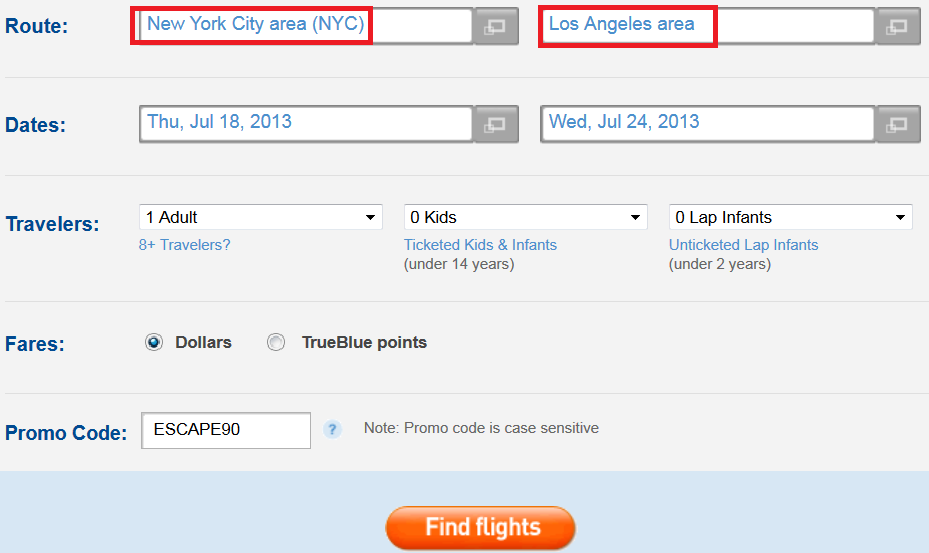 This screenshot was taken at 1:15pm: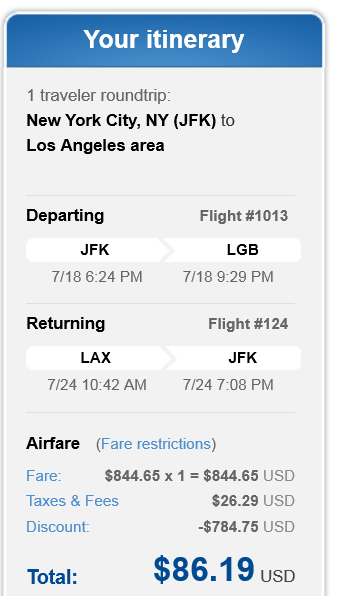 —————————————————————-
Jetblue will have a 90% off sale from NYC when the temperature hits 90 degrees in Central Park until 07/20!
For example from 07/18-07/24 a roundtrip from:
-JFK/LGA to Fort Lauderdale is $65.65 Alive Again!
-JFK-Washington DC is $33.40
-JFK-Portland, ME is $58.94
-LGA-Orlando is $61.99
-JFK to Fort Myers, FL is $65.09
-JFK-Albuquerque is $71.50
-JFK to Chicago is $74.25
-JFK to Los Angeles is $83.19
-JFK to S. Francisco is $87.04
-JFK to Burbank, CA is $90.40
-JFK to Seattle is $85.59
JFK-S. Diego is $93.04<
You can book tickets at: www.jetblue.com/promo
If you get a pricing error or if it says that it is unable to proceed with your selected flights you'll have to start your search over again.  That is just their site unable to handle the traffic load.
I have had the best luck using Firefox.
-Use 90% off code: ESCAPE90
-Must depart: July 18, 2013
-Must return: July 22, July 23, or July 24, 2013.
-Must depart from and return to JFK, LGA or EWR airports. Must depart from and return to same airport.
-Roundtrip purchase required. New bookings only.
-Only a very limited amount of promo codes are available, so grab 'em while it's hot! Once they're gone, well, they're gone. Discount is not held until your purchase is finalized.
-You must select flights in order for discount to appear. Once selected you will see the discount amount displayed in the itinerary subtotal on the flights page.
Only one code per reservation.
Flights will sell out quickly!
——————————————————————————
Join the 14,800+ people who follow @DansDeals on twitter and you'll get a tweet when a deal is posted on DansDeals.com!
You can even set up your mobile device to receive text messages (and choose which hours of the night not to bother you) and you'll be the first to know about every deal. After setting up your device be sure to opt into mobile notifications from DansDeals (it's in the drop-down menu next to the blue "Following" button), so that you will never again be kicking yourself for missing another deal!