Update, 10/27: The 25% off coupon has been officially extended until 10:50pm EST on Sunday, 10/28.
Plenty of $590 dates (for departures from Tel Aviv only after the 25% is applied) still exist, for example:
12/03-12/11
01/09-01/16
01/13-01/20
01/20-01/28
01/28-02/05
02/03-02/12
02/10-02/19
02/17-02/25
02/25-03/05
Originally posted on 10/19:
Follow @DansDeals on twitter and you'll get a tweet when a deal is posted on DansDeals.com! You can even opt-in to get a text message (and choose which hours of the night not to bother you) whenever DansDeals.com is updated!
————————————————————–
This deal is bookable on the right on the Alitalia USA site.
Use the following "E-Coupon" code for 25% off on the page after selecting your desired flights: SPECIAL
25% off rules: Travel must be booked by 10/26 and begin between 11/05/12 and 03/27/13. Blackout dates are from 12/20/12-01/06/13.
Departing from Tel Aviv to JFK on many dates from November through March, like 01/13-01/20 for example, will be just $590.55 after 25% off the current sale price of $787.40.
Departing from Tel Aviv to Toronto on 01/14-01/23 for example the price will be $605.78 after the 25% off coupon.
Departing from Tel Aviv to Miami will run about $651.
Departing from JFK to Tel Aviv will run about $764 with tax. Departing from Miami to Tel Aviv will run about $729 with tax.
Want to find cheap flights with flexible dates? Read about using ITA Software here and use the following advanced routing code to limit the calendar search to only Alitalia flights: AZ+
Want to search an entire month for cheap fares but don't like long layovers? This code for example will limit the search to Alitalia flights with layovers of 180 minutes or less: AZ+ / maxconnect 180
Remember to use the code in both the departure and return fields. Once you find a deal on ITA just plugin those dates onto the Alitalia site.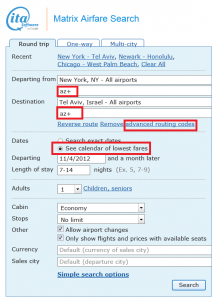 "When you purchase a ticket through Alitalia's U.S. web site, we will allow you to cancel without penalty and receive a full refund within 24 hours after your purchase, if the reservation is made one week or more prior to scheduled flight departure. Cancellations and refunds for qualifying web site purchases may be requested by calling 800-223-5730."
HT: Kachnik